Update (September 24, 2022): After PETA learned of a plan by the Pakistan Civil Aviation Authority (PCAA) to deploy people to shoot birds on the runway at Allama Iqbal International Airport in Lahore—in lethal attempts to deter birds from colliding with airplanes—we sent a letter to PCAA Director General Flt. Lt. (Retd.) Khaqan Murtaza to urge him to use humane bird deterrents instead, such as sonic devices, lasers, and other nonlethal measures. After PCAA's director of airport services, Saadiq-ur-Rehman, replied and attempted to justify the agency's continued use of shooters, PETA responded with information on more nonlethal bird-deterrent methods as well as international guidance and data discouraging the use of live gunshots as bird deterrents.
After hearing from us, the PCAA announced, "Federal Minister said Civil Aviation should collaborate with Pakistan Air Force and conduct [a] study of international best practices for effective bird control at Lahore Airport."
This is progress that will hopefully eliminate shooting as a bird-deterrent method in this case, and we will continue to follow developments and advise the agency on best practices.
Update (July 22, 2022): It appears that a new, kinder chapter has begun for animals in Pakistan, thanks to PETA and the leadership of Prime Minister Shehbaz Sharif.
PETA President Ingrid Newkirk—alongside other staff, including Vice President of International Laboratory Methods Shalin Gala and Chief of Science Advancement and Outreach Dr. Katherine Roe—held a historic meeting today with Salman Sufi, head of Sharif's Strategic Reforms Unit. Participants discussed several potential areas of collaboration that would have groundbreaking effects on the lives of animals in Pakistan, including the following:
Helping universities throughout Pakistan switch to using superior, ethical, economical, non-animal simulation models for veterinary education to replace the cruel kidnapping and killing of dogs and other animals for such training
Implementing an education program to help children and adults better understand how to share the world with and care for animals
Assisting with repatriation efforts for non-native species of animals who've been cruelly trafficked into Pakistan to be kept as household pets or whose skins or other body parts would be used as decorations
We're pleased to be working with a visionary leader like @CMShehbaz, and the head of his reforms @SalmanSufi7. We look forward to a long and productive collaboration that will benefit animals, advance human health, and boost Pakistan's status on the world stage.

— PETA (@peta) July 22, 2022
The meeting was initiated after PETA called on Pakistani officials to ban horrific veterinary training exercises on abducted dogs (details below) and directly communicated this recommendation to Sufi. Shortly afterward, Sufi announced Sharif's landmark measures prohibiting the use of live animals in such training in Islamabad and surrounding regions.
Now, with our help, we hope to see that ban enacted nationally.
But that's not all.
We'll be sending information to Sufi for Sharif's consideration in implementing other important reforms—including replacing the use of animals in medical training, classroom dissection exercises, and biomedical research with superior, state-of-the art methods as well as setting up a national non-animal research methods database and working to implement PETA's Research Modernization Deal in Pakistan.
We'll keep you posted!
In the meantime, you can help us modernize biomedical research in the U.S. by urging your members of Congress to mandate that the National Institutes of Health stop throwing away taxpayer money on cruel, useless animal experiments and instead focus on modern, animal-free research.


Update (August 12, 2022): PETA has learned that veterinary colleges throughout Pakistan use live, healthy cows and buffaloes in invasive and painful theriogenology (reproductive) training.
At the College of Veterinary and Animal Sciences, Jhang (CVAS), almost 100 students per day reportedly practice rectal palpation on these animals. They use irritant solutions and do this procedure forcefully—sometimes two students at a time insert their full arms, causing bleeding. Students also use artificial insemination rods on animals daily, causing lacerations to their vaginas and cervixes. After their internal organs have been damaged, these animals are auctioned off for slaughter.
This cruelty is unjustifiable. Effective, animal-free simulation models are available for this training. PETA has sent a letter to the school as well as a letter to the Pakistan Veterinary Medical Council, urging them to replace this archaic use of animals in veterinary training with superior, state-of-the-art methods.
CVAS is a sub-campus of the Lahore-based University of Veterinary and Animal Sciences (UVAS). In response to the these allegations, an official at UVAS reportedly admitted that "most of the veterinary universities in the country were using traditional and primitive means for training the students" but claimed that at CVAS, "strict measures were being taken to ensure painless surgical procedures and training involving animals in the veterinary institutes." We are following up to get more information and will keep you posted.
Update (July 20, 2022): Despite the announcement last month of historic reforms in Pakistan banning the use of live animals in testing and surgical veterinary training in the Islamabad area (details below), it seems that some institutions outside this region would rather continue doing business the old, cruel way.
The landmark reforms were announced after PETA pushed various government officials as well as four veterinary schools to embrace humane simulation models and ban training methods that don't directly benefit the animals involved. Our actions followed the release of grisly videos of reportedly kidnapped dogs who were suffering after being subjected to horrific surgeries performed without anesthesia (details below).
One of the schools implicated in those videos, Riphah International University–Lahore, has just denied any wrongdoing, referencing in its response to us only one dog and claiming that the animal had been injured in an accident.
We're not buying it.
Video footage taken at this school clearly shows multiple dogs lying bloodied and seemingly lifeless on operating tables. What's more, a Riphah student whistleblower told a news outlet that the school requires students to obtain stray dogs for harmful surgical training.
Since the school is located in Lahore, it doesn't have to abide by the government's recent reform measures, which pertain to the Islamabad Capital Territory. But that doesn't prevent the school from immediately doing the right thing.
Once again, we've strongly urged Riphah officials to prohibit the use of animals in veterinary training involving procedures that don't benefit them and to use animal-free options such as the SynDaver Surgical Canine.
We've also written to the vice chancellor of Sindh Agriculture University in Tandojam, asking him to do the same.
Update (June 30, 2022): A huge win for animals in Pakistan! After PETA called on Pakistani officials to ban harmful and medically unnecessary veterinary training exercises on animals and directly communicated this recommendation and broader concerns about animal testing to Salman Sufi, head of Prime Minister Shehbaz Sharif's Strategic Reforms Unit, he agreed to initiate discussions with us on relevant reforms. Today, Sufi announced historic new measures, stating, "Live testing of animals in vet colleges and industrial complexes is banned from today in Islamabad Capital Territory."
Thank you, Pakistan stands firm to protect Animal rights and curbing cruelty against them.

— Salman Sufi (Wear A Mask To Save Lives) (@SalmanSufi7) July 1, 2022
The new measures will reportedly ban testing and surgeries on live animals at veterinary schools and industrial complexes in the federal capital of Pakistan, Islamabad, and surrounding areas—and institute a fine along with jail time for offenders who commit cruelty to animals. Sufi also announced amendments for the creation of Pakistan's first comprehensive animal welfare law, which will be introduced in the National Assembly of Pakistan during the next session for debate and approval, and PETA will share recommendations with him in an upcoming scheduled meeting.
Vice president at global animal rights advocacy group @peta @ShalinGala hails "landmark" reforms in Pakistan that will ban tests and surgeries on live animals for veterinary education and shift to sophisticated humane methods. @SalmanSufi7 https://t.co/m6nnIO38Sc

— Arab News Pakistan (@arabnewspk) July 1, 2022
This groundbreaking move follows widespread outrage sparked by viral videos showing veterinary students at three Pakistani universities reportedly cutting open live dogs who were apparently taken from the streets. Activists in Pakistan—including actor Mishi Khan as well as members of Animals Rescue and Adoption Islamabad, Critters Ark Welfare Organization, and United Stray Animals Rescue—protested vigorously against the barbaric surgeries on dogs.
Pretty cool that @AamirSaeed_'s story for @arabnewspk got @SalmanSufi7 & @ShalinGala from @peta into a conversation that saw landmark animal rights reforms announced yesterday, including ban in #Islamabad on live surgeries on animals at vet schools. Super rare for #Pakistan 🙏 https://t.co/6aUnNLPAHN

— Mehreen Zahra-Malik (@mehreenzahra) July 1, 2022
"Pakistan's landmark reforms will ban tests and surgeries on live animals for veterinary education and result in a shift to sophisticated, humane methods. PETA is delighted to have shared recommendations for improving veterinary training with Salman Sufi, head of Prime Minister Sharif's Strategic Reforms Unit, and we look forward to our upcoming meeting with him to discuss further critical reforms in biomedical research and training that will both spare animals' lives and benefit human patients."

—PETA Vice President Shalin Gala
It's great news that dogs in Pakistan will be prevented from enduring agonizing, unnecessary surgeries for veterinary training. Now let's keep the momentum going for other dogs.
Originally posted on June 14, 2022:
Grisly footage has apparently revealed that veterinary students in at least three institutions in Pakistan reportedly tied dogs' mouths shut and their legs up, operated on them without anesthetics, left them cut open in pools of blood and waste, neglected their post-operative care as they writhed and whimpered in pain, and even laughed at their suffering. The students reportedly conducted these cruel, invasive procedures on dogs they had kidnapped from the street.
In an urgent move to prevent more animals from being subjected to these reported atrocities, PETA penned powerful letters to the schools—Pir Mehr Ali Shah Arid Agriculture University–Rawalpindi, Riphah College of Veterinary Sciences, and COMSATS University—as well as the Ministry of Federal Education and Professional Training and the Ministry of Inter Provincial Coordination, which oversees the Pakistan Veterinary Medical Council. We called for the institutions to conduct an investigation, embrace humane simulation models, and ban training methods that aren't medically necessary and don't directly benefit the animals involved.
We are also in communication with Salman Sufi, head of Prime Minister Shehbaz Sharif's Strategic Reforms Unit, about the urgent need for these reforms.
Veterinary Schools Have a Responsibility to Students and to Our Fellow Animals
There is no difference between the animals used for this cruel training and the companion animals who are brought into veterinary offices. In the veterinary field, having empathy for all animals is just as important as having technical skills, and tormenting dogs and other animals in agonizing, pointless procedures fosters a culture of apathy toward their suffering.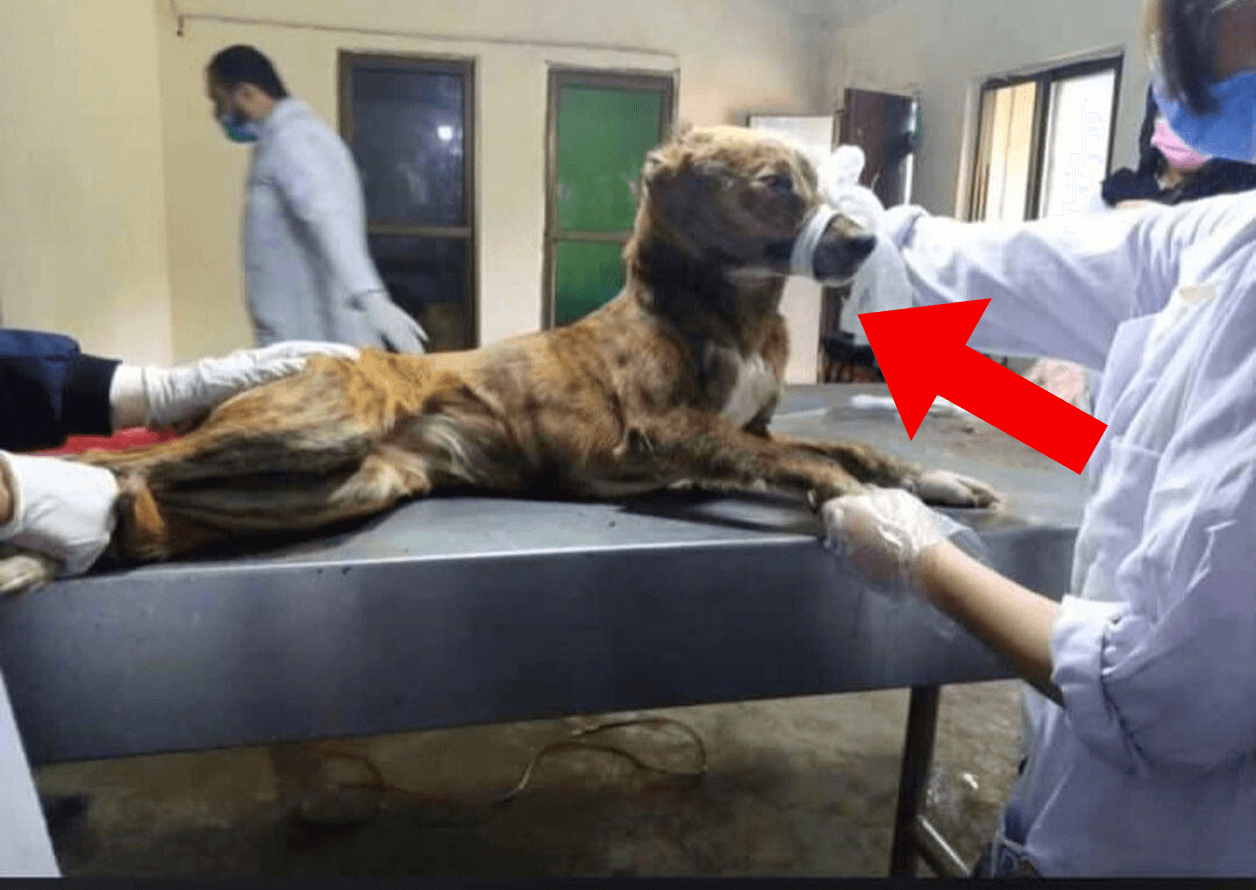 Veterinary students can acquire hands-on experience without harming our fellow animals. Basic skills training for IV catheter placement, blood draws, intubation, restraint methods, radiographic positioning, and critical care monitoring as well as advanced surgical training can be accomplished by using realistic simulation models. PETA pointed out that there are a number of humane training methods to prepare students for a fruitful career, including the following:
PETA's Vital Role in the Global Shift Toward Humane Research and Education
PETA has worked hard to make humane training and research the standard everywhere. Our groundbreaking Research Modernization Deal (RMD)—a road map for replacing archaic experiments on animals with superior, non-animal methods—has made waves around the world.
In 2021, after reviewing the RMD, members of the European Parliament voted in favor of developing an action plan to end experiments on other animals. In 2014, at PETA India's request, the Medical Council of India made a national regulatory change that requires all medical schools in the country to stop using other animals in their undergraduate curriculum.
Our RMD has also garnered strong support from prominent medical organizations, including the National Hispanic Medical Association and the National Medical Association. The U.S. Accreditation Council for Graduate Medical Education—the organization responsible for setting medical curriculum standards in the U.S.—has expressed to PETA that it "supports the use of simulators and other non-animal training methods to replace the use of animals in the laboratory."
PETA has also donated 120 TraumaMan simulators—worth approximately $3 million—to replace the use of animals in Advanced Trauma Life Support programs in countries around the world, including Pakistan, where our international team of scientists successfully collaborated with the College of Physicians and Surgeons Pakistan to switch to non-animal methods for this lifesaving training.
Want to Help Dogs?
Nine dogs are imprisoned in Texas A&M University's veterinary school, even after the lab director promised that they would be put up for adoption. Take action for them below: