Updated (November 29, 2022): PETA has donated two TraumaMan human surgical simulators to the Advanced Trauma Life Support (ATLS) program in Iraq at the program's request. The state-of-the-art technology will be used in a new satellite facility that the program is establishing at the University of Babylon and will prevent dozens of animals each year from being mutilated, while providing Iraqi surgeons with superior training. PETA had previously donated two simulators to this ATLS program.
"We in the College of Medicine at the University of Babylon are highly appreciating PETA's efforts to maintain animals' rights. We appreciate PETA's donation of realistic TraumaMan human simulators to achieve our mission to save more trauma victims' lives in Iraq."

—Professor Mohend Alshalah, Dean of the College of Medicine, University of Babylon
Updated (November 4, 2021): In the wake of the recent military coup in Sudan and as deadly violence wracks the country, PETA has rushed a state-of-the-art TraumaMan human surgical simulator to the Advanced Trauma Life Support (ATLS) program there to aid humans while sparing other animals. The high-tech model will help train surgeons in the effective treatment of traumatic injuries, replacing the use of animals as ineffective human stand-ins.
Dr. Dia Ageib, chair of Sudan ATLS, says, "[T]hings are deteriorating after a military coup. Regarding the ATLS, I would say [PETA's TraumaMan donation] has positive impact on trauma victims and a lot of protesters were saved by our trained ATLS providers in the scene and hospitals during the period of unrest."
In 2018, PETA donated two other TraumaMan models to Sudan ATLS at its request. Each year since then, the models have prevented approximately 60 to 70 animals in Sudan from being mutilated and killed in ATLS trainings.
Thanks to PETA's donations of 120 TraumaMan simulators—worth approximately $3 million—ATLS programs in 22 countries have stopped or never started using live animals such as dogs, pigs, and goats for crude surgical training.
Updated (June 13, 2018): PETA has donated two TraumaMan surgical simulators to the Advanced Trauma Life Support (ATLS) program in Sudan, which has agreed to spare animals the horror of being cut apart and killed in surgical training. Program chair Dr. Dia Ageib says, "PETA's donation of life-like human TraumaMan simulators to the [ATLS] program in Sudan will greatly improve skills training for surgeons that benefits patients, save our program money, and allow us to avoid the outdated and unethical use of animals in surgical training." This latest gift brings the total number of developing countries that have received these cutting-edge simulators and ended animal use for ATLS training to 22.
Updated (November 8, 2017): The Middle East may be politically volatile, but now, PETA has paved the way for a little less violence there. With PETA's donation of two TraumaMan surgical simulators, physicians in Iraq now have access to superior training methods, and pigs and goats will be spared. "Thanks to a generous donation by PETA of advanced and realistic TraumaMan human simulators," says Dr. Anees Nile, director of the ATLS program in Iraq, "surgeons in Iraq can avoid using … animals in trauma training and will be better prepared [to] treat people suffering from traumatic injuries." This latest gift brings the total number of developing countries that have received these cutting-edge simulators to 21.
Originally posted on April 11, 2017: 
Hundreds of animals in four developing countries will no longer be cut apart and killed in medical training courses, thanks to PETA's donation of eight state-of-the-art TraumaMan surgical simulators, worth $200,000. This brings the total number of countries that have ended the use of dogs, pigs, goats, and sheep for crude medical training to 20, following PETA donations over the last three years.
Bangladesh, Ghana, Jamaica, and Kenya will now use the TraumaMan simulator instead of animals to train doctors in their American College of Surgeons (ACS)–sponsored ATLS program. The ATLS program is the standard of care for the initial assessment and treatment of patients with traumatic injuries. TraumaMan—whose manufacturer, Simulab Corporation, collaborated with PETA on the donation—is ACS-approved as a replacement for animal use in ATLS training. It replicates a breathing, bleeding human torso with realistic skin, tissue, ribs, and internal organs.
Since 2012, PETA has donated more than 100 TraumaMan simulators, valued at close to $3 million, to replace animal use in ATLS programs in Bolivia, China, Costa Rica, Cyprus, Egypt, Greece, Indonesia, Iran, Jordan, Mexico, Mongolia, Pakistan, Panama, the Philippines, Trinidad and Tobago, and the United Arab Emirates.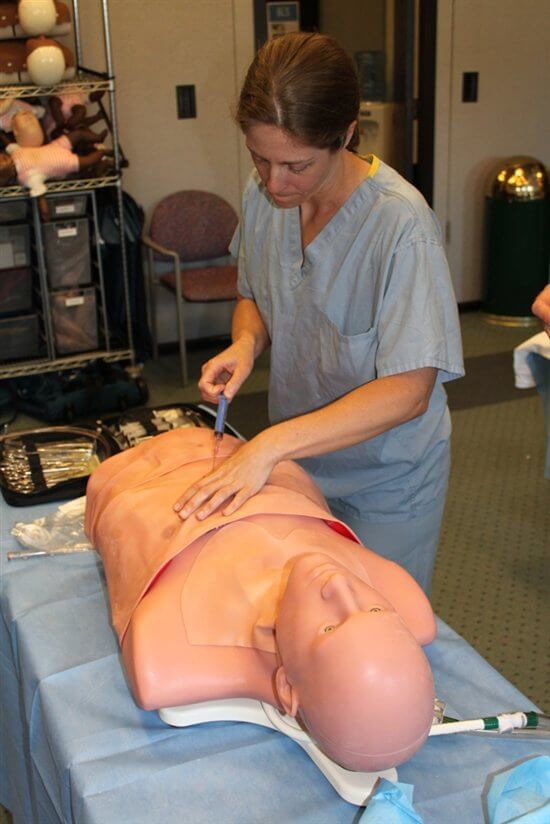 "ATLS Kenya is proud to be able to train physicians to treat traumatic injuries using effective human simulation technology instead of live animals while also reducing the cost of this critical training, thanks to a generous donation of advanced TraumaMan models from PETA," says Dr. Daniel Ojuka, ATLS course director at ATLS Kenya, part of the Kenya Red Cross Society. "Participants in the Advanced Trauma Life Support program will now be able to learn lifesaving procedures without practicing surgical procedures on animals."
"The Ghana College of Physicians and Surgeons is grateful for PETA's donation of advanced TraumaMan human simulators that will provide realistic state-of-the-art training to surgeons and spare animals from being used in Advanced Trauma Life Support courses," says Dr. George Oduro, chair of emergency medicine at the Ghana College of Physicians and Surgeons. "The TraumaMan simulators will greatly help Ghana in her efforts to improve care for injured patients."
Compared to animal-based exercises, TraumaMan systems are more portable, less costly, and reusable, and studies show that doctors who learn lifesaving surgical skills on TraumaMan are more proficient than those who cut into animals, largely because these simulators actually mimic human anatomy.
What You Can Do
It's time that the U.S. military followed suit and switched to advanced human simulators instead of using live animals in cruel and costly trauma training drills. Please urge the DOD to stop using animals in military trauma training and to use superior human-simulation technology instead.