What's that smell? Nigerian customs officers reportedly intercepted 7,000 smuggled donkey penises at an airport in the country's largest city, Lagos, after the stench emanating from 16 bags slated for export aroused suspicion. The illegally shipped equine genitalia were allegedly headed to Hong Kong to be used in making a traditional Chinese medicine called ejiao.
THANK YOU to the officers of @CustomsNG who intercepted 7,000 smuggled donkey penises at the Lagos airport on their way to Hong Kong for Chinese medicine.
 
Nigeria must enact the ban on donkey slaughter NOW to shut down this horrifying trade! https://t.co/FiUWHceAjp

— PETA (@peta) September 8, 2022
PETA entities around the world have been pressuring officials, companies, and consumers to stop supporting the cruel ejiao industry. There are numerous alternatives to ejiao, including modern medications and herbal remedies, that are more effective and don't require that any animals be killed.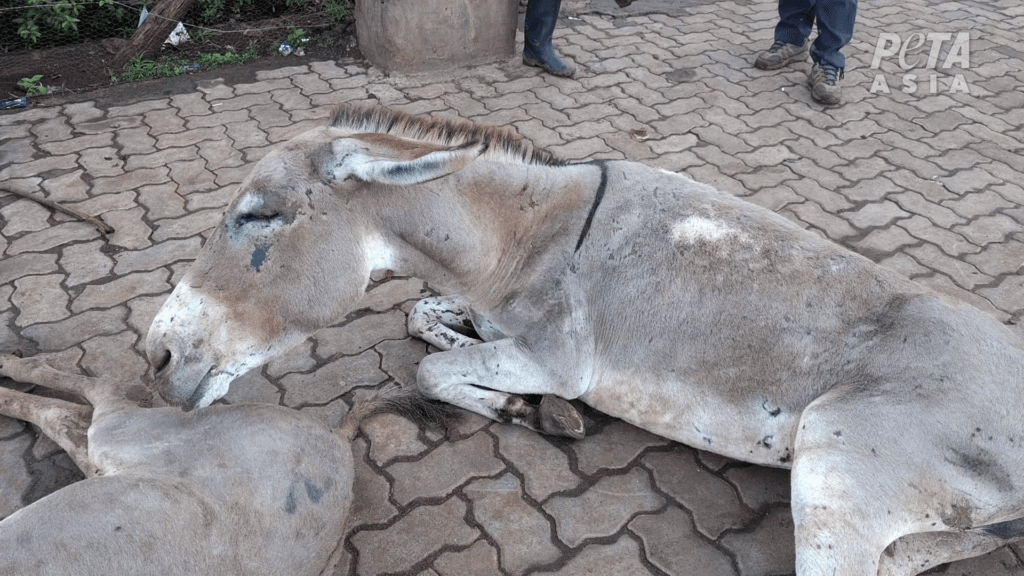 What Is Ejiao?
One PETA Asia investigation revealed that donkeys in China—some as young as 5 months old—are bashed in the head with a sledgehammer and that their throats are slit so their skin can be boiled down to make gelatin for ejiao, which is purported to improve blood circulation. Some of the donkeys continue to breathe and move after being bludgeoned.
A separate PETA Asia investigation found horrific abuse in Kenya's donkey slaughter industry, which exists only to meet the demand for this product in China. Watch the video below to learn more about the production of ejiao:
Many other African countries—including Botswana, Burkina Faso, Mali, Niger, Senegal, Tanzania, and Uganda—have banned the export of donkey skin or have closed down Chinese-owned slaughterhouses. Yet despite a warning from China's official National Health and Family Planning Commission that ejiao is really just "boiled donkey skin," donkey slaughterhouses continue to operate in countries such as Kenya in order to meet China's demand for the product.
What You Can Do
As consumers, we can reject cruelty to animals and help save donkeys' lives simply by choosing vegan alternatives, never buying ejiao products, and refusing to shop at stores that sell them. For the sake of suffering donkeys, please read ingredient lists and steer clear of medicines, beauty products, candy, and beverages containing ejiao.
Want to do more?