A security camera outside a Nebraska liquor store captured the horrifying moment when a semi-trailer truck overturned, hurling the cows inside from the destroyed trailer.
Police told news outlets that three cows had died in the wreckage, while four others had to be euthanized because of their severe injuries.
HORRIFYING!

Cows flew out of a semi-truck as it crashed outside a liquor store. Some were reportedly found dead and others were put down.

The cows never should've been in the truck to begin with. Stop eating animals!pic.twitter.com/V3VEMWtEAM

— PETA (@peta) May 11, 2020
This video is just a snippet revealing the agony that animals face before they even reach a slaughterhouse kill floor. There were more than 100 crashes in 2019 involving trucks carrying animals used for food—and there have already been 36 since the start of 2020.
Cows used for butter, cheese, and other dairy foods aren't spared the slaughterhouse knife, either. They're typically sold for slaughter when their bodies give out, usually before they're 5 years old, and all the males born in the dairy industry are sold for beef or veal.
Animals languish for hours upon hours inside severely crowded trucks hauling them to slaughterhouses. Many die from heatstroke in warmer months or freeze to death in the winter. Others sustain debilitating broken bones and internal injuries when other animals—fearing for their lives—trample them in an attempt to escape the living hell they're in.
Workers loaded up these individuals against their will to be transported in dangerous and uncomfortable conditions to their final destination. Cows—with all their emotions and personality—want to live. None of them choose to take this journey of no return.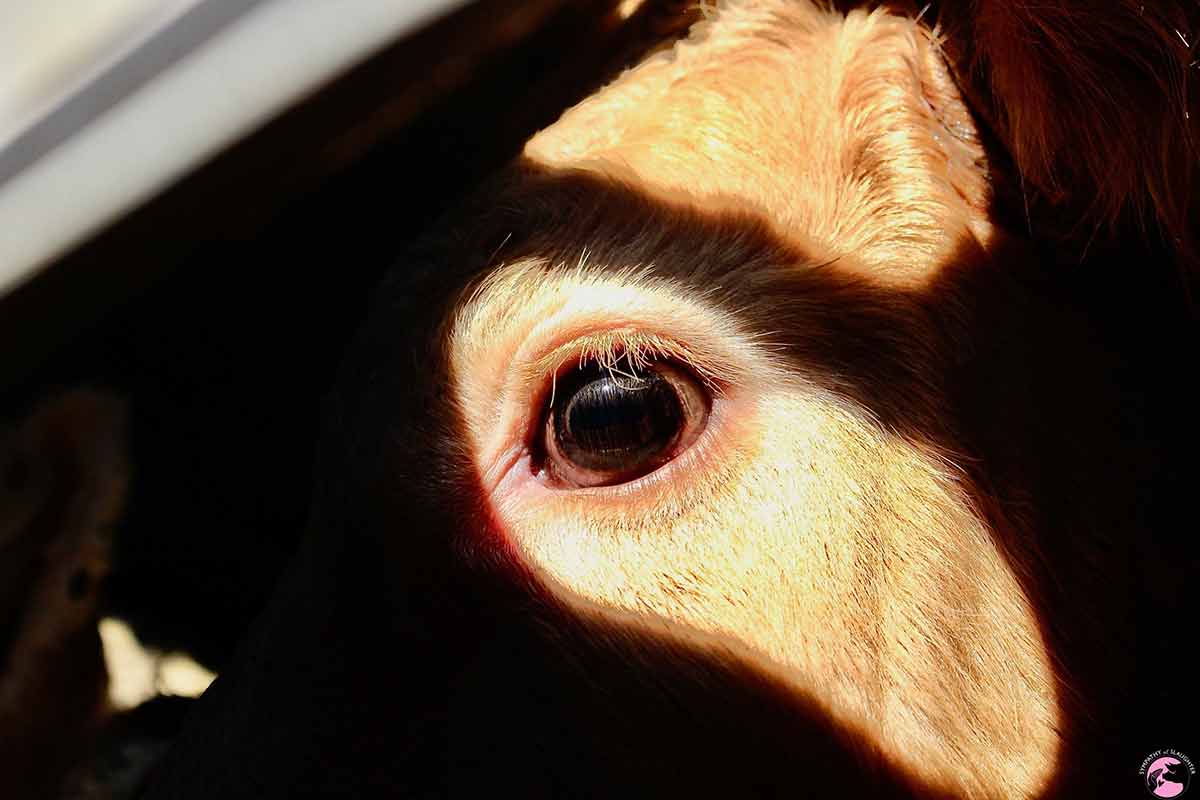 Hannah Elizabeth | Sympathy at Slaughter
We must do better. These gentle giants mourn the deaths of loved ones, sometimes shedding tears over their loss. Can you imagine the deep grief that the survivors of this crash must have felt seeing their fellow cows dead on the street?
In every important way, cows are just like us.
Cows have best friends and hold grudges against mean humans and other animals. The mother/calf bond is particularly strong, and there are countless reports of mother cows who've continued to call and search frantically for their babies after they've been taken away and sold to veal or beef farms.
Anyone disturbed by the thought of mangled cow bodies on the side of the road or cows facing the slaughterhouse knife should go vegan now.
From ripping apart families for dairy to imprisoning animals on filthy, cramped farms and from completely disregarding what animals endure during transport to killing them in agonizing ways inside slaughterhouses, the meat industry should outrage us all.
Please, go vegan now. Order a free vegan starter kit from PETA. We have all the resources necessary to support folks in ditching meat, eggs, and dairy. You can make a real difference by saving nearly 200 animals a year—simply by not eating them!
Want to do more? Support PETA's action to keep slaughterhouses—many of which are filled with employees infected with the novel coronavirus—closed: