PETA is urging the U.S. Department of Agriculture (USDA) to take action after a truck carrying eight tigers wrecked on a Michigan highway en route to a circus performance in New York.
Although the media hasn't revealed the identity of the exhibitor involved, PETA has reason to believe that the tigers were likely being used by Carlos Quinones, who works for the notorious Doug Terranova. The USDA knows Terranova well.
The driver was likely hauling the animals as part of a tour with the Carden Circus—which is currently exhibiting in New York—when he hydroplaned and lost control of the truck. The vehicle slid off the road and jackknifed in the median.
PETA is calling on the USDA to ensure that the tigers are examined by veterinarians and receive any medical attention that's needed following the ordeal. These endangered animals should never have been on an interstate in a tractor trailer to begin with. Animals used in circuses are routinely victims of dangerous traffic incidents:
Last year, a tiger named Suzy was shot and killed after she escaped from a truck while Feld Entertainment (the parent company of Ringling Bros. circus) was exporting her and 13 other tigers to Europe to be used in circuses there.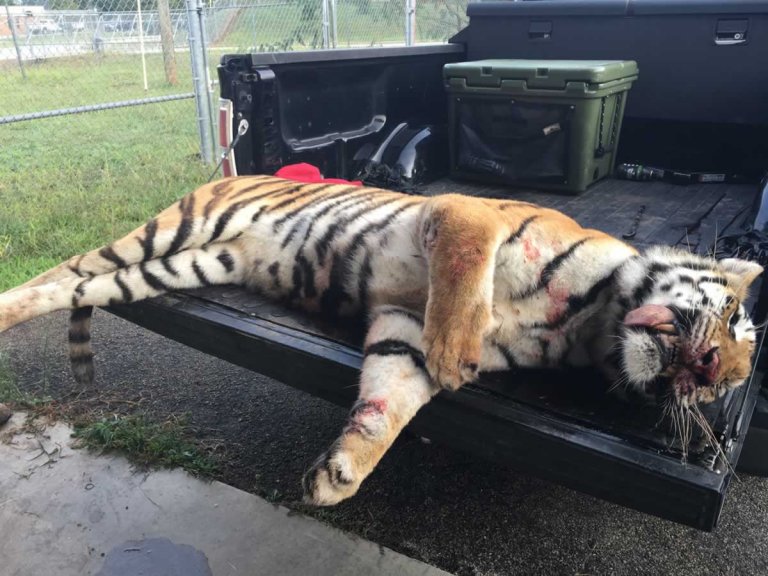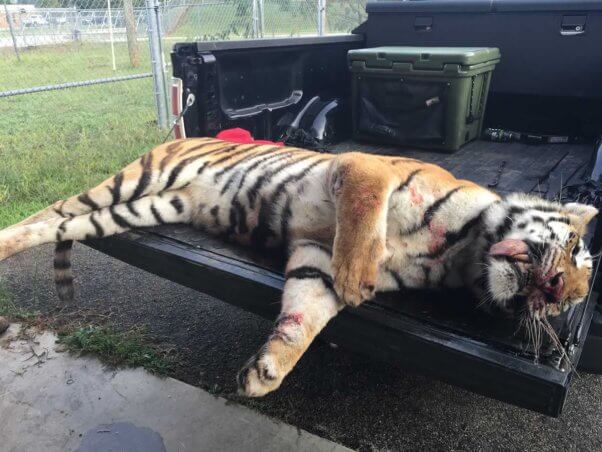 When a truck used by the now-defunct exhibitor Hawthorn Corporation broke down last year, the driver left 12 tigers trapped inside without food or water while he checked himself into a motel and slept.
BREAKING: truck full of tigers breaks down in Frankfort, reportedly ran out of water, city had to bring more to water them @LEX18News pic.twitter.com/ynDkxJtT2E

— Kylen Mills LEX 18 (@KylenMills) April 11, 2017
One elephant died and two more were injured when a truck hauling them to performances crashed on a highway in Spain.
Thinking about the lives of these elephants in Spain who survived (one died) a road accident fuels my rage at what we do to them and all the other animals. Just look at that poor elephant. No life in the circus. Give them their freedom in a sanctuary now. #elephants pic.twitter.com/rYJQXvNAib

— Kim Stallwood (@grumpyvegan) April 2, 2018
A Carson & Barnes Circus truck was hauling elephants when the floor dropped out of the vehicle and started a fire.
EXCLUSIVE NEW VIDEO: Here is the follow up video that I promised earlier that shows a detailed look of the transport trailer that was hauling the 4 adult elephants to a circus in Iowa. The 18 wheeler was just north of Eufaula early this afternoon when the weakened structure of the trailer gave way. The driver was able to get the rig off on the shoulder of highway 69 without incident. One lane of highway 69 was partially closed to allow the elephants to be off loaded onto another trailer and moved to a local veterinary clinic in Checotah for evaluation. The clinic told me that "they are all okay" just shortly before the new transport rig arrived. To watch the elephants behavior they acted like it was no big deal and seemed content. As the sun began to slip away the transport truck pulled out of the clinic with 4 adult elephants safely aboard. KOTV – News On 6 Survivor Shelters LLC

Posted by Darren Stephens – News On 6 StormTracker on Wednesday, January 24, 2018
Llamas, camels, ponies, and zebras were trapped inside a truck trailer after the driver, who was taking them to perform in the UniverSoul Circus, lost control and the vehicle flipped.
Two elephants used in Shrine circuses were forced to hold up a truck that was about to overturn after the driver wrecked in Louisiana.
And the list goes on and on. PETA urges everyone to patronize only circuses that use willing human performers. Animals are not acrobats, tight-rope walkers, photo props, or car jacks. Tell UniverSoul Circus that it's time to get animals out of the act.