A Hawthorn Corporation driver has been cited in Frankfort, Kentucky, for illegally transporting 12 tigers after his broken-down truck was found with the animals trapped inside.
https://www.facebook.com/lex18/videos/vb.51620603446/10155328243133447/?type=2&theater
Because of a flat tire, the driver parked the Hawthorn truck in a strip-mall parking lot before reportedly checking himself into a motel. The tigers remained unattended inside the small cages and ran out of water while the driver slept for several hours.
Eventually, city employees responded to the situation and gave the tigers water. Authorities from the state Department of Fish & Wildlife Resources cited the driver for not having the proper permit to transport the tigers through the state. The Kentucky State Police also issued a vehicle-related citation.
BREAKING: truck full of tigers breaks down in Frankfort, reportedly ran out of water, city had to bring more to water them @LEX18News pic.twitter.com/ynDkxJtT2E

— Kylen Mills LEX 18 (@KylenMills) April 11, 2017
Before the unscheduled stop, the driver was transporting the tigers from the Hejaz Shrine Circus in Greenville, South Carolina, to a property in Richmond, Illinois—a roughly 800-mile, 12-hour drive.
PETA knows the Hawthorn Corporation well, along with its infamous record of violating the federal Animal Welfare Act.
According to Hawthorn's own records, more than 30 tigers have died since 2000 as a result of the company's activities. Nearly half of them were juveniles—some 3 years or younger. Causes of death have included salmonella, a faulty cage door, kidney failure, skin diseases, and caging together incompatible tigers who wounded one another.
The U.S. Department of Agriculture (USDA) has cited Hawthorn for inadequate care of tigers dozens of times, including numerous citations for denying tigers adequate space and exercise. In many instances, the company has confined them to small transport cages for weeks and even months at a time.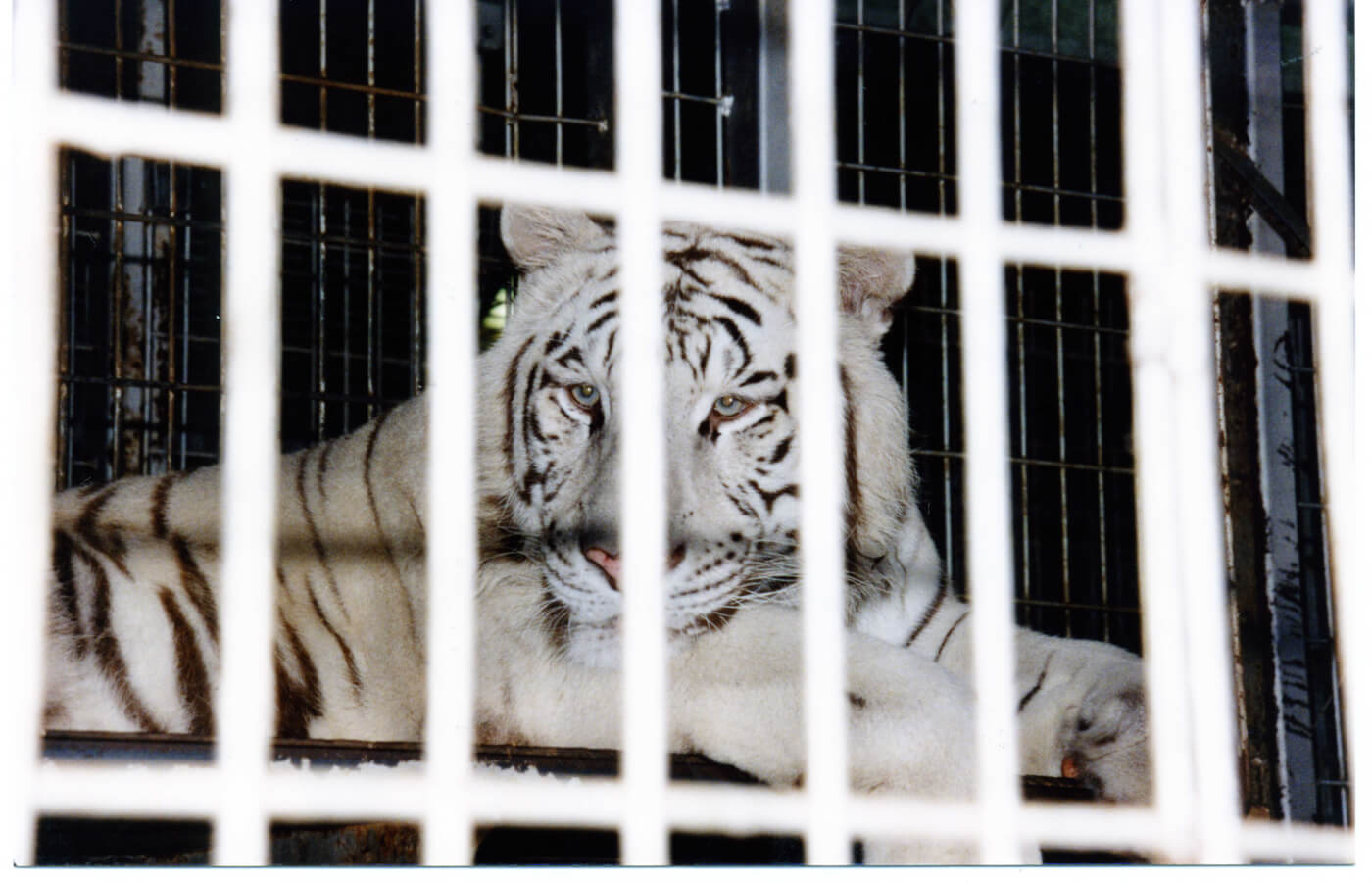 In 2012, Michael Ramos—the trainer who presented these 12 tigers at the Shrine circus in South Carolina—was charged with driving too fast for conditions, failing to maintain his lane, and not having the proper class of license after he lost control of a truck transporting animals for UniverSoul Circus. The trailer overturned on an interstate in Georgia and trapped several animals. Firefighters used the Jaws of Life to free them.
Hawthorn's cruel treatment of animals has continued, despite multiple license suspensions, $272,500 in fines, and confiscation or orders to relinquish animals. The USDA confiscated an elephant named Delhi from Hawthorn after the company forced her to stand in undiluted formaldehyde and failed to treat her resulting chemical burns and swelling.
Such total disregard for animals' well-being is why PETA urges families to stay away from all circuses that use animals.
Tigers in nature roam hundreds of miles, but those used in traveling shows—like Hawthorn's—are forced to eat, drink, sleep, defecate, and urinate in the same place. The only interruption that many are given from this nearly perpetual confinement is during their brief performances, when they're subjected to whippings before roaring crowds.
Make a promise today to stand with us against these animal abusers.