Update: Victory! The two bears at Tregembo Animal Park have been rescued. In their new home at the spacious, lush Wild Animal Sanctuary in Colorado, Ben and Bogey now receive expert veterinary care and live in a vast habitat, in which they can climb, dig, and run. They'll also have the opportunity to hibernate this year—possibly for the first time in their lives.
The following was originally published on June 15, 2015:
PETA has been campaigning against North Carolina's decrepit Tregembo Animal Park for years. Our latest complaint involved a visibly suffering black bear, whom a visitor spotted languishing with severe facial lesions and painful irritation to his eyes, nose, and mouth.
After reviewing photographs of him, the PETA Foundation's wildlife veterinarian, Dr. Heather Rally, reported that the bear appears to have an extreme and chronic case of inflammation of the cornea (keratitis)—meaning that he has been experiencing so much swelling and irritation of the cornea for so long that the clear tissue of the cornea has actually been replaced by fibrous tissue. As a result, the bear is most likely completely blind and has been in pain for a long time.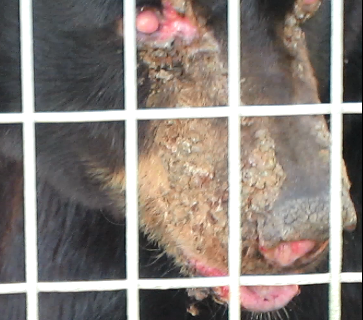 After we filed a complaint with the U.S. Department of Agriculture (USDA), an inspector noted that the bear was "suffering" and cited the facility for failing to provide him with adequate veterinary care. Shortly thereafter, the zoo was cited again for the very same reason.
In other news:
After learning that A&E's new show Wild Transport promoted serial Animal Welfare Act violators, including Bhagavan (Kevin) Antle and A Grizzly Experience, PETA sent a letter to network President and CEO Nancy Dubuc urging A&E to drop the program. An A&E senior vice president was quick to respond, assuring us that Wild Transport had been taken off the air and would not be renewed.
A fox died after being left outside in a ramshackle pen when temperatures plummeted to below zero at a notoriously cruel roadside zoo in upstate New York called Bailiwick Ranch. A zoo staffer discovered that both of the fox's back legs were severely frostbitten but never sought veterinary care or pain relief for the fox, who died the following day.The USDA cited the facility for the fox's death, but it was just the latest in a long list of problems, including failing to contact a veterinarian in a timely manner after noticing changes in a chimpanzee's behavior shortly before she died, giving animals filthy water in algae- and mud-filled containers, and allowing enclosures to become infested with rats.
Before Ringling Bros. and Barnum & Bailey Circus showed up in Houma, Louisiana, where parish law requires that animals be provided with proper space, exercise, and freedom of movement—the exact opposite of what Ringling does when it chains elephants all day long—the PETA Foundation's Captive Animal Law Enforcement division sent an urgent letter to parish officials asking that the regulations be enforced. The parish president gave his assurances that Ringling would be required to comply and that elephants would not be shackled.