The term "factory farm" brings to mind images of cows standing amid their own feces. But did you know that dogs are also factory-farmed? Thousands of dogs are churned out every year to compete in grueling races that offer money to dog-sled drivers (aka "mushers") and misery to dogs. When dogs aren't running for hundreds of miles over rough terrain, they're typically restricted to short, heavy chains, warehoused outdoors with little or no protection from the biting wind or driving snow.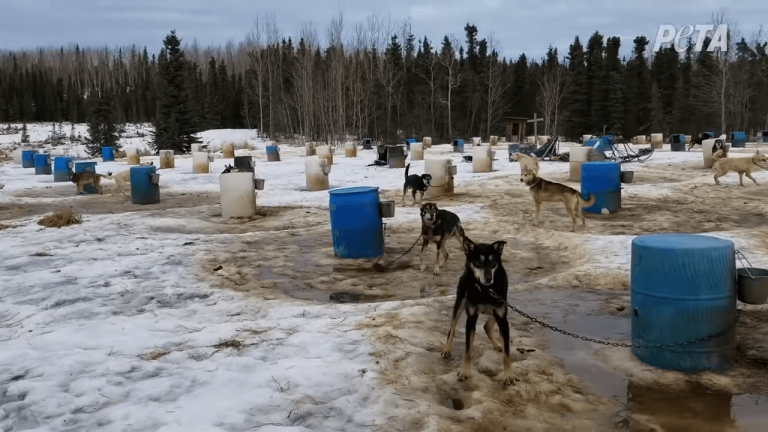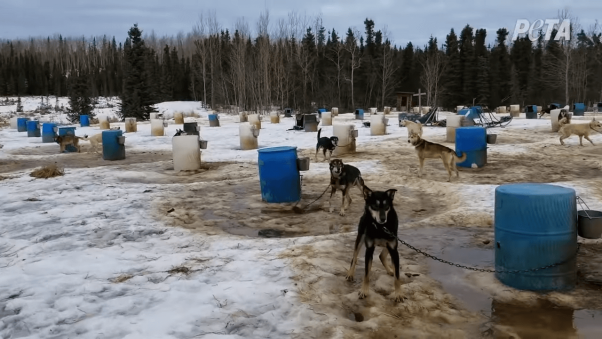 While companion animals have been known to seek out their guardians' graves in a moving display of affection, sledding operations have been known to put dogs in their graves and betray their loyalty. Dogs used for sledding are isolated from each other's company and from human companionship. The sledding industry regularly denies dogs warmth, comfort, and necessary medical care in the name of profit and entertainment. 
Why 'Sled Dogs' Don't Exist
Just as elephants violently trained to perform in shows are not "circus elephants," dogs forced to run hundreds of miles while pulling a sled are not "sled dogs." There is no such breed as a "circus elephant" and no such dog as a "sled dog." 
Naming any animal by the work humans force them to perform is speciesist. Discriminating against others because of a misguided belief that one species is more important than another is speciesism. Animals are not objects that belong to us but individuals with their own interests and lives.  
In an expert statement on industrial dog-sledding operations, veterinarian Debi Zimmermann notes, "The mass chain warehousing of dogs … is at odds with legitimate dog care and societal attitudes everywhere in the Western world. Yet somehow this suffering becomes a legally acceptable 'industry standard' when someone stands to profit from this abuse."
These dogs are not indestructible pieces of sporting equipment—they're the same as those with whom we share our homes and hearts. Every dog desires to live a life free from suffering and pain.
Suffering Is the Industry Standard
When treated like sporting equipment, these social beings are chained outside—sometimes with only a dilapidated wooden box or plastic barrel for shelter. Most facilities provide little or no protection from severe weather, including during winters in which temperatures often fall below freezing.
"[D]ogs are factory-farmed and warehoused en masse … and forced to eat where they defecate."

—Dr. Debi Zimmermann, B.Sc., D.V.M.
In the Iditarod, dogs run through blinding snowstorms and subzero temperatures over grueling Alaskan terrain for up to two weeks. At least 150 dogs have died since the race's inception, and countless others have died while chained up outside or have been killed simply because they lacked the rare speed and stamina to make the grade.
Demand That Deadly Dog Races Be Ended
Dogs raised on factory farms face a lifetime of loneliness and despair. In the words of Zimmermann, "Cruelty is cruelty is cruelty; regardless of how it is justified by those who stand to gain from it."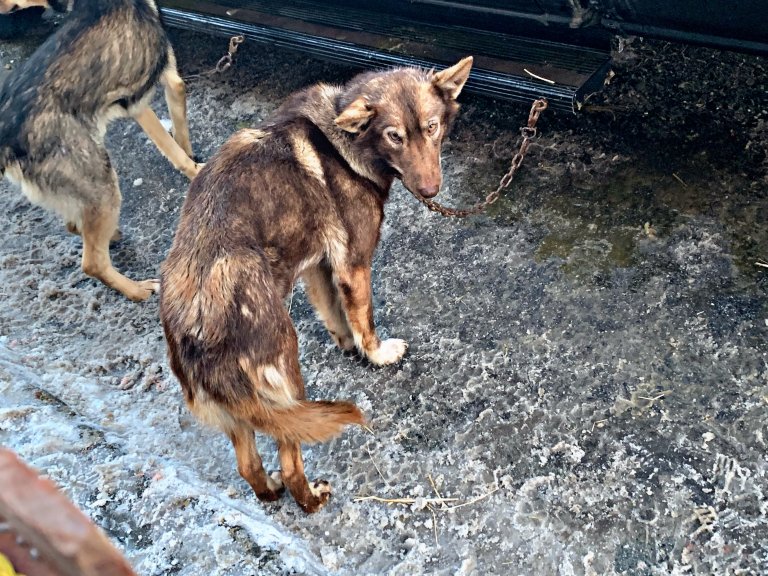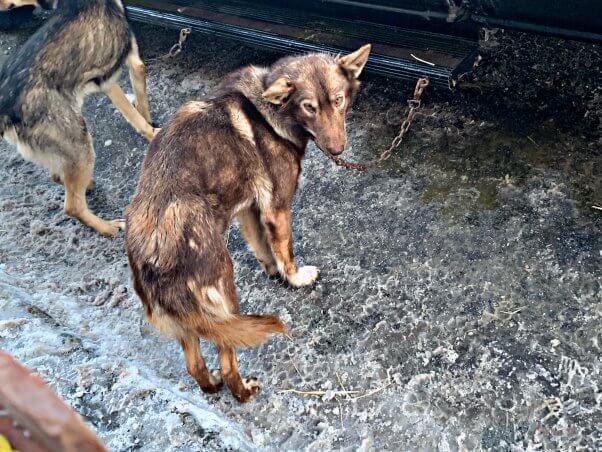 PETA protests, ads, and action alerts as well as the determined efforts of our supporters have prompted major sponsors to cut ties with the Iditarod. ExxonMobil, Chrysler, Alaska Airlines, and other Fortune 500 businesses no longer sponsor the death race after learning about its cruelty from PETA, but we must keep the pressure on. Urge Liberty Media/GCI to cut ties with the event and spare defenseless dogs unnecessary suffering.