PETA's Norfolk, Virginia, headquarters has a new moniker—the Sam Simon Center—in honor of entertainment giant Sam Simon, the multiple Emmy Award–winning co-creator of The Simpsons and the writing genius behind hit shows like Taxi, Barney Miller, Cheers, The Tracey Ullman Show, The Drew Carey Show, and Charlie Sheen's new FX series, Anger Management. Accompanied by a Dixieland jazz band, Simon arrived by boat to cut the ribbon at a dedication ceremony today, which was also attended by New York Jets safety Bret Lockett and other luminaries, including the glamorous Jennifer Tilly, TV host and producer Mark Thompson, and World Series of Poker champion Phil Laak.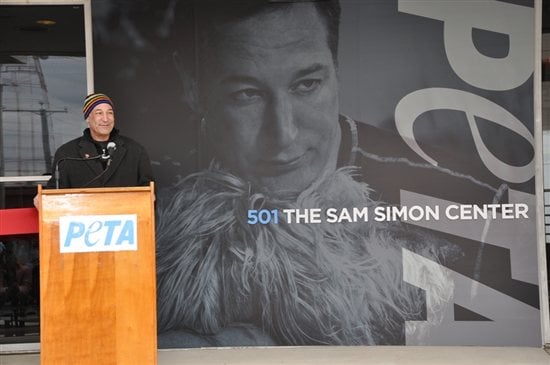 Simon, who serves on PETA's Executive Committee, has been a vegetarian since he was 19 and a vegan since joining PETA years later. He is known for his work with The Sam Simon Foundation, which rescues dogs from shelters and trains them to help soldiers who return from war with physical and mental trauma. He attacks animal homelessness at its roots by sponsoring spay and neuter surgeries in low-income areas of Los Angeles. He also helped PETA launch our newest mobile spay-and-neuter clinic and hosts annual PETA fundraisers at his home in L.A.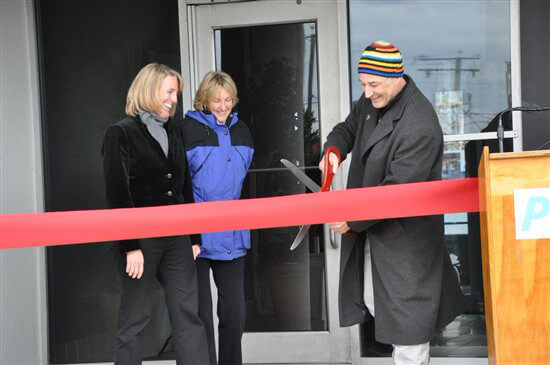 Perhaps because he works in the entertainment industry, the plight of animals in entertainment is especially close to Simon's heart. He is an outspoken opponent of cruelty in circuses, roadside zoos, and marine parks, and he recently attended a PETA news conference with Bob Barker to call attention to the plight of animals on TV and movie sets. "[I]f you can't afford the CGI [computer-generated imagery], either do a rewrite," he said, "or do a cartoon show like I did."
Simon once donated his fee for an episode of The Drew Carey Show to PETA because the plot involved greyhound racing, and he felt that he could not in good conscience keep the money. As if he's not busy enough, Simon also hosts a weekly Friday Internet radio show on Radioio.com in which he always keeps animal issues in the spotlight.
"Sam Simon may be a big Hollywood figure, but it's his big heart that makes him a PETA soulmate," said PETA President Ingrid E. Newkirk.