How tweet it is: Ricky Martin announced to fans over Twitter that he's gone vegetarian! To help the singer get his bon-bon in top form, PETA sent him a vegetarian/vegan starter kit, copies of "Glass Walls" in both English and Spanish, and a cookbook of vegan recipes for Latin food lovers, Viva Vegan. 
A little birdie also told us that many other celebrities were tweeting for animals this week as well: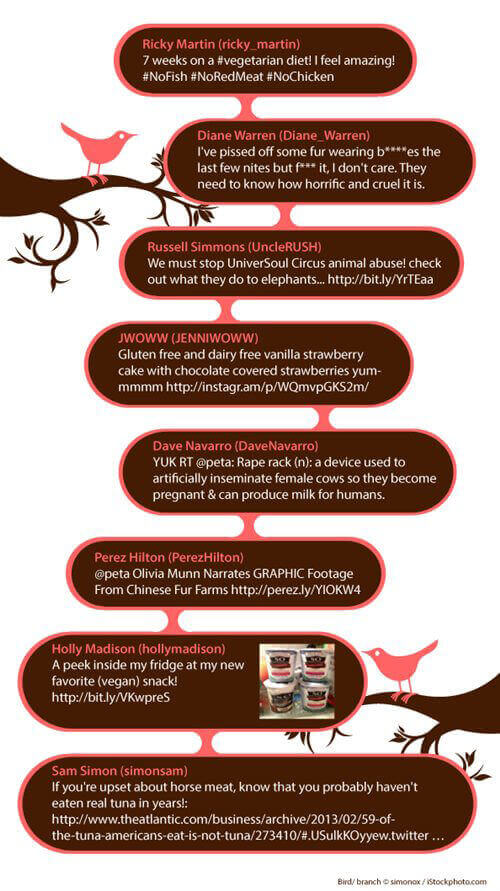 Maybe Ricky will start his twin sons out on the healthy veggie path, too? Emily Deschanel is doing just that with her little one, Henry: She told Mother Nature Network, "We are raising Henry vegetarian; he will be mostly vegan and always have a choice in the matter, but we will educate him about why we make the choices we do with our food." 
And vegan racecar driver Leilani Münter is putting her cause célèbre on the fast track. After the success of her Cove–themed racecar last season, this year Leilani is aiming to burn rubber in a vegan-themed car that will expose 80 million NASCAR fans to the benefits of plant-based foods.
After we're done cheering for Leilani, we'll be switching the channel over to this season of Dancing With the Stars to root for our buds Andy Dick and Kellie Pickler. 
And when the cameras were pointed at Russell Simmons during New York Fashion Week, they may have gotten more than they bargained for. One of animals' greatest defenders, Simmons took the opportunity to express his feelings about fur:
I did see something that hurt my heart and it has nothing to do with Max [Azria] only, it has to do with the whole industry: the use of so much fur. And my first instinct was it must be fake—because it hurt my heart. … I just wish that all the designers would reconsider because there's such great Italian fake fur, there's such great Japanese fake fur, so much beautiful fake fur.
To keep up with what Russell and all your favorite stars are doing for animals, follow @PETA on Twitter.