Wild animals don't want to be in your selfies. Thankfully, there's no need to harm a living, feeling being in order to take a cool picture. No one has to visit cruel roadside zoos to get close to animals when augmented reality (AR) technology from Google lets you project a 3D tiger right into your safer-at-home digs. You'll just need a smartphone or tablet to take your animal-friendly tiger selfie.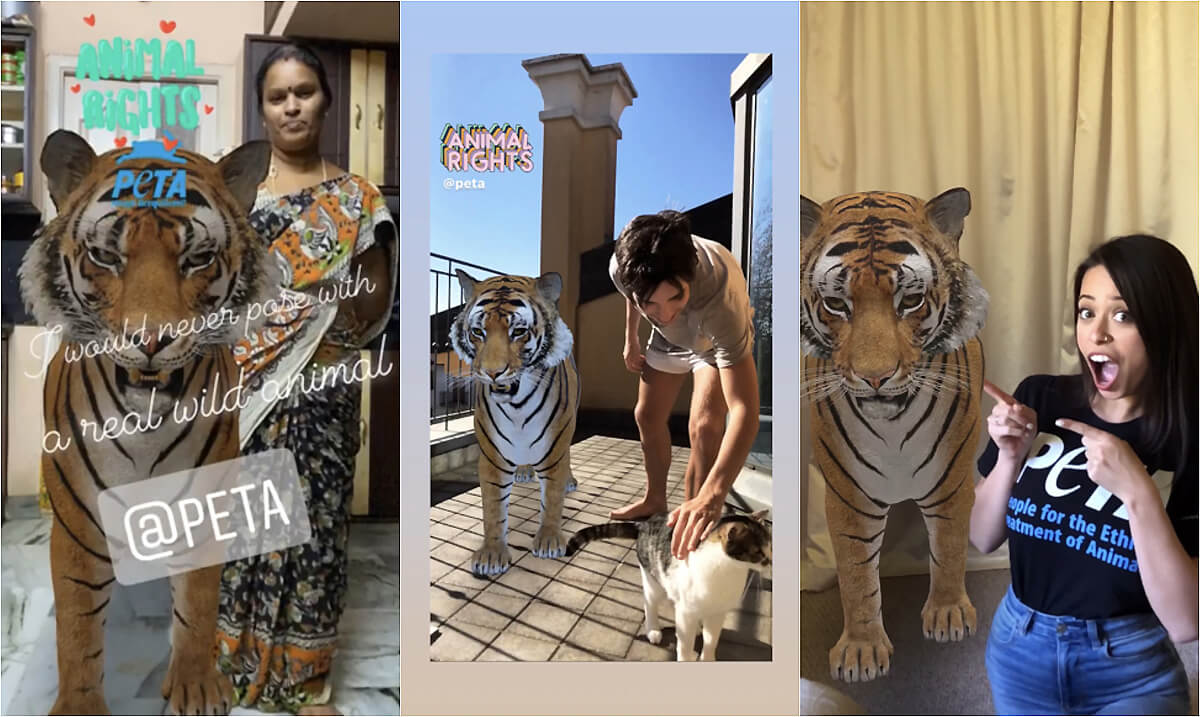 Be a Tiger King or Queen Without Supporting Cruelty—Take an AR Selfie!
Here's how to do it:
On your phone, go to Google and search "tiger."
Under "Overview," tap "View in 3D." Then tap "AR."
Aim your camera and BAM! Now there's a "tiger" in your room.
Check out this quick video to see how it works:
@officialpeta

Want to be a tiger king/queen? Here's how to do it without the cruelty.
Want to see more PETA TikTok content? Follow us!
The best news is that these AR tigers won't ever miss their mothers, feel pain or distress, or lash out in frustration the way real tigers used for entertainment do.
What Do Tigers Used in Photo Ops Have to Endure?
In nature, tiger cubs stay with their protective and nurturing mothers for up to two years, but those used for photo ops are torn away from their mothers when they're just hours, days, or weeks old. Like any other young animals (including human babies), tiger cubs require a lot of sleep, but ones in captivity are often not afforded adequate rest. Cold and heat stress, malnutrition, exhaustion, and infectious diseases affect many of these likely terrified cubs, particularly the youngest ones, whose immune systems aren't fully developed yet.
Once cubs grow beyond photo-op age (which is, at most, when they're only a few months old), most are relegated to dingy cages in roadside zoos and sometimes used for breeding to perpetuate the cycle. Some are even killed.
Take Action for Tigers
Did you know that big cats have a unique hyoid bone and large vocal cords that allow them to emit a deep, fierce roar? You could hear a tiger roaring from up to 2 miles away—and that's as close as you'd ever need to be. Please, never visit roadside zoos, marine parks, or any other businesses that profit from exploiting animals.
For more interesting facts about animals, check out Animalkind. Then join the tens of thousands of people who have taken action for tigers in roadside zoos: