Update (July 13, 2022): If you've ever been jolted awake from a peaceful nap, you'll understand why the sea lions at San Diego's La Jolla Cove reacted the way they did in a recent viral TikTok video:
In the moments leading up to the video—in which sea lions appear to be chasing San Diego beachgoers away—a woman apparently approached the sleeping animals and got close to one of them in order to snap a photo. Then the animals appear to chase everyone away.
Sea lions are social animals who will defend themselves and other members of their group when provoked. When approached by humans, they may defensively bark or chase intruders away—and they're especially territorial during mating season in the warmer months.
Speciesist marine parks like SeaWorld force sea lions to perform patronizing acts and to interact with visitors, making it seem as though they're toys to play with. In reality, these animals don't want to interact with humans, and attempting to approach them in their natural habitat can be very dangerous.
A video that circulated online shows a sea lion snapping at and throwing a child—who apparently had been placed on the animal's back for a photo—off their back.
Sea lion almost attacks child after parents decide to record her mounting it from facepalm
If you want to respect wild animals, simply leave them alone—or else incidents like this will continue to occur.
Update (April 14, 2022): It was a reminder to leave animals in peace that no one should have needed. On April 10, a dolphin became stranded on the Texas Gulf Coast's Quintana Beach. Instead of phoning a local stranding office, beachgoers reportedly surrounded the dolphin, pushed her back out to sea, and then tried to ride and otherwise harassed her. She died before helpers were able to reach her.
Dolphins have had to put up with a lot of nonsense from humans. Some are held captive at abusement parks like SeaWorld, where they're imprisoned and forced to star in unnatural, unsafe attractions. Some are confined to small pools and used for deceptively cruel "swim with dolphins" programs. And even those who live in their natural habitat aren't safe from humans' senselessness—as proved by these people who decided that this stunt was more important than a dolphin's life.
What to Do if You Find a Stranded Marine Mammal
If you were to find an injured seal or a beached dolphin, would you know what to do? For starters, don't mimic these beachgoers' cruel, foolish actions. If you come across a stranded marine mammal, dead or alive, do not touch the animal. Don't feed or pick them up, and don't attempt to return them to the water. Maintain a distance of at least 50 feet. If you notice other bystanders nearby, please ask them to keep their distance, too. Try to keep animal companions at a distance as well. Finally, call your local stranding office to report the encounter. Click here to search a global directory, then save the number for your local listing in your contacts for possible future encounters. (Before dialing, assess the animal's appearance: What size and color are they? Do they appear weak, thin, or injured? And be sure to describe the animal's location accurately.)
In their own way, dolphins held captive and exploited by SeaWorld are stranded, too—existing in a SeaWorld of hurt. But just as you can help stranded marine mammals in nature, you can help animals imprisoned at the park. Please, tell the company to stop breeding dolphins and whales and to send them to seaside sanctuaries.
Update (September 2, 2021): Rangers reportedly shot and killed an elephant outside the city of Kwekwe in Zimbabwe after the animal gored, dragged, and trampled a man to death—because he had apparently tried taking selfies with the elephant. The animal also injured another man, who is "battling for life" at a nearby hospital, according to local news outlet The Chronicle.
ZIMBABWE Parks and Wildlife Authority (Zimparks) rangers shot down an elephant after it fatally trampled a man who was taking selfies with the jumbo just outside Kwekwe, triggering a stampede by villagers for elephant meat.https://t.co/kGasDw8JM4 @Zimparks

— The Chronicle (@ChronicleZim) August 31, 2021
Zimparks Public Relations Manager Tinashe Farawo said that rangers had "no option" but to kill the elephant. "Communities are urged to stay away from the animals and minimise close contact with the animals," Farawo also said, according to The Herald, and added that the incident "could have been avoided."
Elephants are not selfie props.
Had this man done the right thing—left wildlife in peace—this elephant would likely still be alive, hanging out with friends, spending hours grazing on grasses, taking mud baths, and doing other things that elephants enjoy in nature. Instead, he essentially signed both his own and this elephant's death warrant, all for a photo op.
Update (May 7, 2021): Folks who witnessed men posing with what appears to be a young tiger shark in the Chassahowitzka River in Florida did exactly what they should've done: alerted authorities. After multiple good Samaritans called the Florida Fish and Wildlife Conservation Commission (FWC), the agency launched an investigation and reportedly issued two "notices to appear" to those allegedly involved.
An investigation is underway after images floating around on social media show boaters capturing and posing with what appears to be a young tiger shark. ⬇️https://t.co/UFf7I8J6uP

— LiveNOW from FOX (@livenowfox) May 4, 2021
This shark—who, according to one witness, was killed after being tied to a boat, dragged up the river, and used as a photo prop—should not have been tormented for selfies, "likes," or any other reason. Sharks—who sometimes work together to obtain food and have even been known to mind their manners while eating—deserve what all animals deserve: to be left in peace. We hope the FWC protects all residents of its state by throwing the book at these men if they're convicted. And if you're as outraged over the stunt as Twitter is, there's something you can do to help sharks, too:
Update (August 12, 2020): Huckleberry did his best to survive, but a few vain humans still managed to get the black bear killed.
Apparently a bit of a legend in British Columbia, Canada, Huckleberry reportedly kept his distance from humans, until last week when some residents—in an attempt to snap a photo—decided to lure the vulnerable animal closer with food. "You were willing to coexist, but people were not," a local organization wrote on Facebook. "If only people had … respected you enough to not have any garbage or food scraps accessible in the first place. We did you a disservice, Huckleberry." According to the organization, after the incident, officers deemed the bear too comfortable around humans and tranquilized him, after which he was "taken away to be killed."
Had these people done the right thing—left wildlife in peace—Huckleberry would certainly still be alive, climbing trees, spending hours foraging for his own food, breaking up logs, and doing other things that black bears enjoy in nature. Instead, they essentially signed his death warrant, all for a photo op.
Huckleberry's story is not unique. Just yesterday, a now-viral video surfaced showing a group of people gathered at a picnic table outdoors, feeding a large black bear a peanut butter sandwich. It was reposted to Instagram with the fitting caption, "How to get a bear killed."
And last year, a young bear was shot and killed in Oregon after people took selfies with him. No one should die for "likes." It may be too late for the young bear and Huckleberry, but we can still help many others like them simply by leaving animals in peace.
Update (March 11, 2019): This time, it was a human, not another animal, who paid the price for an attempted wild-animal selfie. A woman was injured at the Wildlife World Zoo in Litchfield Park, Arizona, after she reportedly leaned across a safety barrier to try to get a picture with a jaguar. According to reports, the female cat swatted the woman's arm with her paw, causing injuries that were not life-threatening.
The roadside zoo's director told reporters that this is the second time this big cat has attacked a human who tried to encroach on her enclosure. PETA is once again reminding everyone that when they try to use wild and exotic animals as photo props, they shouldn't be surprised when the animals try to protect themselves.
Originally posted on August 17, 2017:
Yet another victim has been added to the growing list of "animal selfie" fatalities—this time, a baby dolphin. In order to take a photo, beachgoers, who should now be locked up, showed a naïve—and ultimately fatal—disregard for life. Dolphins are highly sensitive, self-aware individuals, and one can only imagine the trauma endured not only by this young dolphin, who was abused and prodded like a stuffed toy.
Baby dolphin dies after being surrounded by tourists posing for photos https://t.co/tlArRZjQBs

— Evening Standard (@standardnews) August 16, 2017
In March 2016, a swan reportedly died after being dragged from a lake in Macedonia by a female tourist who wanted to pose for photographs with the struggling animal.
The previous month, a baby dolphin died after being dragged from his or her ocean home and passed around for selfies by a crowd of eager tourists. The horrifying scene took place on a beach in Argentina and was documented on social media, sparking international outrage, with many calling for criminal charges for those responsible.
Reports indicate that after the photos were taken, the animal's body was unceremoniously discarded on the beach. The baby dolphin had apparently served his or her purpose with the selfies already taken.
Because of the callousness of this incident, one might think of this event as an isolated one, fueled by a sort of mob mentality and misguided excitement over seeing a rare animal. Unfortunately, this isn't the case.
Days later, in a different part of the world, a similar video surfaced of a man pulling a struggling shark from the ocean in Florida and pinning down the resistant animal while smiling for a photo. After he releases the shark, you can see the disoriented animal thrashing near the shore, unable to swim away or perhaps too traumatized by the incident to know what to do next. It is unclear whether the shark ultimately survived the encounter.
And it's not just animals who are being pulled from oceans and lakes falling victim to people's need for the perfect Instagram photo. While the shark was suffering in Florida, two peacocks reportedly died at a zoo in China after visitors grabbed them for selfies and even pulled out some of their feathers.
But animals suffering for photo ops is nothing new. Baby tigers are often ripped from their mothers shortly after birth and are subjected to extreme stress, and some are even subjected to physical abuse as money-hungry animal exhibitors force them to pose with smiling tourists. Once the tigers are no longer babies and become too large and dangerous to pose for pictures, they are typically shipped off to other roadside zoos and forgotten.
Dolphins at "swim-with-the-dolphins" attractions fare no better, as the animals are denied everything that is natural and important to them and forced to swim in claustrophobic swimming pools. They often die prematurely. Just because dolphins always look like they're smiling does not mean that the animals actually are happy and want to pose for your pictures.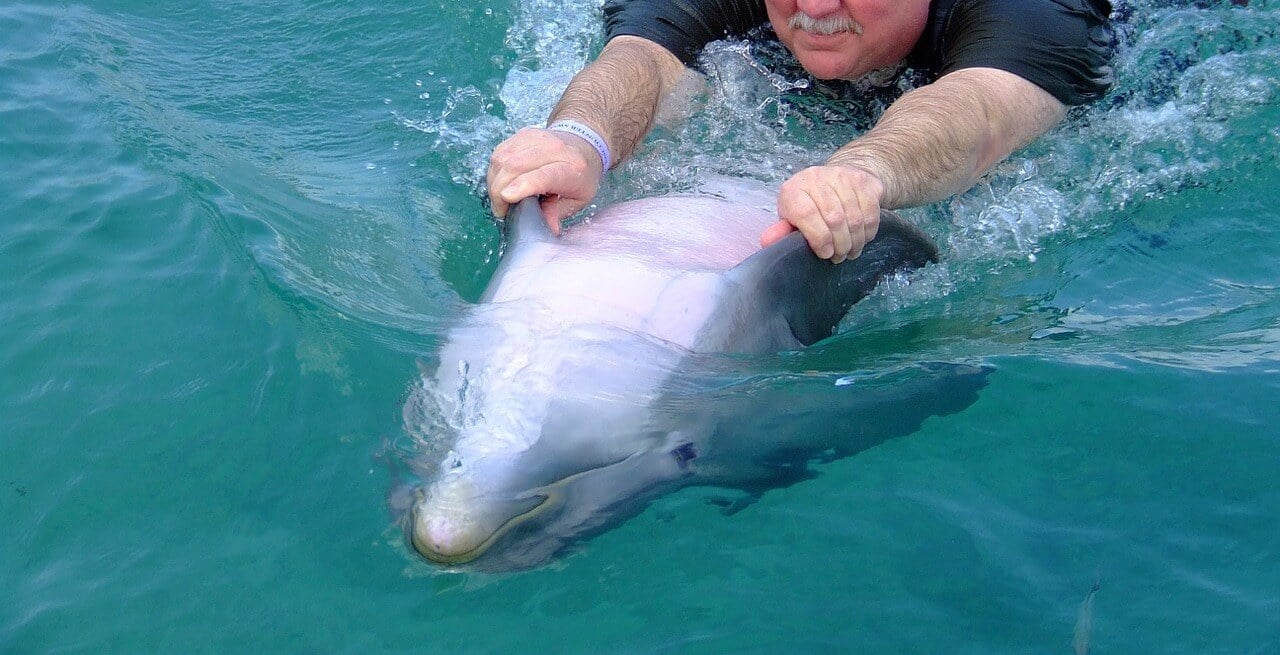 Remember: Animals aren't selfie props. If there's any risk that your photo is going to hurt or stress an animal, it's not worth it.
What You Can Do
Never patronize any place that profits from exploiting live animals, and leave wildlife in peace. Learn more: