Riccardo the elephant was only 8 months old when he died. The entirety of his short life was spent in captivity with Ringling Bros., enduring mental and physical suffering.
In December 2003, Riccardo's mother, 8-year-old Shirley, gave birth to him inside Ringling's misleadingly named breeding facility, the Center for Elephant Conservation. During the birth, three of Shirley's legs were chained. After Riccardo was born, she made several desperate attempts to reach out and care for her newborn, but instead of allowing mother and baby to bond, Ringling's trainers pulled him away.
According to court documents, Riccardo's training began when he was just 3 months old and still being bottle-fed. At 6 months old, he reportedly developed knee problems. After staff gave him pain medication, his training continued.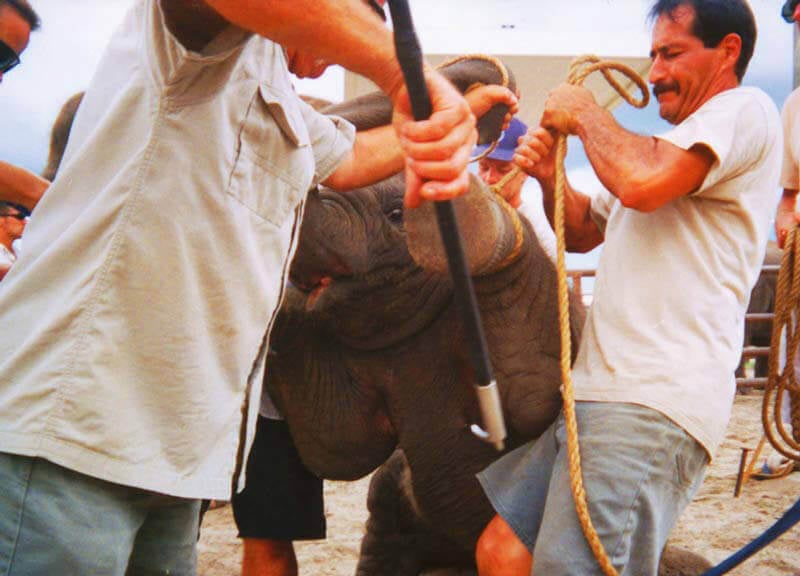 In August 2004, when Riccardo was only 8 months old, he fell from a pedestal and broke his hind legs. Although Ringling tried to claim that he had fallen while he was playing, it was revealed in court that the incident actually occurred while he was being trained to get on the pedestal. His trainer admitted to holding a bullhook at the time and said that a rope was tied around the baby elephant's trunk when he toppled over. The incident proved fatal: Veterinarians determined that the damage to his hind legs couldn't be treated, and he was euthanized.

We're counting down the days until Ringling's last curtain call. But while we celebrate the end of the saddest show on Earth, we mourn the tragic and unnecessary deaths—like Riccardo's—that occurred during the circus's 146-year run.
Animals Still Need Your Help
Thank you to everyone who has picked up a protest sign, passed out leaflets, written letters, shared videos, called legislators, spoken to family members, and been part of this relentless pursuit of freedom for animals. Ringling's demise wouldn't have happened without you.
But there's still work to be done. All other animal circuses, roadside zoos, and wild-animal exhibitors—including marine abusement parks such as SeaWorld and the Miami Seaquarium—must take note: Society has changed, eyes have been opened, people now know who these animals are, and we know it's wrong to capture and exploit them. For Riccardo and all other animals being abused in the entertainment industry, speak up now.