PETA members joined a coalition of local animal rights supporters in a spirited "farewell to fur season" demonstration outside Canada Goose's SoHo store on Saturday. Holding graphic posters with pictures of slaughtered coyotes next to the words "Here's the Rest of Your Canada Goose Coat," the group of 50 demonstrators urged compassionate people to keep up the pressure on the company throughout the off-season.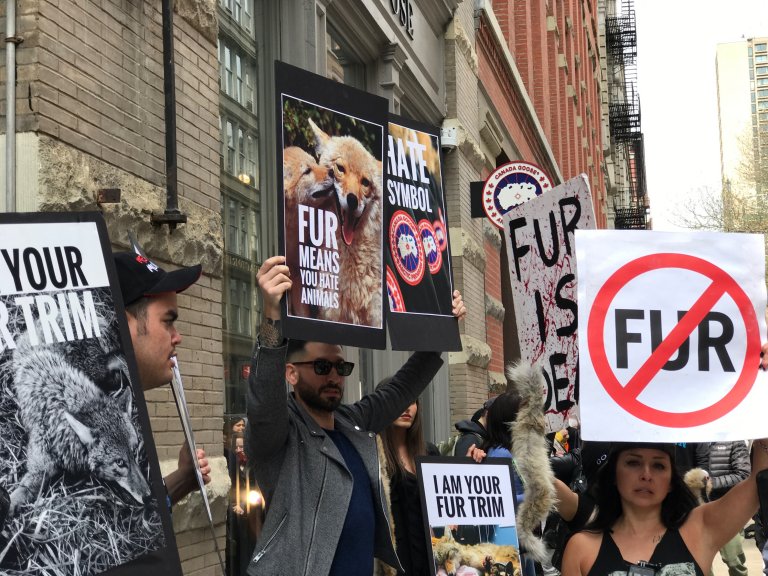 "Every fur-trimmed Canada Goose coat represents the terrifying and painful death of a coyote who was trapped, strangled, shot, stomped on, or bludgeoned," says PETA Executive Vice President Tracy Reiman. "PETA is calling on consumers to reject Canada Goose's cruelly produced coats made with coyote fur and down and to invest in kindness by buying vegan clothing instead."
Trapped coyote mothers desperate to get back to their starving pups have been known to attempt to chew off their own limbs to escape. Many trapped animals succumb to the elements, blood loss, infection, or predators before trappers arrive to kill them.
A PETA video that juxtaposes Canada Goose's coyote-fur jackets with disturbing footage of a trapped coyote has received more than 36 million views, been shared over 200,000 times, and generated more than 60,000 outraged comments on Facebook.
What You Can Do
There's nothing warm and cozy about the cruelty that Canada Goose stitches into every one of its jackets. Urge the company to stop selling fur and goose down now!