In 1879—140 years ago—one of the country's first "bear pits" opened at Lincoln Park Zoo in Chicago. In the startling historical photo below, you can see zoogoers looking on as a bear climbs a lone tree in a barren concrete pit. While our entire way of life has been revolutionized in the many decades since this photo was taken, things have remained shockingly unchanged for bears kept in captivity. In fact, bear pits have stayed relatively the same for so long that, were it not for the period clothing that they're wearing, the people in this photo might be confused for roadside zoo patrons in 2019.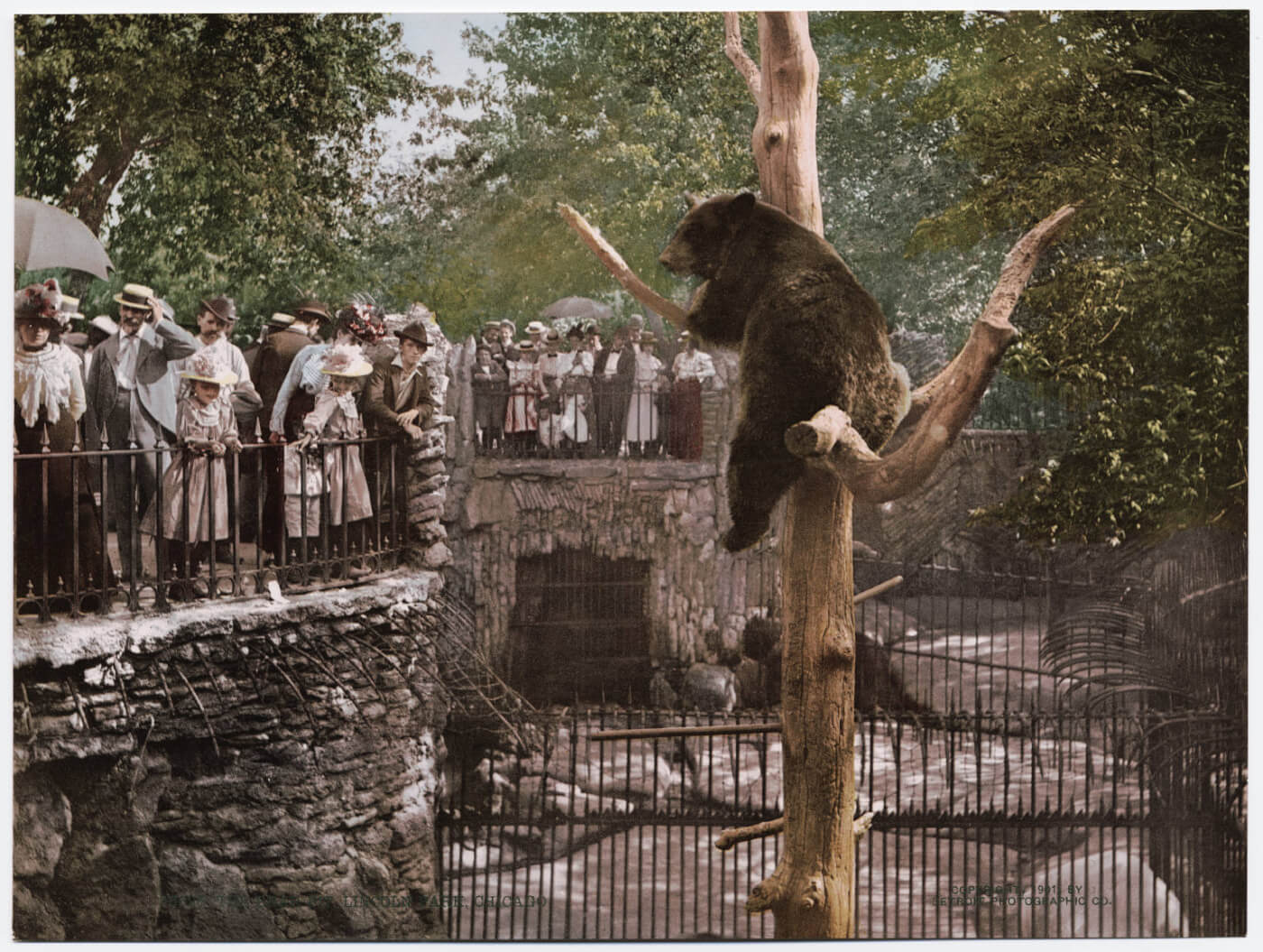 As our understanding of the complex social and physical needs of nonhuman animals has grown, people have become increasingly disillusioned with the idea of exploiting them for entertainment. In an attempt to more closely replicate animals' natural habitats, most accredited zoo enclosures have been adapted over time to give animals more space and provide them with more mental stimulation. But bear pits, which are inherently cruel, don't need to be modernized—they need to be closed down immediately.
While Lincoln Park Zoo's bear pit, pictured above, has closed, at tourist traps and roadside zoos across America today, hundreds of bears spend their lives confined to small concrete-floored enclosures or pits. Some cubs are separated from their mothers as infants, so instead of being properly nurtured, they spend their days being forced to participate in photo ops with tourists. Their lives are typically devoid of any comfort or outlets for engaging in natural behavior.
These side-by-side photos show how little bear pits have changed over the decades, highlighting just how long this cruelty has been going on:
LEFT: A polar bear in a barren pit begs for food at the St. Louis Zoo in the 1950s.
RIGHT: Two bears are in a barren pit at the Cherokee Bear Zoo.
LEFT: Bears are shown in a pit at the St. Louis Zoo in 1923.
RIGHT: Here's a present-day bear pit at the Cherokee Bear Zoo in North Carolina.
LEFT: This photo, circa 1905, shows bears in a pit in Bern, Switzerland.
RIGHT: In 2018, a bear is in a pit at Three Bears General Store in Tennessee.
---
Bears are highly intelligent animals who experience a wide range of emotions. In the wild, they forage for a variety of foods and dig in the soft earth, brush, and leaves—but concrete pits deprive them of everything that's natural and important to them. Surrounded by solid walls, they can't scan the horizon, gain a perspective on their surroundings, or make much use of their acute sense of smell.
Enough is enough. Let's end bear pit cruelty.
Take Action to Help Bears Today!
Click the links to learn more about—and take action for—bears being held in deplorable conditions at roadside zoos like Three Bears General Store and Cherokee Bear Zoo.
Help end this outdated cruelty. Join PETA in working toward a compassionate, humane future when no bears are exploited for cheap human entertainment.