Photos captured near Gettysburg, Pennsylvania, appear to show a bald eagle whose leg has been caught in the crushing grip of a steel-jaw trap, a notoriously cruel device used by trappers and hunters to immobilize animals. While fur-bearing animals are typically the intended target of those who lay these traps, a metal torture device cannot discriminate between one type of animal and another. Steel-jaw traps pose a threat to ALL species—including birds, companion animals like cats and dogs, endangered animals, and even humans. This eagle's plight is proof of that. According to a post on Facebook, concerned locals haven't been able to get close enough to release the bird's leg from the crushing grip of the trap.
While it may be shocking or upsetting to see a bald eagle caught in a steel-jaw trap, this bird's pain is no different from that which is felt by the animals trappers intend to catch—such as coyotes, whose fur is used as trim on Canada Goose jackets.
Animals may struggle for hours or even days before a trapper returns to kill them—if they haven't succumbed to exhaustion, exposure, blood loss, shock, or predation first. Some animals, especially mothers desperate to return to their young, will even attempt to chew or twist off their trapped limbs. When they can't escape, their babies are left alone, unable to fend for themselves. If they aren't already dead when the trapper returns, they may be shot, strangled, stomped on, or bludgeoned to death.
Because of the cruelty inherent in the use of steel-jaw traps, they've been banned in many countries. Their use is also banned or restricted in several U.S. states, including Arizona, California, Colorado, Florida, Massachusetts, New Jersey, Rhode Island, and Washington. The European Union has banned their use in Europe as well as the importation of pelts from countries that use them to trap and kill fur-bearing animals.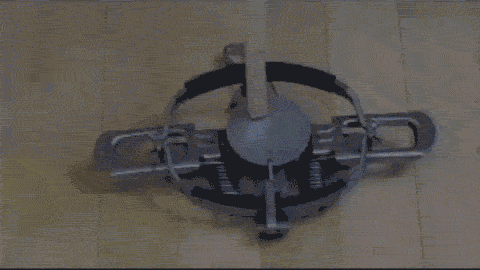 Fur-Bearer Defenders
Wearing fur supports the cruelty of steel-jaw traps.
Regardless of species, no animal should suffer and die in a steel-jaw trap. With an ever-growing array of vegan clothing available to consumers, there's always an opportunity to shop compassionately when you head to the store. Sign the pledge to stop wearing fur today.
You can also let your friends and family know that you won't be supporting Canada Goose as long as it continues to trap, kill, and use animals for its coats.