In 2017, near Gettysburg, Pennsylvania, a bald eagle's leg was caught in the crushing grip of a steel-jaw trap—a notoriously cruel and indiscriminate device used by trappers and hunters to immobilize animals—that was likely intended for a fur-bearing animal. The bird was apparently able to ditch the trap after several days but was seen walking with extreme difficulty. The photo below shows the trap locked around a blackened, likely infected talon:
Think of this when you see fur 😢 Bald eagle stuck in trap shows how fur trapping hurts ALL animals. https://t.co/kTkgdnMcZu pic.twitter.com/18iIMVHRcx

— PETA (@peta) February 9, 2017
Steel-jaw traps pose a threat to all species, including birds, companion animals like cats and dogs, endangered animals, and humans. This eagle's plight was proof of that. Other eagles in the U.S. have endured similar encounters with steel-jaw traps—and not all have survived.
Although it may be unusual to see a bald eagle caught and suffering in a steel-jaw trap, the animals trappers intend to ensnare—such as coyotes, foxes, and other fur-bearing animals—experience equal panic and pain.
Animals caught in traps may struggle for hours or even days before a trapper returns to kill them—if they haven't succumbed to exhaustion, exposure, blood loss, shock, or predation first. Some animals, especially mothers desperate to return to their young, have even been known to attempt to chew or twist off their trapped limbs. When they can't escape, their babies are left alone, unable to fend for themselves. If they aren't already dead when the trapper returns, they may be shot, strangled, stomped on, or bludgeoned to death.
Because of the cruelty inherent in the use of steel-jaw traps, they've been banned in many countries. Their use is also banned or restricted in several U.S. states, including Arizona, California, Colorado, Florida, Massachusetts, New Jersey, Rhode Island, and Washington. The European Union has banned their use in Europe as well as the importation of pelts from countries that use them to trap and kill fur-bearing animals.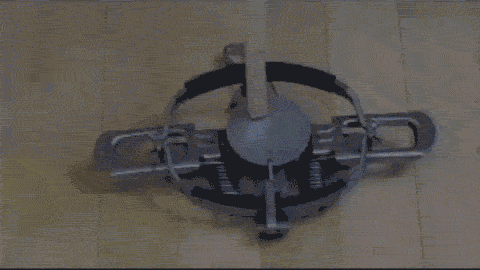 Fur-Bearer Defenders
Selling Fur Supports Trappers
Popular marketplaces and retailers, including Wish's parent company ContextLogic, Etsy, and SSENSE, allow animals' stolen fur to be sold on their platforms, ultimately supporting an industry that includes factory fur farmers, who let animals go insane in cramped, filthy cages, and trappers, who litter eagles' ecosystems with indiscriminate steel-jaw traps. With an ever-growing array of vegan materials available, there's no acceptable reason to continue selling fur.
Please help animals everywhere by asking the owners of Wish, Etsy, and SSENSE to end their support of senseless violence against animals, who just want to keep their fur and be left alone.
If you live in a state where steel-jaw traps are still legal, please ask your local and state government officials to ban them and support legislation that limits or prohibits their use in your area.