Update: The face of the infamous Dade City's Wild Things (DCWT), Randy Stearns, has been jailed after pleading guilty to two counts of misdemeanor sexual misconduct.
The former DCWT president pleaded guilty to exposing his genitals "under circumstances in which he … [knew] that [such] conduct [was] likely to cause affront or alarm" stemming from a 2016 indictment in Missouri. He was sentenced to 30 days in jail, and, according to the prosecutor's office, he'll have to register as a sex offender.
The Florida Department of Agriculture and Consumer Services is suing Stearns, his parents, and the roadside zoo his parents operate, over alleged fraudulent fundraising. The U.S. Department of Agriculture has sued over numerous animal-welfare violations. And a PETA lawsuit filed against Stearns, his mother, and the roadside zoo over alleged cruelty to endangered tigers has already prompted a motion to hold them in contempt for shipping 19 tigers across the country, during which time three newborn cubs died.
An evidentiary hearing on the contempt motions will be held in federal court on February 21.
Originally published October 6, 2017:
Following a yearlong investigation sparked by a PETA complaint, the Florida Department of Agriculture and Consumer Services filed a lawsuit on October 2 against Dade City's Wild Things (DCWT)—a notorious roadside zoo that subjects young tigers to swimming events and other forced public encounters—alleging a host of unlawful fundraising activities.
"Legal troubles continue to plague Dade City's Wild Things, and the latest lawsuit suggests that well-intentioned donors were footing the bill for the personal expenses of the facility's owners," says PETA Foundation Vice President and Deputy General Counsel Delcianna Winders. "This latest fraudulent-fundraising complaint is the writing on the wall: This roadside zoo must close its doors and send all the animals to reputable sanctuaries."
The fundraising lawsuit alleges that DCWT's owners used nonprofit funds for for-profit and personal expenses. In addition, it contains many of the same allegations made in PETA's 2016 complaint, including that DCWT solicited contributions without being registered to do so and that the roadside zoo falsely claimed that contributions were tax-deductible when its tax-exempt status had been revoked three years before.
DCWT paid fines in 2010 and 2015 for fundraising after its charitable registration had expired. In 2012, its fundraising registration was canceled because owner Kathy Stearns—who cannot solicit donations until 2021 after pleading no contest in 2011 to a crime involving theft—had solicited donations.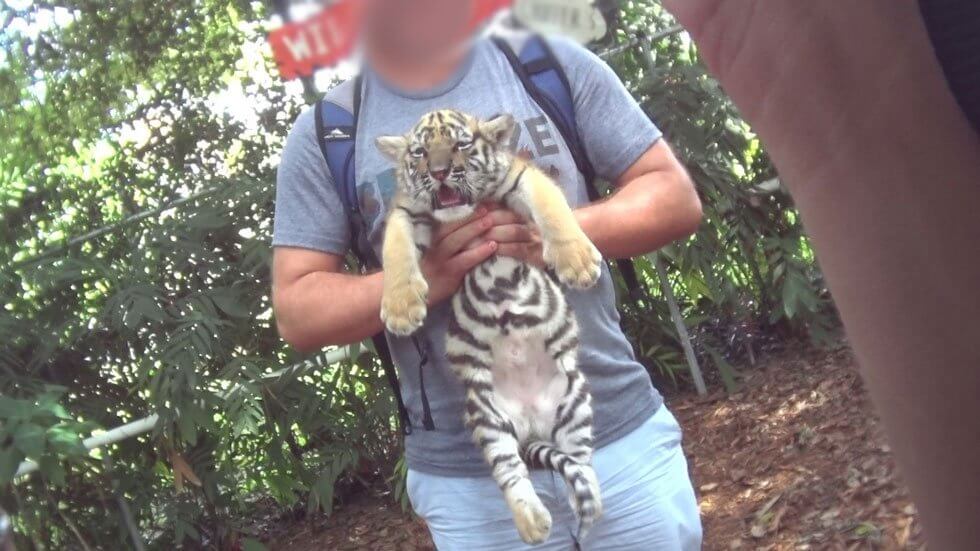 DCWT currently faces a lawsuit from PETA, challenging the roadside zoo's practice of separating newborn tiger cubs from their mothers, forcing cubs to interact with the public, and warehousing them in virtually barren enclosures. DCWT also recently lost a lawsuit filed against it by the U.S. Department of Agriculture over numerous violations of the federal Animal Welfare Act, including improper handling of tiger cubs, and the roadside zoo's appeal of that decision is pending.