A photograph taken in northern Australia by a film crew shooting Blue—an upcoming ocean documentary—shows the decomposed body of a green sea turtle still wrapped in the plastic fishing net that's believed to have killed him.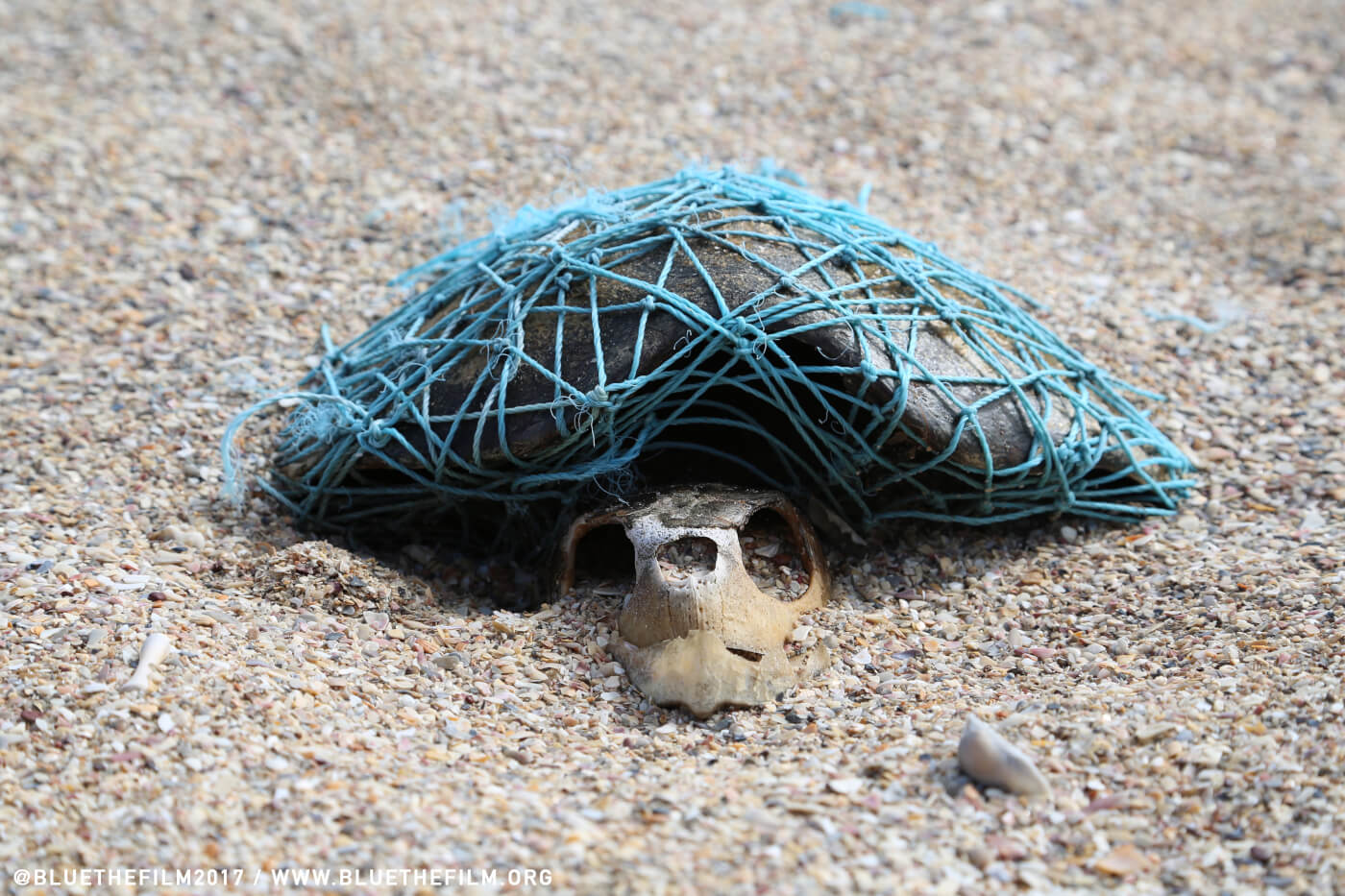 © BLUE The Film
According to The Independent, the film crew released the image to call attention to the dangers of abandoned fishing nets, also known as "ghost netting."
The photos are heartbreaking 💔 More than 700,000 TONS of fishing gear is left in the ocean each year. It's KILLING & MUTILATING millions of sea animals. https://t.co/5S2vO8MEEC

— PETA (@peta) March 30, 2018
Rosie Fuller—a tour coordinator for the Ocean Film Festival UK & Ireland Tour, which is where Blue will be shown—explained just how harmful abandoned fishing gear is to animals:
"Over the past decade it's thought that 10,000 turtles have been impacted by the ghost nets off northern Australia alone. . . . [Turtles] have no chance once they are caught in the nets, and can drift for days before eventually drowning," she said.
According to a report titled "Ghosts Beneath the Waves," more than 700,000 tons of fishing gear are left in the ocean each year. This abandoned gear kills and mutilates millions of sea animals, like the decomposed turtle in the now-viral photo. Other animals who are affected include seals, whales, sharks, crabs and other crustaceans, and even gulls and land animals.
Seagull with fishing hook stuck in its beak. Needs to be more care taken around the foreshore. #Sydney #wildlife pic.twitter.com/qLAVqadW0c

— Hux (@Kevin_Huxley) January 19, 2018
While well-intentioned people are advocating for plastic straw bans and boycotts, that's not enough. Plastic straws account for just 0.03 percent of the plastic in the ocean. Abandoned fishing nets account for 46 percent.
#ThingsThatConfuseMe: People who are ditching plastic straws to help save fish, but they won't stop eating fish 🤔 #GoVegan pic.twitter.com/4S314fk9y7

— PETA (@peta) August 15, 2018
It's not enough to be sad about tragic images, and nixing plastic straws is missing the mark. If you're concerned about sea animals' welfare, do something truly noble for them and their habitats—stop eating them.
If you want to help stop plastic from hurting marine animals, this is key.
Fishing isn't just hazardous to the environment—it's also horrifically cruel. Commercial fishing kills hundreds of billions of animals worldwide every year—far more than any other industry. But you have the power to help change that. Click below to let us help you get started: