PETA has repeatedly exposed that for mice, gerbils, chinchillas, ferrets, betta fish, birds, hamsters, and other animals, life at Petco animal suppliers is all about "suffering + death." We've shown that the misery only continues for the survivors once they hit store shelves, such as the ferret and gecko whose illnesses and injuries were ignored by staff at a Colorado Petco—they both endured seemingly slow and painful deaths. So it's hardly shocking that the sentient beings Petco boxes and rings up for anyone who can pay may continue to be put through hell once taken home with their purchaser. For instance, an 18-year-old Utah man has been accused of torturing and killing guinea pigs he apparently bought at Petco and posting footage of the heinous acts on YouTube.
The man—who allegedly posted 17 of the "horrific" snuff videos online—has been arrested and charged and is facing several counts of aggravated cruelty to animals, according to reports. Scenes from the videos show the guinea pigs' eyeballs and ears being gouged and ripped out, apparently by the Petco customer. And a few heroic internet users played a major role in nabbing the suspect.
Don't f**k with cats … or guinea pigs.
Leo Boddicker—a guinea pig guardian himself—was reportedly horrified after stumbling upon a subreddit for guinea pigs that discussed a YouTube channel with guinea pig torture videos. "I can't imagine someone wanting to do this them," he said. "I stayed up all night with these other people on Reddit, and there was also a Facebook chat too. People were trying to find out who he was based on clues in his videos. Like in some of his videos, a box from Petco can be seen."
With a little sleuthing, Boddicker and others were able to identify the alleged perpetrator. They reported their findings to law enforcement, which apparently "had people call in from not only Utah, California, all across the United States and even internationally regarding this case." During its investigation, the Woods Cross Police Department reportedly discovered animal remains inside the accused's home, in addition to finding that the guinea pigs and a mouse—whom he is also charged with abusing—had been purchased via his Petco rewards account.
How can Petco, which PETA has been exposing for years, do its part to help prevent heinous crimes against animals? By finally ending its sales of all animals.
These online knights in shining armor helped track down a man who allegedly tortured and killed vulnerable guinea pigs he bought from Petco. It's past time the pet store chain stopped dragging its feet and took the next obvious step: Stop. Selling. Animals. It's something PETA has been urging Petco to do for years, including after we exposed the chain's partnership with Holmes Farm, a massive animal dealer in Pennsylvania that supplied guinea pigs like the ones below and other small animals to the company and other pet stores. Even after Petco representatives visited Holmes Farm—where animals were being confined to plastic bins, frozen alive, and crudely gassed to death—the chain continued to order and receive animals by the hundreds from the dealer.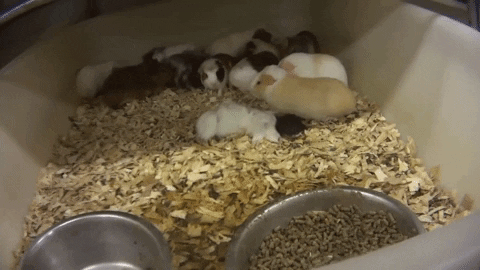 Selling sentient beings as if they were inanimate objects like leashes, treats, or food is a recipe for disaster, and it must end. As animal guardians and consumers, we can take multiple actions to help other animals and help prevent similar suffering in the future. Please, avoid all Petco stores until the chain pledges to stop selling live animals. Shop elsewhere instead:
And tell Petco to stop treating birds, reptiles, fish, and other small animals like inanimate merchandise: