Update: The cruelty-free future of fashion is here and now: San Francisco has officially become the largest city in the U.S. to ban fur sales!
BREAKING: #SanFrancisco has banned fur! They are the first major US city to ban fur sales. Everyone is realizing that #FurIsDead. https://t.co/eGxJGiZGn2 pic.twitter.com/vHjBbHHu9C

— PETA (@peta) March 20, 2018
Originally published  on January 25, 2018: 
San Francisco is on the cusp of making history. District 4 Supervisor Katy Tang has sponsored an ordinance that would prohibit the sale of new fur. Yesterday, at a Board of Supervisors hearing, Tang submitted a request to amend the bill, which will be voted on at the next hearing. PETA, Direct Action Everywhere, and other animal rights groups joined forces outside City Hall to show support for the ban.
At yesterday's hearing, Tang—who also sponsored last year's legislation that banned the sale of dogs and cats at pet stores in the city—spoke of the importance of the ban and referenced efforts made by animal advocates.
PETA spoke on behalf of our more than 6.5 million members and supporters worldwide—including thousands in the city of San Francisco—explaining why this ban is so necessary.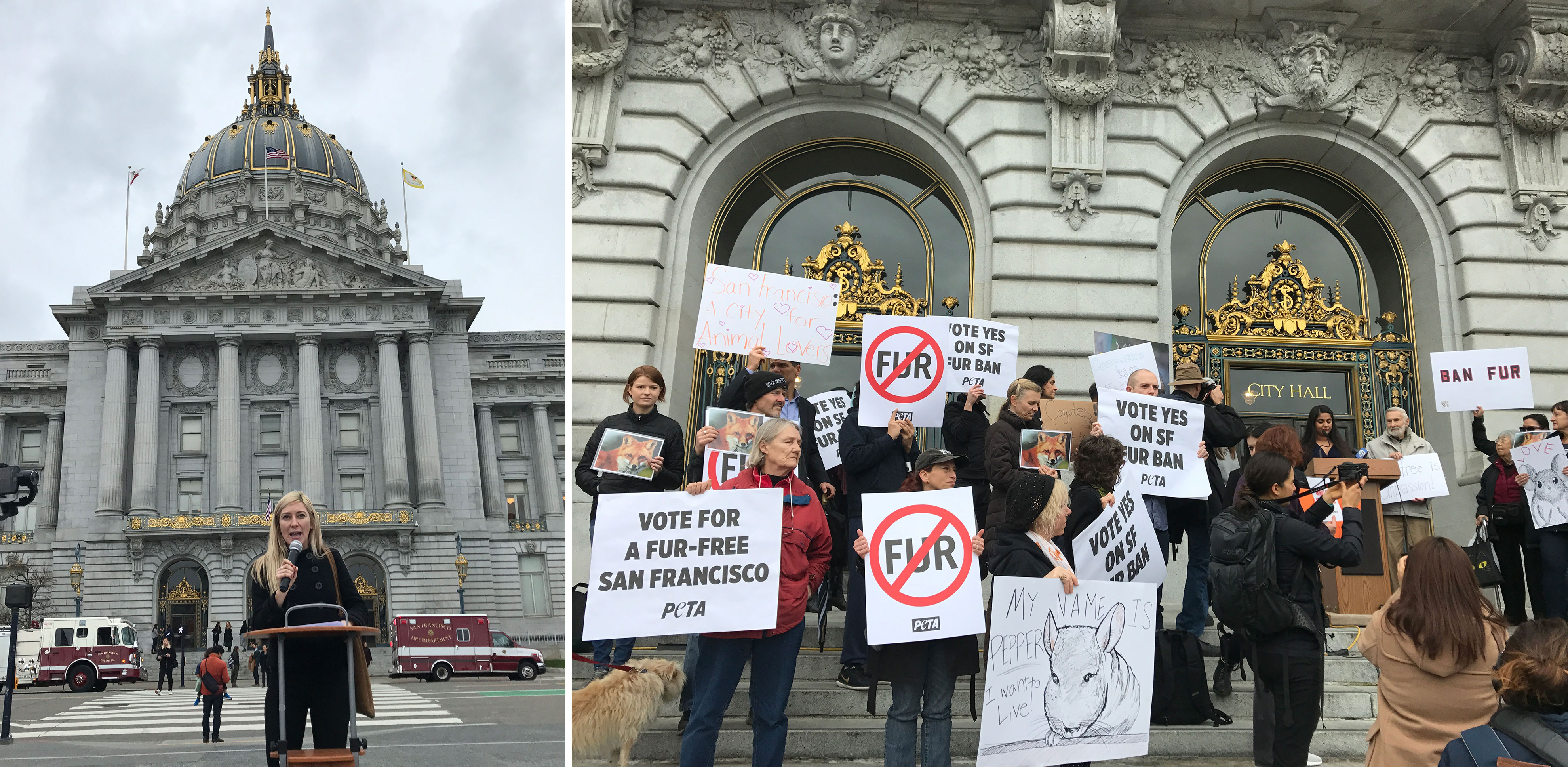 For decades, PETA has exposed severe cruelty on fur farms in the U.S. and around the world. Our investigators have witnessed and documented that on these farms, foxes are electrocuted, dogs are bludgeoned to death, rabbits scream as they're electroshocked, and raccoon dogs are beaten and skinned alive.
The momentum in the animal rights movement to end the use of fur is growing all over the world. Earlier this month, Norway became the latest country to introduce a total ban on fur farming, joining Croatia, the Czech Republic, Germany, Japan, the United Kingdom, and others that have taken steps to close fur farms.
Victory! The Czech Republic to ban fur farms. This will save 20,000 animals a year from being tortured & killed. https://t.co/17dyaCiwBC pic.twitter.com/dijkpHREvZ

— PETA (@peta) June 8, 2017
Hundreds of major designers and retailers—including luxury brands BCBG Max Azria, Gucci, and Michael Kors as well as San Francisco–based companies Bebe, Gap Inc., and The North Face—have banned fur, opting instead for warm and stylish faux options that are better for animals and the environment.
Opulent outerwear: our plush faux-fur coat. https://t.co/y2UvStWSgb #GiveKors pic.twitter.com/fQ97hMHsyx

— Michael Kors (@MichaelKors) December 7, 2017
West Hollywood and Berkeley have already passed bans on new fur sales. San Francisco is poised to become the first major city to prohibit the sale of new fur.
Join the Movement
There's nothing warm or cozy about the cruelty that's stitched into every fur garment. If you agree, join PETA, Berkeley, West Hollywood, and others in opposing the suffering caused by this cruel industry. Click here to pledge to be fur-free, and click the button below to tell Canada Goose to stop selling fur and goose down now:
If you're a San Francisco resident, you can help urge the city to go fur-free. Click the button below to sign a letter of support asking the Board of Supervisors to help make San Francisco the first major city in the U.S. to ban fur sales.