The remains of a greyhound recently washed up on a beach in the U.K. And that's not the most disturbing part of the story: The dog's ears appeared to have been cut off.
There have been very recent reports of a fawn greyhound having been found washed up on Folkstone coast in Kent.
If anybody knows anything further about this poor dog, please contact us on 07508847162 @kentlivenews pic.twitter.com/VwpWjYGj1W

— C.A.G.E.D.NationWide (@CAGEDnw) February 18, 2018
Rita James—the director of a charity in the area that works to raise awareness of the cruelty behind greyhound racing—let media outlets know that this practice is not uncommon. She said that greyhound trainers often tattoo their dogs' ears as a branding technique, and when they decide to abandon them because they aren't winning races, they cut off their ears so that the animals can't be traced back to the facility.
In the greyhound racing industry, the cruelty isn't limited to abandonment. There have been countless cases in which dogs were denied veterinary care, starved to death, or kept in miserable conditions. In 2010, 32 greyhounds were found dead at the Ebro Greyhound Park kennel in Florida. They had starved or died from dehydration.
In another form of abuse, trainers may drug dogs in order to enhance their performance in races. Greyhounds are also forced to race in extreme conditions, which is especially dangerous for them since their thin coats make them ultra-sensitive to hot and cold temperatures.
And guess where dogs are often kept when they're not racing? In tiny, cold metal cages like this one: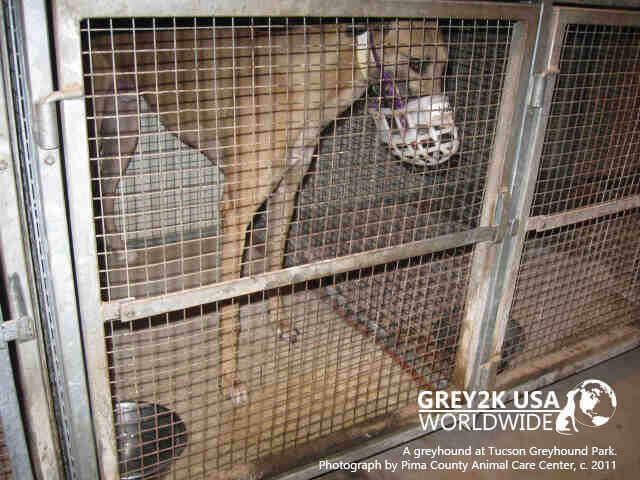 Many spend up to 20 hours a day inside cages and are kept constantly muzzled. Can you imagine living like this?
After being subjected to that misery, many "retired" greyhounds meet a dismal end. Some are put up for adoption, but others are bred repeatedly in order to produce future racers. And because greyhounds have a universal blood type, many are sold to blood banks …
… where they live in kennels and workers draw their blood over and over again for transfusions.
But There's Something That You Can Do
It may be too late to help the dog who washed up on the beach, but you can help prevent other animals from experiencing similar suffering. All you have to do is avoid dog races or any kind of event that uses live animals—and encourage your friends and family to do the same.
https://twitter.com/peta/status/926188534947635201
Click the button below to stand with PETA as we work to end the exploitation of dogs in the racing industry: