Shriners International boasts chapters across the U.S. dedicated to "brotherhood, compassion and service to others." But what many well-intentioned people may not know is that the animal exhibitors that local chapters work with to put on Shrine circuses are anything but compassionate. In the following video clips from Shrine circuses, an elephant is jabbed with a bullhook, a tiger is whipped in the face, a bear urinates on herself while being forced to do a handstand, and animals suffer in despair.
When 'Training' Really Means Violence
Elephants sway as a stress response. These elephants are forced to endure exposure to bright lights and noisy crowds, hauling humans around on their backs, and the fear of the punishment that they'll receive if they don't perform exactly as they're told. They sway as a coping mechanism.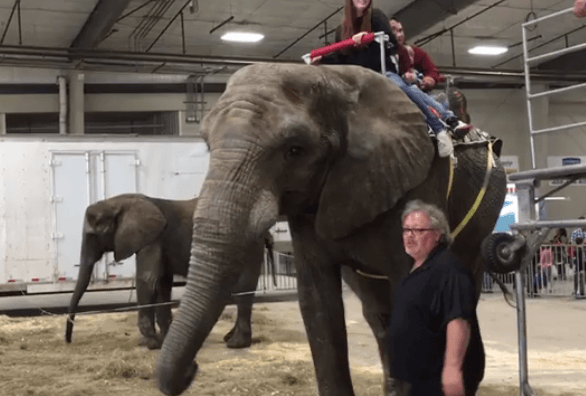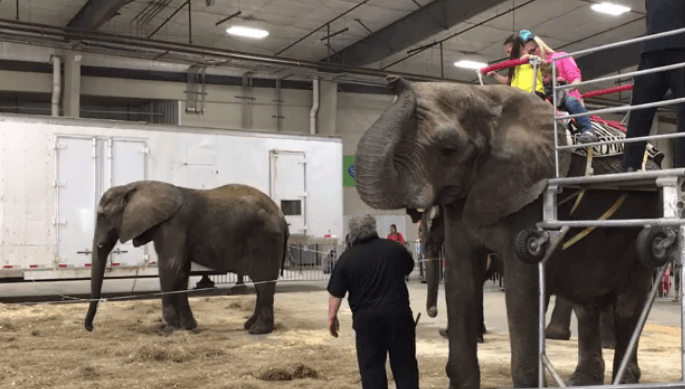 Animals forced to perform in circuses aren't trained to do confusing, uncomfortable, and even frightening tricks with food treats alone. They live under the constant threat of the bullhook—a sharp steel-tipped weapon resembling a fireplace poker—or whip. Circus trainers exploit the animals' natural desire to avoid pain to make them balance on balls, spin on pedestals, walk on two legs, and ride bicycles.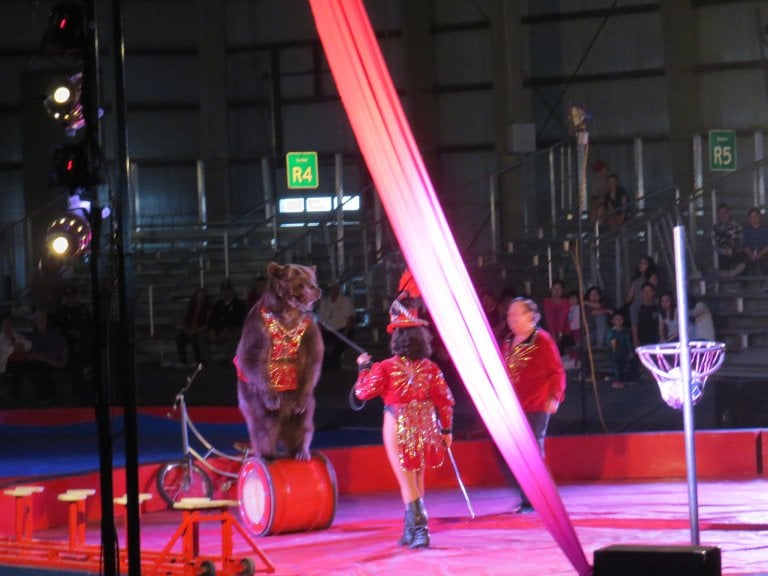 Meet the Animal Exhibitors
Shrine circuses don't have their own animals. Local chapters could easily put on a circus by using all willing human performers or choose from the multitude of other types of fundraisers. Instead, they continue to hire abusive animal exhibitors, including those listed below.
Jay Pratte, an animal behavior expert, has written a report exposing that "environmental and physiological neglect, psychological abuse, and coerc[ion of] animals to behave through dominance and fear-based techniques" are standard procedure at the Shrine circuses that he visited.
The report is based on footage from and site visits to the 2017 Tangier and Sesostris Shrine circuses as well as the 2018 Tangier Shrine Circus. These shows were produced by the James Cristy Cole Circus, and the exhibitors discussed in the report are Franzen Bros. Circus and Castle's Bears. Information on both of these exhibitors—as well as others who supply animal acts for Shrine circuses—follows:
Franzen Bros. Circus
Much of the footage above shows animals used by Franzen Bros. Circus, which the U.S. Department of Agriculture (USDA) has repeatedly cited for violating the federal Animal Welfare Act (AWA). One elephant handler was caught forcefully striking an elephant named Kosti with a bullhook at least five times around her eyes and ears to "teach her a lesson." The current owner, Brian Franzen, was convicted of cruelty to animals after authorities confiscated several starving ponies. A tiger attacked and killed his father and former circus owner, Wayne Franzen, during a performance.
In new video footage, available below, Brian Franzen can be seen striking an elephant named Megu under her jaw with a bullhook:
Castle's Bears
Castle's Bears supplies bear acts for many Shrine circuses, including the one you just saw. In these archaic bear shows, the animals are demeaned by being dressed in ridiculous costumes, muzzled, pulled around on leashes, and made to perform terrifying and likely painful tricks, including riding a bicycle, doing handstands, and balancing on balls. PETA asked the USDA to investigate after one bear who was being yanked by a leash and forced to go down steps using only her front legs urinated on herself in apparent distress.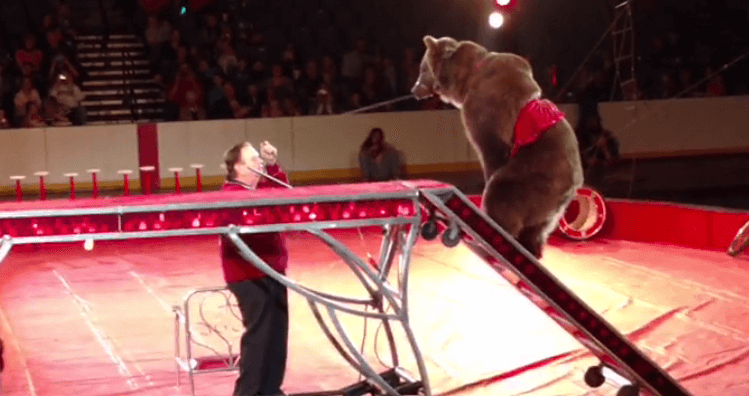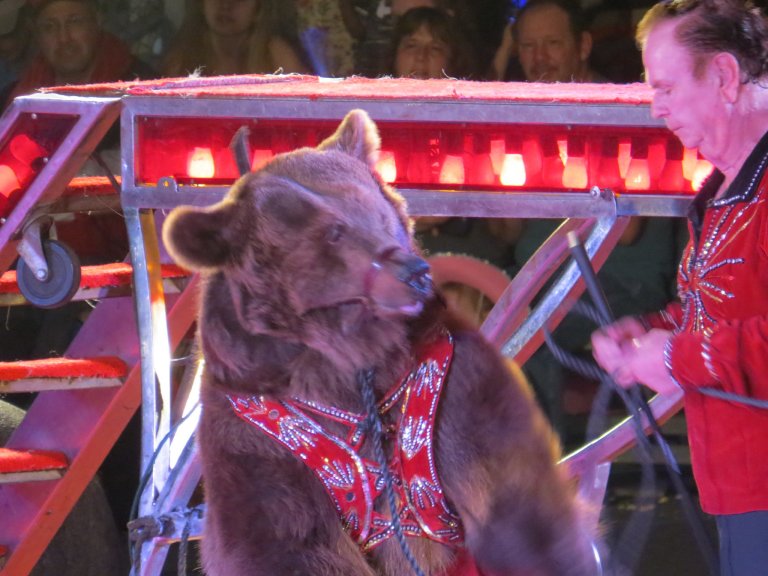 Pratte's report points to "willful blindness and negligence on the part of the handlers AND the Shrine Circus as to the poor welfare of the bears."
Mitchel Kalmanson
Big-cat exhibitor Mitchel Kalmanson has a list of AWA violations that would make a SeaWorld employee blush. He has been caught holding big cats in filthy, maggot-infested trailers, denying them needed medical care, allowing them to escape, and letting a lion cub die of a bone disease caused by a poor diet.
Carson & Barnes Circus
 For years, PETA and our supporters have been exposing Carson & Barnes' egregious mistreatment of animals, which includes more than 100 violations of the AWA. A PETA eyewitness captured video footage of the circus's "animal care" director, Tim Frisco, viciously attacking elephants with bullhooks and electroshocking them. His "direction" involved telling other trainers to sink and twist bullhooks into the elephants' skin until they screamed. Nonetheless, Shrine circuses have relied on Carson & Barnes to supply animals for their shows.
Carden Family Circus
The Carden family holds the distinction of producing more Shrine circuses than any other outfit, and it has a long list of animal-welfare violations. Members of the Carden family have been caught forcing elephants to hold up a trailer that was stuck in the mud, denying tigers food to the point that their hip bones and backbones protruded, and refusing to allow veterinarians and animal control officers to inspect animals.
Hurting Animals Hurts Humans, Too
Numerous people have been injured or killed by frustrated captive animals at Shrine circuses. At one in Wilkes-Barre, Pennsylvania, an elephant kicked a circus trainer so hard that he was thrown 20 feet and died of his injuries at the scene. Two elephants giving rides at the Murat Shrine Circus in Indianapolis knocked down a mobile staircase, causing more than a dozen children to be treated by paramedics. Another trainer was stomped to death by an elephant used in a Shrine circus in Fort Wayne, Indiana. A tiger clawed a trainer during a performance of the Hadi Shrine Circus in Evansville, Indiana, and the same thing happened at the Tangier Shrine Circus in Omaha, Nebraska.
Positive Changes
Some Shrine circuses are moving away from using wild animals, and Ringling Bros. circus—citing the public's changing attitudes about its use of animals as well as a decade of declining ticket sales—removed elephants from its shows last year before announcing that it'll go out of business in May 2017. You can help protect more animals from a lifetime of suffering and deprivation.
Take Action Now!
Help get animals out of the act.