To kick off an animal-friendly Christmas Eve—or Nochebuena —PETA Latino teamed up with local animal rights activists (including Colombian model and influencer Kathy Moscoso and Mexican actor Liz Gallardo) to bring cheer to three cities in the form of free vegan roasts.
While serving festive meals to residents of Bogotá, Chicago, and Guadalajara, PETA Latino urged everyone to celebrate a compassionate "NocheVegana" by keeping animals off their plates. So far, PETA Latino has collected more than 17, 500 pledges to have a vegan Christmas Eve dinner this year!
Keep reading to see how PETA Latino made the holiday season merrier this year.
Bogotá
A week ahead of Christmas Day, model, influencer, and activist Kathy Moscoso joined PETA Latino in Colombia's flourishing capital, Bogotá, for another vegan roast giveaway. The group served 50 no-pavo vegan roasts from local eateries Caballete y Berenjena and San Tomás Jr. Moscoso had previously teamed up with PETA Latino in Bogotá to promote cruelty-free fashion and in Medellín to highlight the environmental benefits of eating vegan.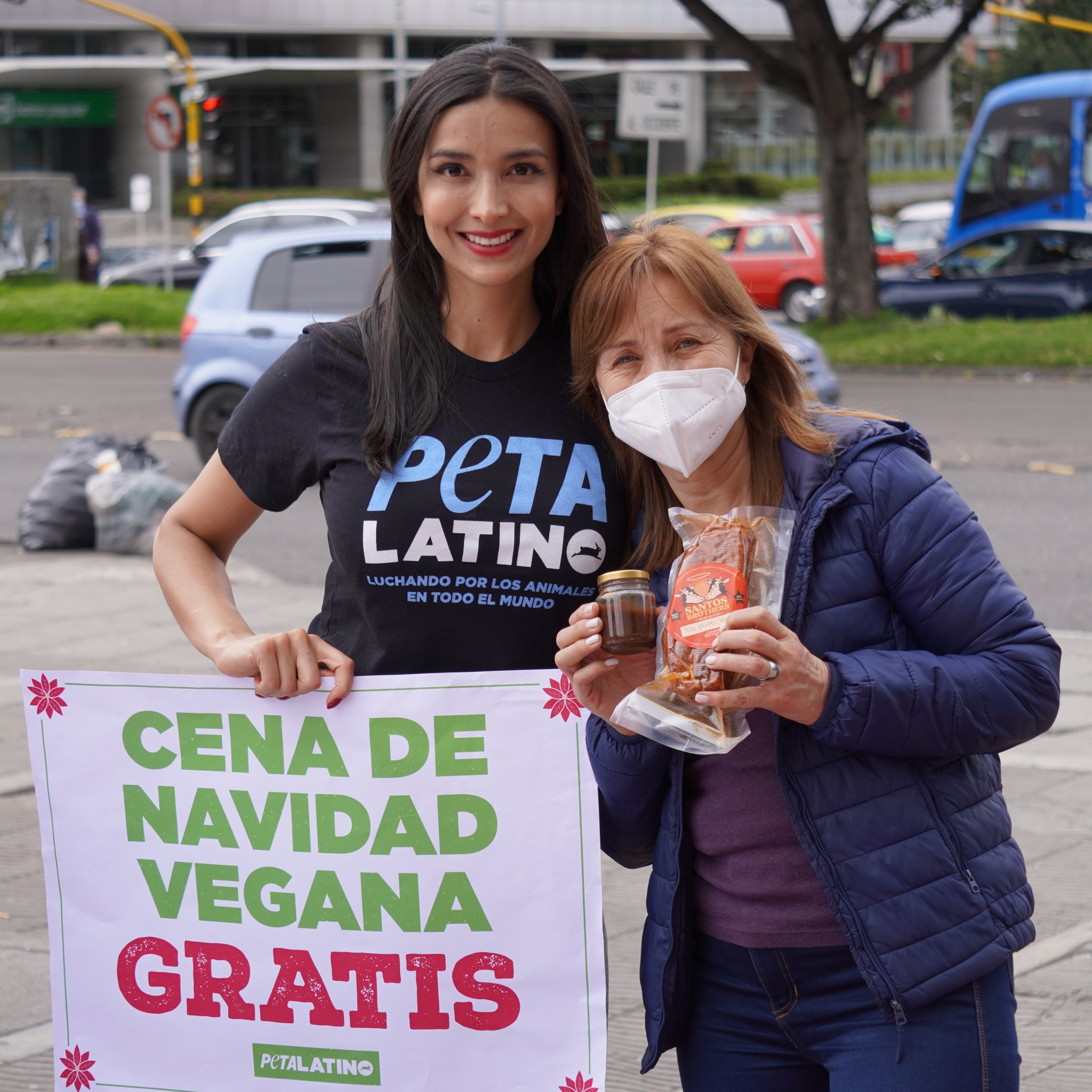 Chicago
Accompanied by a human-size "turkey," PETA Latino gave away 50 free vegan roasts as well as 100 vegan chicken Clucker Sliders and chocolate chip cookies donated by local Latina-owned vegan restaurant Kāl'ish in Chicago's historically Latino neighborhood Pilsen. Jolly volunteers in Santa hats also passed out vegan starter kits and "Think Before You Eat" leaflets in Spanish and English.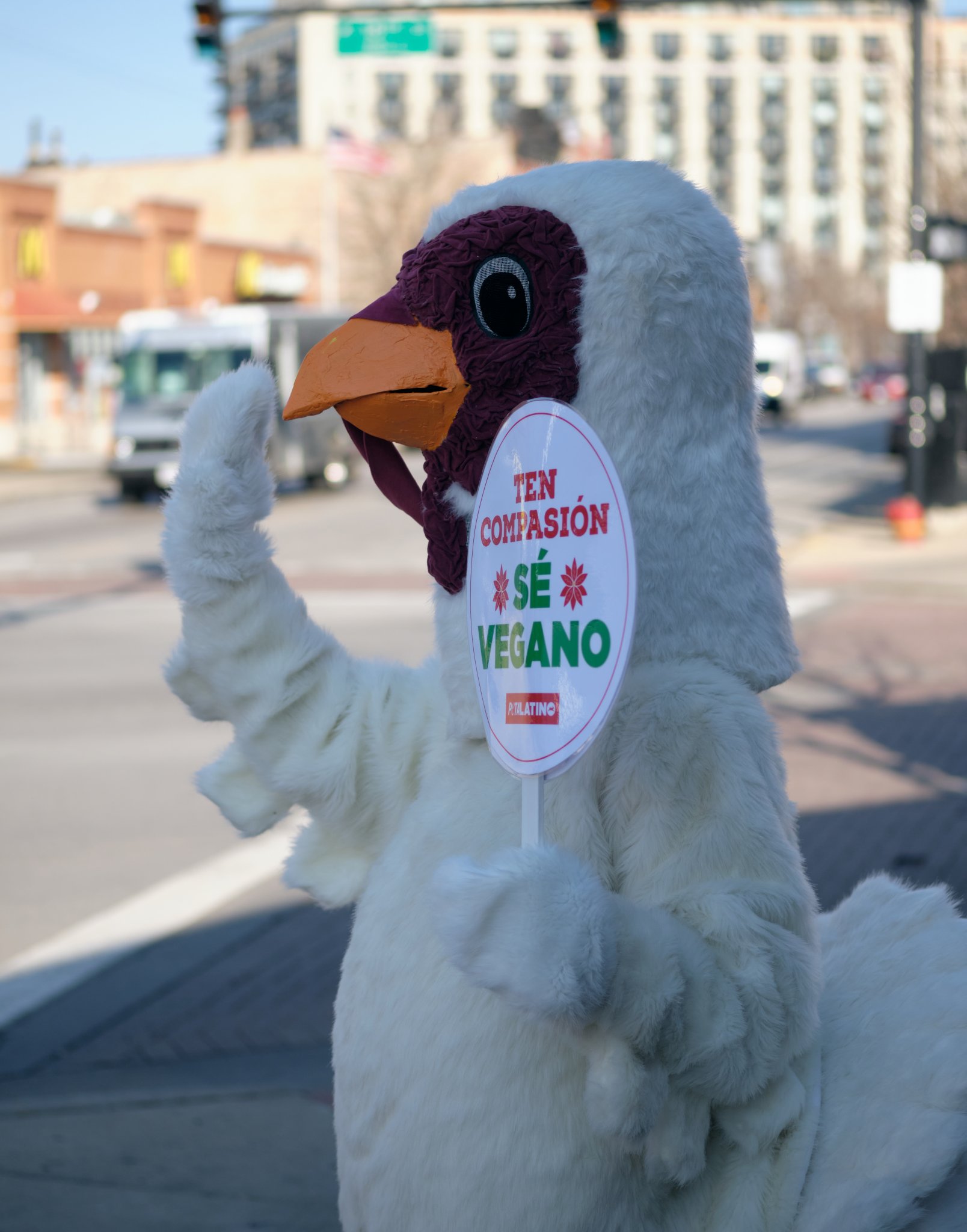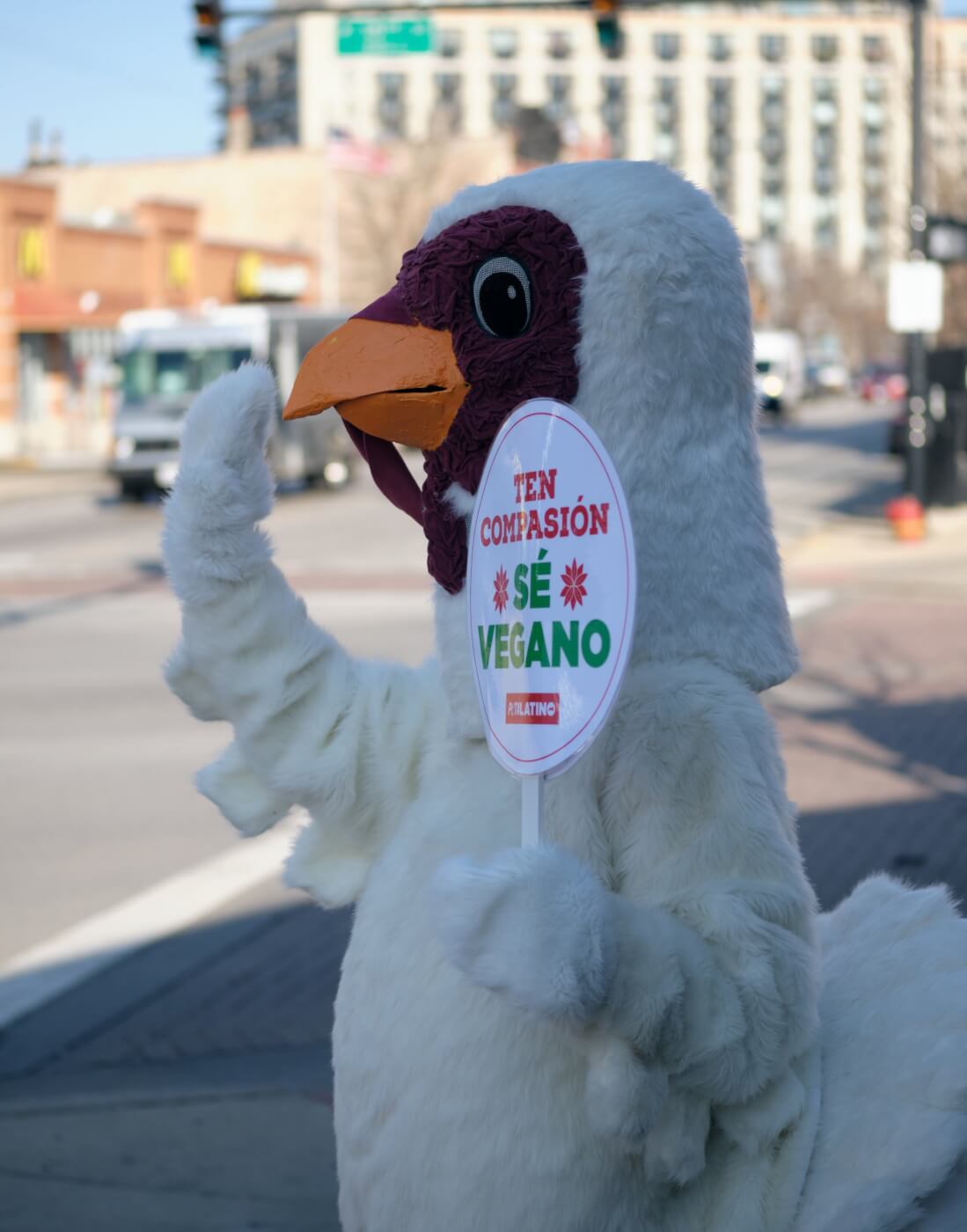 Guadalajara
Just before Nochebuena, PETA Latino, actor Liz Gallardo, and Mexican animal rights group Animal Heroes gave out 50 free vegan roasts in Guadalajara, Mexico.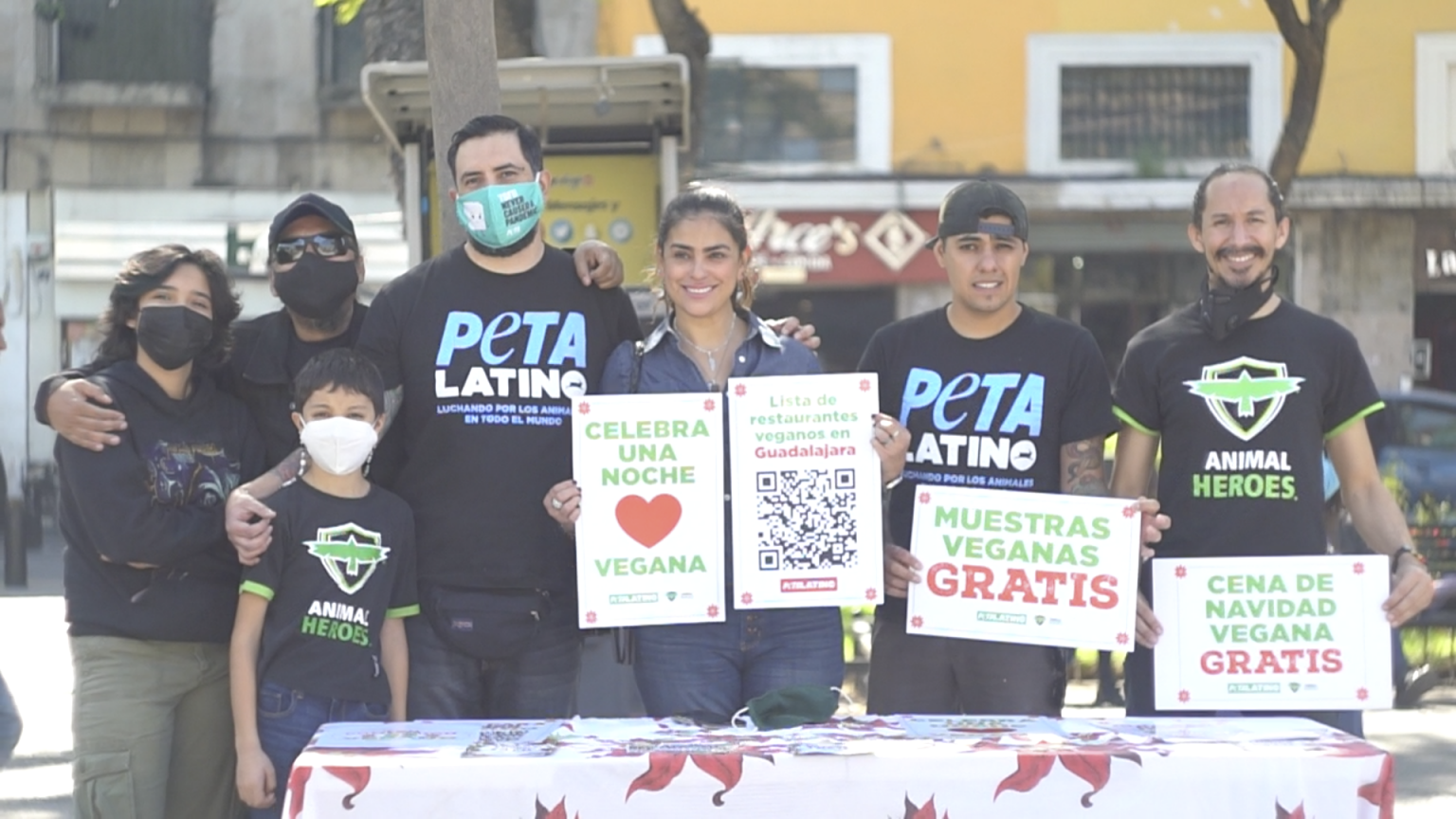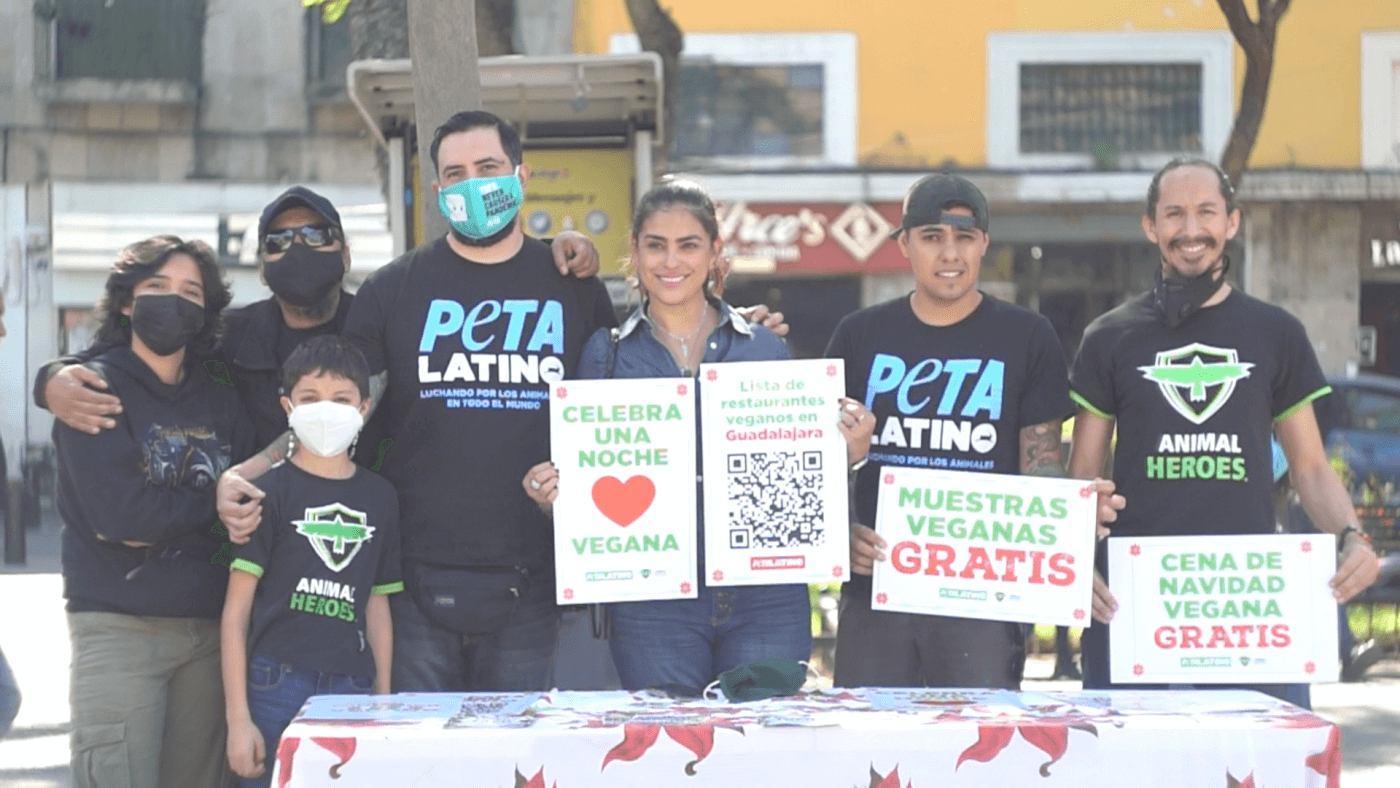 Ring in the New Year by Going Vegan
Don't just be nice during the holidays—choose compassion for animals all year long. Get started by joining PETA's 3-week vegan challenge: