PETA activists have never shied away from making brave fashion statements, and our uninvited presence on runways around the globe helped instill a new trend in the fashion world: kindness. Nearly all top designers have cut fur from their lines thanks to PETA. This is why we continue to take center stage at fashion weeks around the world: to raise awareness about the suffering of animals used for clothing and accessories and let the public know that vegan materials are in style. Check out some of the most show-stopping times PETA walked the runway at fashion week shows and beyond.
Times PETA Stole the Show at Fashion Shows Around the World
Oscar de la Renta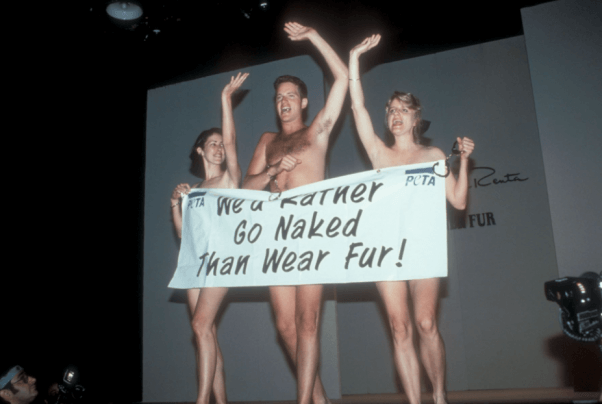 More than 30 years ago, we launched our first-ever naked protest during a 1991 Oscar de la Renta runway show. The eye-popping stunt landed PETA supporters—cuffed to a banner reading, "We'd Rather Go Naked Than Wear Fur"—on the cover of The New York Times style section.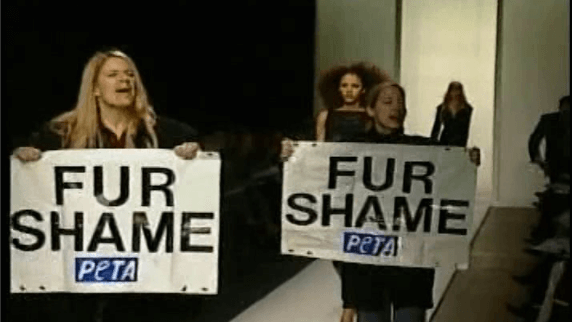 Bold PETA activists would crash more Oscar de la Renta fashion shows in the years to come. Determined in our drive to end speciesism, we never passed up an opportunity to let models, celebrities, designers, fashion media, and the public know that animals suffer for fur. Finally, in 2021, Oscar de la Renta banned fur.
Gisele Bündchen
After Gisele Bündchen became the spokesmodel for the furrier Blackglama, PETA rushed the catwalk at the Victoria's Secret Fashion Show in 2002 to encourage her to have a change of heart.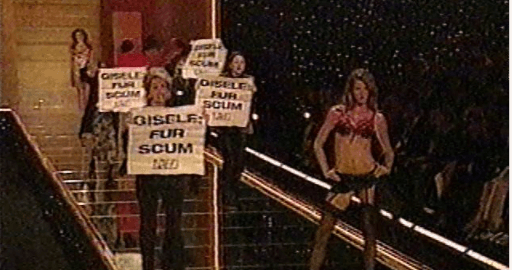 Years later, Bündchen told Vogue that the incident had changed her life: "Suddenly it dawned on me," she said. "I was in the hamster wheel: I'm just going to go out there and be a good girl and do what my agent tells me to do. What do I know? It wasn't until that shock—it stopped me in my tracks. They sent me all these videos. I wasn't aware of what was happening, and I was devastated. So I said, 'Listen, I'm not doing fur campaigns.' It put me in the driver's seat, finally."
Valentino
"Fur Kills" and "Fur Is Dead!" were not the messages attendees of Valentino's 2002 show might have expected to see, but they were absolutely the messages they needed to see. Finally, nearly 20 years later, Valentino stepped into the modern era, announcing that it would be fur-free by 2022. That's good news for animals, 100 million of whom are killed each year for their fur.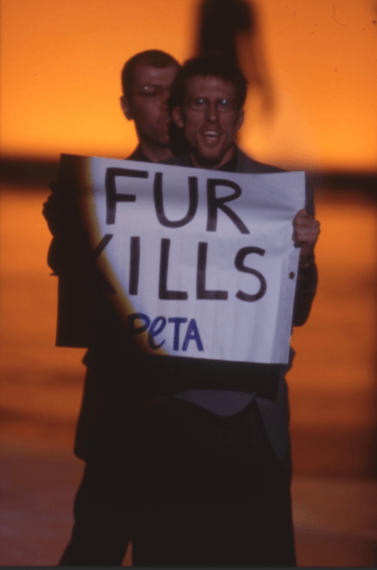 Versace
A PETA supporter and a PETA U.K. supporter stirred things up at Versace's 2002 show when they took over the runway to protest the violence and cruelty of the fur trade.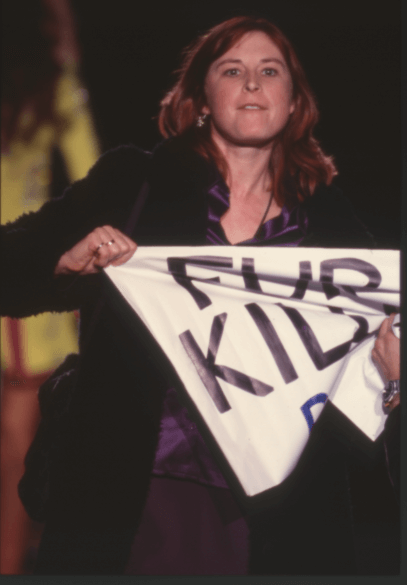 In 2018, Donatella Versace decided to drop fur from her family label's collections: In an interview, the designer stated that she would no longer use real animal fur in any of her designs. "Fur? I'm out of that," she said. "I don't want to kill animals to make fashion. It doesn't feel right."
Jean Paul Gaultier
One of the activists who stormed the runway at the 2002 Versace show made her runway protests a double feature, stopping by Jean Paul Gaultier's show earlier in the day as well. Before being removed by security, she flashed the crowd her anti-fur message: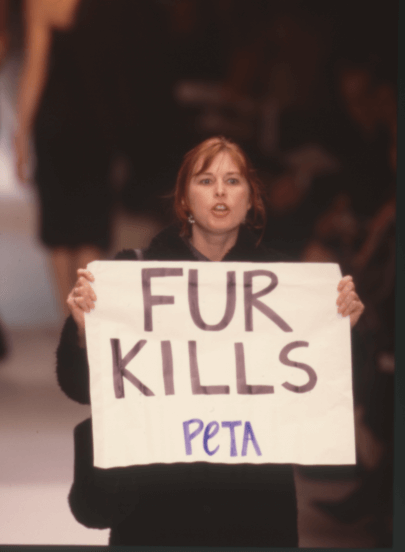 In 2018, Gaultier announced live on French TV that he had banned fur from future collections, admitting that the ways animals are killed for their fur are "absolutely deplorable." In response, PETA U.K. noted, "Fur today is as dead as the poor animals it was stolen from, and any designers not clued up enough to see that may as well hang up their sewing needles now."
Julien Macdonald
A runway takeover during a Julien Macdonald show in 2003 left Macdonald with a lot to think about after activists wielding signs reading, "Fur Kills," were led away from the runway.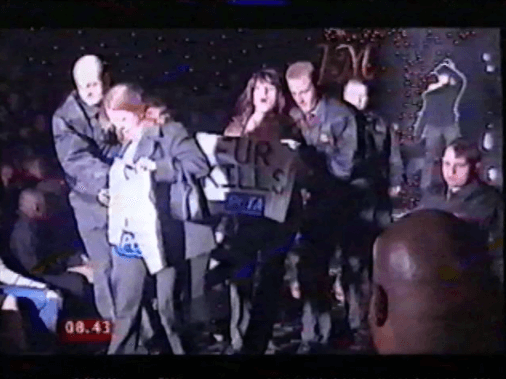 Finally, in 2017, this designer to stars such as Gigi Hadid and Jennifer Lopez apologized for his use of fur, saying, "As a young designer I did use a lot of fur and do you know what, I think you should perhaps try not to. … It was my mistake. I was young. I am sorry. . . . You do not need to kill animals to wear nice clothes."
Burberry
In 2006, three PETA activists took over the runway at the Burberry fashion show in Milan. As Otis Ferry, son of British rocker Bryan Ferry, walked the runway, the protesters leapt from the seated crowd onto the catwalk, chanting, "Fur is dead," and wielding signs that read, "Burberry: Fur Shame."
After a decade of our campaigns, the iconic British brand banned fur and angora in 2018.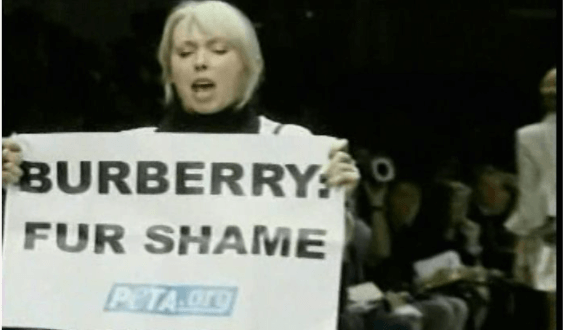 Christian Lacroix
During a Christian Lacroix show at Paris Fashion Week in 2007, attendees saw just how truthful the catchy slogan "I'd Rather Go Naked Than Wear Fur" is when a PETA supporter removed all her clothes, evaded security, and rushed onto the catwalk with an anti-fur banner. Here's what astonished onlookers saw at the event: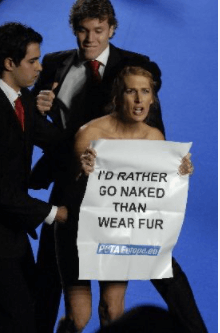 The brand later declared bankruptcy.
Kindness Is Always in Style
The designers' choice to take fur off the runway has prevented many animals from being electrocuted, gassed, or otherwise killed for fur in the fashion industry. Now that the fur industry is so dead, our aim is to have all animal-derived materials, such as wool, leather, and exotic skins, exit the fashion circuit. The question "Who are you wearing?" should refer only to the designer and should never make you wonder whose skin you might be in.