UPDATE: California Gov. Jerry Brown signed Assembly Bill 147 into law on Wednesday, which means that all university laboratories in the state will be required to set up adoption programs for the dogs and cats they experiment on once the experiments have ended. The law is similar to one in Connecticut that went into effect a few days ago. Hopefully, these laws will pave the way for other states to follow suit.
Originally posted on March 10, 2015:
Every dog has his or her day, and dogs in California were having one on Tuesday. The California Assembly's Higher Education Committee advanced Assembly Bill 147, which would require universities that use dogs and cats in experiments to allow the animals a chance to be adopted when the studies are over.
Sponsored by Assembly Member Matt Dababneh, the bill drew accolades from both sides of the aisle and from high-profile supporters such as actor and activist Nikki Reed, who urged the assembly members to pass the bill.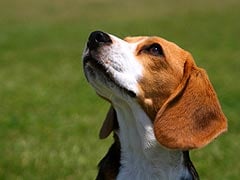 Beagles are one of experimenters' favorite victims because of their small size and friendly nature. Virtually no experiment on dogs is illegal, and they are often force-fed or injected with large doses of test substances, including pharmaceuticals, industrial chemicals, pesticides, or household products, which slowly poison them. They are subjected to invasive surgeries, bred to go blind, and forced to endure heart attacks, among other ailments, and are often killed. In addition to the trauma of the experiments, the dogs spend their lives in a cage, often without ever getting to go outside or see any natural sunlight. Many of them won't survive, but for those who do, this bill would give them a chance at a happy life with an adoptive family, as PETA and its affiliates have done for hundreds of lucky dogs following successful recent campaigns in the U.S. and India.
As the bill now moves to another California Assembly committee, state representatives in Connecticut also have the opportunity to do something right for dogs and cats who've been experimented on, with a similar measure there. After the suffering that they've endured in laboratories, giving dogs and cats a chance at happiness is the least that experimenters can do.
Help us keep dogs out of laboratories by urging the U.S. Food and Drug Administration to end requirements for cruel and ineffective tests on dogs.