October 1, 2018, update: Atrocities continue to take place at Oregon Health & Science University (OHSU). According to a U.S. Department of Agriculture (USDA) document just obtained by PETA, a young monkey there had to be euthanized after becoming trapped in PVC pipes in an enclosure. Although the report only indicates that an autopsy conducted on the monkey's body "revealed signs that appeared consistent with the entrapment and subsequent events," it's likely that the animal nearly strangled to death and lacked an adequate flow of oxygen to the brain. In a separate incident, workers failed to give a monkey postoperative pain relief on the morning after surgery.
OHSU is either incompetent or outright cruel—likely both. PETA is filing a complaint with the National Institutes of Health calling on the agency to cut off its grant funds immediately.
June 27, 2018, update: Recently, experimenters at the Oregon National Primate Research Center (ONPRC) have been complaining about what our eyewitness investigation reveals. Animal experimenters, including those who abuse thousands of monkeys at ONPRC, want to have it both ways. They claim to strive for transparency, yet they refuse to release video footage of their experiments and whine about PETA's investigations, which have been the only way for the public to see inside their animal laboratories, including the areas and buildings that they don't want to be shown. Our eyewitness recorded monkeys who had endured deep psychological trauma from years of confinement inside barren steel cages. The footage—which anyone can view—shows monkeys endlessly pacing, rocking, and pulling hair out. The fact that these cruel conditions are legally permissible demonstrates only that our animal-protection laws are pathetically weak. It does not excuse or justify the misery that these animals had to endure so that so-called "scientists" could procure more grant money.
March 9, 2018 update: Problems persist at the Oregon Health & Science University (OHSU). A federal inspection report just obtained by PETA documents yet more incidents of neglect, incompetence, and abuse. In one incident, a juvenile monkey became trapped between the cage where he was being held and the wall behind the cage. OHSU workers failed to notice that he was missing, and he died. Presumably, they only discovered the monkey's absence when they could smell his corpse. In another incident, the skin was completely torn off a monkey's tail from the flesh underneath when he was moved—apparently ineptly—from one cage to another. The tail had to be amputated. In a third incident, workers somehow missed that a monkey had been placed on a list restricting her use in experimental surgeries, and she was subjected to a caesarean section in one experiment and an embryo transfer in another. These incidents represent failures in simple care and oversight, including observation, handling, and even just reading charts. Our government should stop dumping millions into experiments at OHSU now.
Originally posted June 6, 2016:
The Oregon National Primate Research Center (ONPRC) at the Oregon Health & Science University (OHSU) has a long history of abusing monkeys in cruel and painful experiments. Documents recently obtained by Jefferson Public Radio show that a monkey at the center bled to death after he removed a catheter from his vein and laboratory employees failed to monitor him effectively. Another monkey was forced to drink so much alcohol—the equivalent of 17 drinks in 30 minutes—in an addiction experiment that he became unconscious and had to be resuscitated.
These troubling incidents corroborate PETA's findings in successive eyewitness investigations that showed monkeys living in constant fear of abusive workers and driven insane by laboratory conditions at the center.
In recent inspections conducted by the U.S. Department of Agriculture (USDA), government inspectors noted that a monkey was injured and not promptly treated after being repeatedly injected with an experimental drug. Another monkey died during a procedure as a result of staff negligence, and two monkeys were burned after they were left on heating pads following surgeries. Additionally, close to two dozen monkeys were injured and six died after a fight broke out among hundreds of monkeys who became stressed by the noise from a nearby construction site. USDA inspectors also found that over half the monkeys at ONPRC had significant hair loss, often a sign that animals are pulling out their own hair as a result of psychological distress.
In 2014, the USDA took the rare step of giving OHSU an "Official Warning" for failing to provide monkeys with adequate veterinary care. Two years later, it issued another Official Warning when when a monkey was strangled to death after becoming entrapped in a chain hanging inside his cage.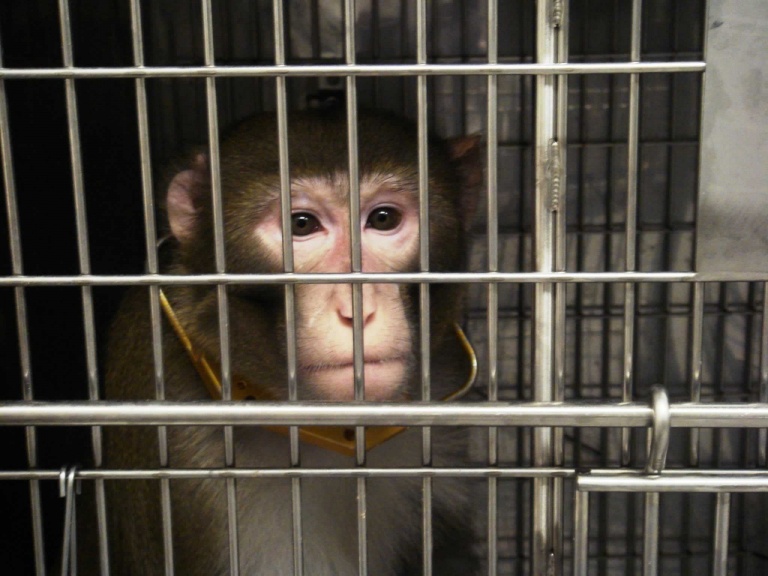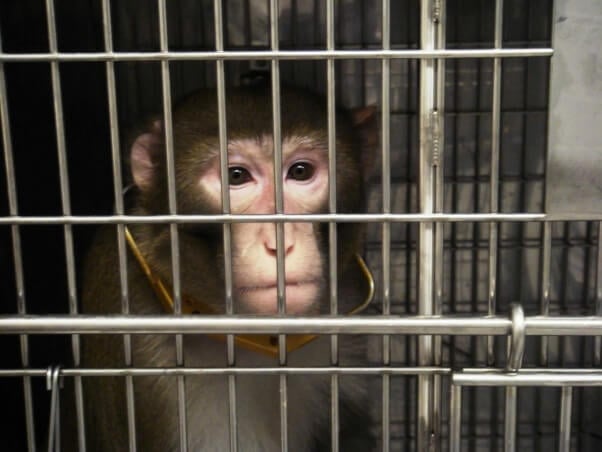 These warnings followed a nearly $12,000 fine imposed on the school in 2012 for multiple violations of federal law.
The continued confinement and abuse of monkeys at ONPRC is out of step with several recent landmark decisions—including the National Institutes of Health's decisions to retire all federally owned chimpanzees held in laboratories to accredited sanctuaries and to perform a first of its kind ethical review of experimentation on primates and Harvard's decision to close its beleaguered primate research center.
What You Can Do
Monkeys are used and abused at facilities throughout the United States. At Duke University, they were deprived of water so that they'd "cooperate" in a taxpayer-funded experiment aimed at "proving" that sex and power sell. Please take action by calling on the university to account for this cruel and worthless experiment. Also, follow our "Eye on NIH" Facebook page for the latest news on fruitless and absurd experiments funded with our tax dollars.