To remind millions of New Yorkers that leather is someone's skin, PETA has unveiled a 70-foot-high billboard in the middle of Manhattan featuring celebrity photographer and recent Out cover star Mike Ruiz. PETA hopes this eye-catching ad—which shows Ruiz naked and screaming, as his skin seems to have been flayed from his body—will stop people in their tracks and persuade them to ditch animal skins.
Ruiz, whose Instagram bio proudly reads "anti fur," has also worked with PETA behind the camera, on campaigns featuring actors Alan Cumming and Laurie Metcalf and reality star Tinsley Mortimer. And as if photography and activism weren't enough to keep him busy, Ruiz also appeared as a judge on America's Top Next Model and RuPaul's Drag Race.
"The leather industry kills over a billion animals every year, pollutes the environment, and produces items that are as unexciting as they are cruel. My friends at PETA and I are encouraging people to wear their values and take pride in coming out of the closet in beautiful, fashion-forward vegan pieces."

—Mike Ruiz to PETA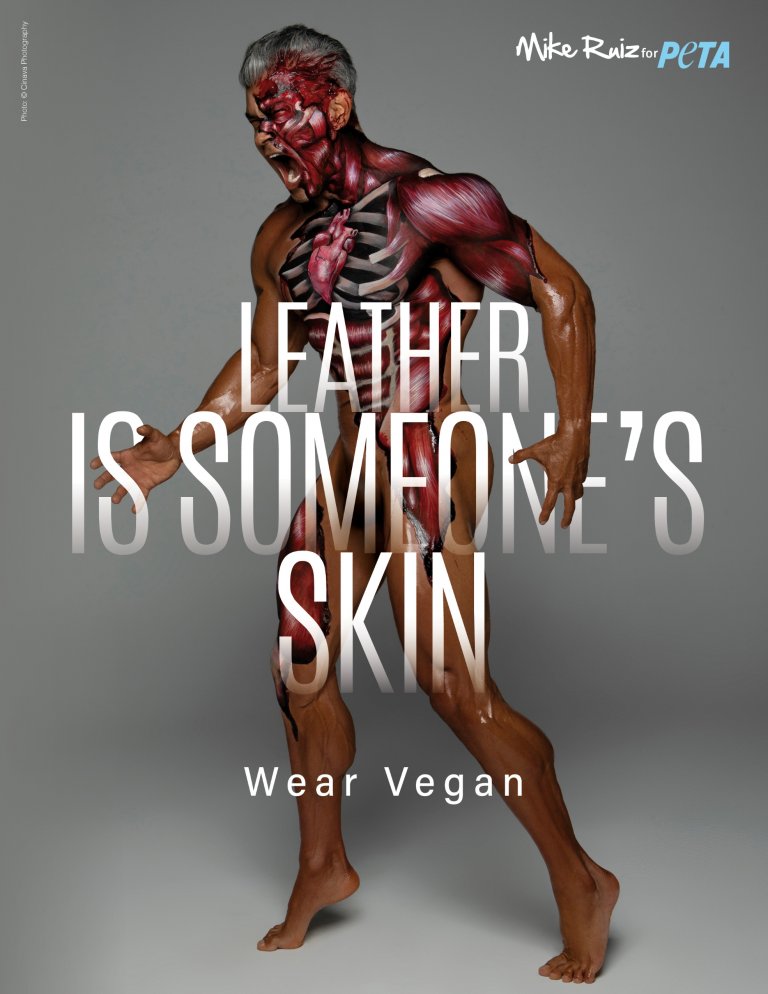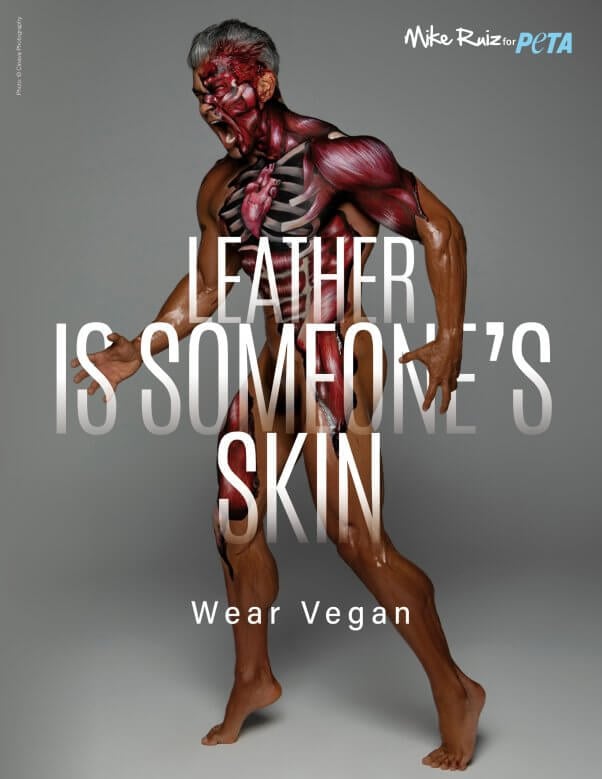 Cinava Photography
Leather Is Someone Else's Skin
More than a billion animals—from cows and sheep to exotic animals like alligators and ostriches to even cats and dogs—are slaughtered for their skin every year. In India, a PETA investigation found that workers break cows' tails and rub chili peppers and tobacco into their eyes in order to force them to get up and walk after they collapse from exhaustion on the way to the slaughterhouse. Leather is also just as much of a disaster for the environment as it is for animals. Its production requires the use of 130 chemicals—including cyanide—and releases massive amounts of the carbon emissions that contribute to climate change.
Ditch Skin: Make the Switch to Vegan Leather
Pineapple leaves. Mushrooms. Apple peels. Cork. Coconuts. Cactus! These are just some of the many innovative, sustainable materials used to make vegan leather. Check out PETA's guide on wearing vegan so that you can keep cows and all other animals out of your closet!