After years of friendship and a recent meeting with PETA Senior Vice President Dan Mathews, fashion icon John Galliano has decided to go fur-free. The designer discussed his decision in a candid interview with Elle and Mathews that took place in February at his Paris studio, where he designs for Maison Margiela, a luxury brand that's seen profits rise by 30 percent since he took over in 2015. The interview was published on Friday.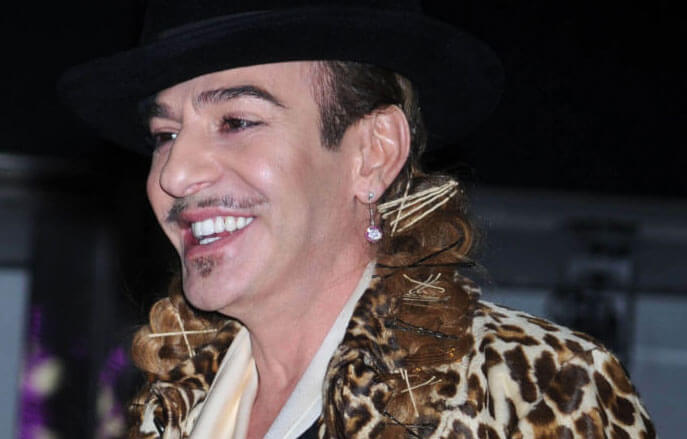 ©StarMaxInc.com
In the interview, Galliano describes his chance encounter with Mathews:
"I was swimming in the sea with Penélope Cruz in Saint-Tropez. And just then, Dan's face popped out of the water. It was like in "Jaws"—very frightening! I knew PETA's work, I respected them, but their reputation preceded them," said Galliano, who cites a dated desire for debauchery as the lure of fur. "You can be outrageous and fun without fur! Come and party with us, you'll see!"
When asked about animals used for fur, Mathews told Elle, "It takes 100 chinchillas to make a coat. They are killed in China, where the regulations are very weak. It's a blood bath. They are electrocuted, their living conditions are abominable."
When asked, "Fur used to be associated with luxury … what is true luxury today?" Galliano responded, "It's authenticity. And inventiveness … Today we don't want a product, we want ethics, a firm that defends the values that we admire."
Galliano's chance meeting with Mathews began an evolution that not only prompted the designer to drop fur but also to go vegetarian:
"My life is more balanced," Galliano said. "I really became a vegetarian in order to get in better shape. I play sports, I take care of myself and I've never been more clear-eyed. The energy that I get from having fewer toxins in my body is extraordinary. The pressure in the fashion industry is the same, but now I know how to step away and meditate, and my life has gone from black to white!"
In 1999, the designer invited Mathews to his home in Paris, where they discussed the use of fur in fashion. In his book, Committed: A Rabble-Rouser's Memoir, Mathews detailed the encounter, recalling that Galliano explained "that he wasn't really a 'fur person'" but that he'd felt pressured to use it by those funding his enterprise. Fast-forward to 2018, and the opposite is now true:
Times are changing. Last year, after over 20 years of pressure from PETA, Gucci announced that it would go fur-free starting with its 2018 spring collection.
BREAKING: After years of protests, @Gucci has banned fur! Huge thank you to all who fought with us over the years. https://t.co/ySaFTmx88F pic.twitter.com/alfclbsulR

— PETA (@peta) October 11, 2017
A few months later—after meetings with PETA representatives, years of our dedicated public protests, and over 150,000 e-mails from our supporters—Michael Kors announced that it would also stop using fur. Its new policy will cover both the luxury fashion company and its recently acquired Jimmy Choo line.
BREAKING: @MichaelKors is announcing it is going #FurFree. This follows many years of protests at Michael Kors fashion shows & boutiques by PETA and other animal rights groups! THANK YOU to the more than 150,000 people who have taken action on our Michael Kors alerts! ❤ pic.twitter.com/clGxa7lvNA

— PETA (@peta) December 15, 2017
Last month, Donatella Versace made the compassionate decision to drop fur from her family label's collections.
https://twitter.com/peta/status/973967357684191233
These victories are a sign of the times. "Fur? I am out of that," Versace told The Economist's 1843 magazine recently. "I don't want to kill animals to make fashion. It doesn't feel right." And that's because it isn't.
There's no kind way to tear the skin off animals' backs. Rabbits, foxes, and other animals on fur farms are crammed into barren metal cages, and many go insane from the extreme confinement. Animals caught in steel-jaw traps—which cut to the bone—can languish for days. In China, raccoon dogs are beaten with steel pipes and left to die slowly. Even Fido and Fluffy aren't safe: Dogs and cats are often skinned alive for their fur, which may then be falsely labeled as fur from other species.
https://twitter.com/peta/status/955968526950584320
Galliano, Versace, Michael Kors, and Gucci are hardly alone. Other major fashion brands have ditched fur, including Giorgio Armani, Hugo Boss, Ralph Lauren, Stella McCartney, and Tommy Hilfiger.
It's Not All Good News
Animals continue to suffer in the fur trade because brands such as Dolce & Gabbana refuse to stop profiting from this industry, even though their competitors have left fur behind. Hundreds of major designers and retailers are now 100 percent fur-free, instead opting for luxurious alternatives that don't harm animals.
No rabbit deserves this, @dolcegabbana. They live in filth on hard wire floors in the dark for MONTHS before their throats are slit. pic.twitter.com/opgfDh1AZ2

— PETA (@peta) February 22, 2018
Click the button below to write to the CEO of Dolce & Gabbana to urge the company to stop selling fur today:
PETA is a participant in the Amazon Services LLC Associates Program, an affiliate advertising program designed to provide websites with a means to earn advertising fees by advertising and linking to Amazon.com.