VICTORY UPDATE: After intensive campaigning by PETA and tens of thousands of activists who sent e-mails, Air Transport Services Group (ATSG) has told PETA that it is ending the transport of monkeys to laboratories!
Originally posted August 3, 2015:
For monkeys used in experiments, the horror begins even before they set foot in a laboratory. Photos that PETA recently obtained from the U.S. Department of Agriculture give a glimpse of the terror and misery that monkeys endure on long-haul flights from China and other overseas locations to laboratories in the U.S.
More than 1,000 monkeys were shipped on a December 2014 Air Transport International (ATI) flight from China to Charles River Laboratories. These animals were likely either torn from their close-knit families in their jungle homes or raised on squalid breeding farms before being crammed into cramped, wooden crates for a terrifying trans-Atlantic flight.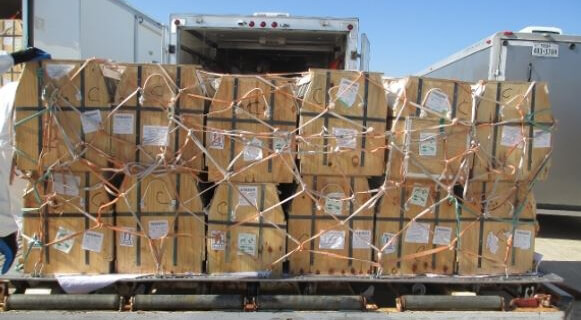 All of the monkeys were deprived of food and water for more than 24 hours—a violation of the Animal Welfare Act, for which the airline was cited. Some hungry, thirsty, and confused monkeys were also forced to sit in pooled waste during the excruciatingly long flight.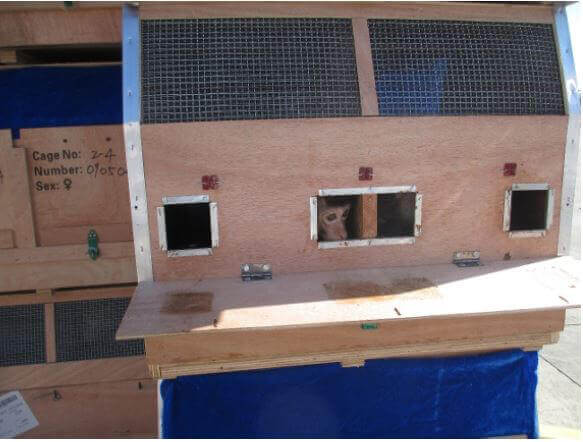 After being unloaded, one monkey peered out from a tiny opening in a crate. But there was no lush forest, no family troop, and no mother—just asphalt, strange humans, and the screaming of other monkeys.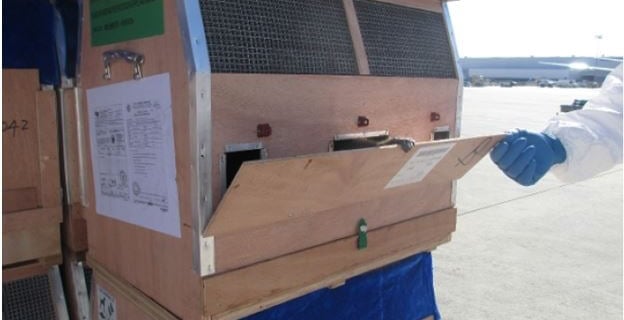 Another monkey reached out a hand, perhaps hoping for a reassuring touch.
Their long, terrifying flight was over, but the nightmare was just beginning for these monkeys: They were headed to Charles River Laboratories, where they would be caged, tormented in experiments, and likely killed. Many monkeys who are destined for Charles River and other laboratories are first routed through the notorious primate dealer Primate Products, Inc., where a recent PETA investigation uncovered incidents in which workers grabbed monkeys by their sensitive tails, left monkeys to suffer for days from painful injuries, and other abuses.
Following successful PETA campaigns, nearly every major airline in the world has stopped shipping monkeys to laboratories, so experimenters are hiring charter airlines like ATI to transport their test subjects. But we can stop that, too.
Please take a minute of your time to urge ATI and its affiliates to stop accepting blood money for shipping primates to laboratories to be killed.