PETA created its Movers and Shakers Award especially for people who have earned a position of influence in the world and have chosen to use that influence to create positive changes for animals. HLN anchor Jane Velez-Mitchell is a shining example of just that type of person and received her award at a special ceremony this weekend in Washington, D.C.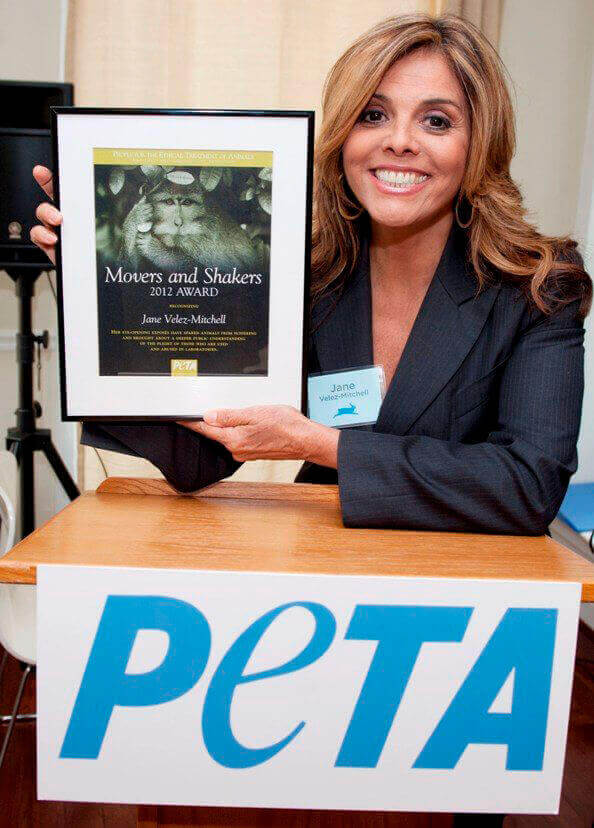 Photo by Leigh Vogel
Jane has helped bring about some monumental victories for animals, including exposing to her TV audience how PETA was working to stop the U.S. Army from using monkeys in crude nerve-gas exercises, PETA's campaign to halt construction of a massive monkey-breeding facility in Puerto Rico, the suffering of dogs killed for their fur in China, PETA's undercover video of how pigs and chickens are abused on factory farms, and the cruelty to marine mammals at SeaWorld. While presenting Jane with her Movers and Shakers Award, PETA President Ingrid E. Newkirk called her "a master broadcaster with a major heart who is 100 percent committed to telling the public what is going on that shouldn't be; 100 percent committed to protecting animals from needless harm." 
Jane graciously accepted the award, saying:
This award means a lot to me. I love working with PETA. We have a synergy that's exciting to be part of. . . . There's no better feeling in the world than knowing that my show played a role in stopping animal abuse or alleviating animal suffering.
Catch Jane in action for animals weeknights at 7 p.m. ET on HLN.