They say it's Paul McCartney's birthday, and we're gonna have a good time! PETA is sending Paul a card made especially for him: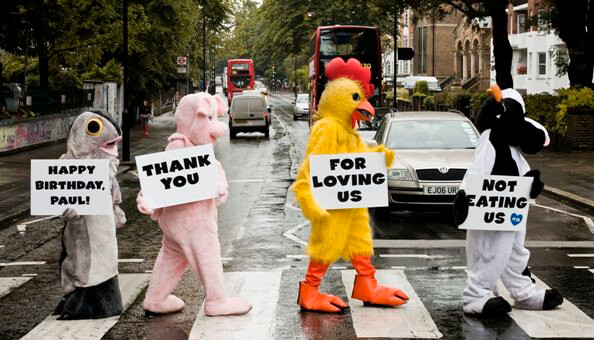 We let fans in Washington, D.C., sign the card as well as grab some free and deliciously tasty vegan birthday cupcakes from Sticky Fingers and copies of PETA's slaughterhouse exposé, Glass Walls, which Paul narrated.
It's fitting that the milestone 70th birthday of the longtime animal defender falls on a Monday, since his Meat Free Monday is helping people around the globe eat less meat and hopefully transition to a no-meat lifestyle. As Paul says:
If anyone wants to save the planet, all they have to do is just stop eating meat. That's the single most important thing you could do. It's staggering when you think about it. Vegetarianism takes care of so many things in one shot: ecology, famine, cruelty.
Thank you for everything that you do for animals, Paul, and happy birthday!