It was a landmark day in the U.S. District Court in San Diego today. For the first time ever, a federal court is considering whether or not the 13th Amendment, which prohibits slavery, applies to five orcas—Tilikum, Katina, Kasatka, Ulises and Corky—who are now incarcerated at SeaWorld amusement parks. PETA, three marine-mammal experts, and two former SeaWorld trainers filed the suit in the orcas' behalf in October. SeaWorld filed a motion to dismiss the case—but that didn't happen today. Instead, Judge Jeffrey Miller said he will consider the case and will issue a ruling at a later date.
For a full hour, Judge Miller asked thoughtful questions of both sides and listened as Jeff Kerr, general counsel to PETA, spoke in behalf of the orca plaintiffs.
"It's a new frontier in civil rights," Kerr said in his summary of the case. Slavery does not depend on the species of the slave any more than it depends on race, gender, or ethnicity, he argued. "Coercion, degradation, and subjugation characterize slavery, and these orcas have endured all three."
We couldn't agree more.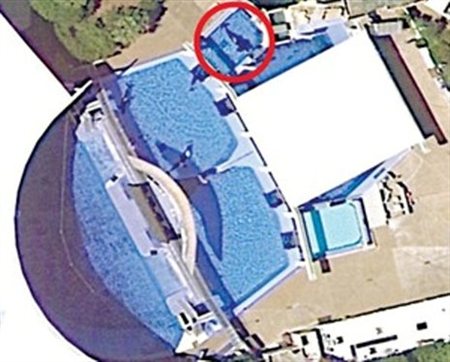 In the aerial view of SeaWorld, one can see how little room orcas have. Inside the circle is Tilikum,
whose nose and tail almost touch the ends of his tank. Image © 2011 Google