PETA supporters honored the fifth anniversary of SeaWorld trainer Dawn Brancheau's violent and preventable death by displaying a commemorative wreath and candles outside SeaWorld Orlando, along with a sign that reads, "In Memory of Dawn Brancheau, Who Didn't Have to Die, and for Tilikum the Orca, Whose Life at SeaWorld Is a Living Death." As highlighted by the 2013 documentary Blackfish, the cruel confinement of orcas has led to the tragic deaths of several human trainers and dozens of animals.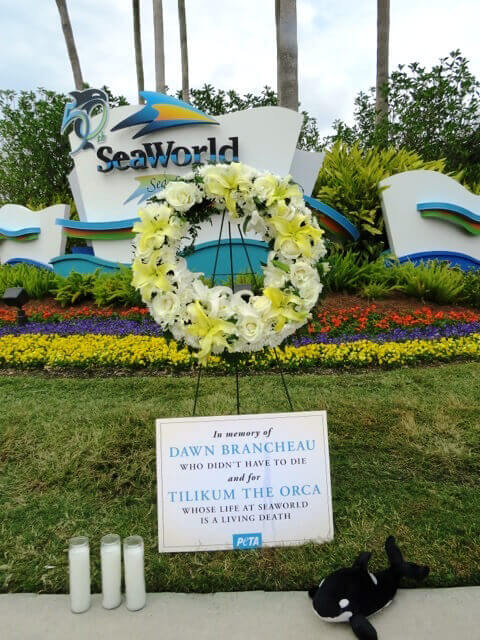 The stress that orcas are forced to endure in SeaWorld's cramped tanks has led to more than 100 incidents—documented in the park's own records—in which orcas have bitten, rammed, lunged at, pinned, and swum aggressively with human trainers. Many of these incidents resulted in human injuries, including a near-death encounter experienced by another trainer.
What You Can Do
The best way to let SeaWorld know that you don't support the imprisonment of orcas and the senseless deaths of trainers is to stay away from the abusement park and refuse to buy a ticket.