Update: After a four-month license suspension for chronic violations of federal law, Jambbas Ranch may try to get its license reinstated as soon as May 15. However, we believe that it's unlawful for the U.S. Department of Agriculture (USDA) to reinstate the facility's license, because just since April 2013, the roadside zoo has been cited for housing rabbits in rusty wire cages that weren't properly sanitized, having rodent excreta in a storage area for animal food and no evidence of efforts to curtail the rodent infestation, and failing to give veterinary care to a rabbit who was so thin and weak that an inspector recommended immediate treatment or euthanasia.
Please join us in asking the USDA not to renew or reinstate Jambbas Ranch's license: [email protected].
Originally posted January 15, 2014:
After years of PETA complaints, the U.S. Department of Agriculture (USDA) has finally brought the hammer down on Jambbas Ranch, a North Carolina roadside zoo that has an appalling history of failing animals.
In addition to a fine, for the next four months the facility cannot exhibit or deal in animals and must "cease and desist" from violating the federal Animal Welfare Act. Before it can resume operations, it must prove that it's compliant with the law—something that it has been unable to do for some time.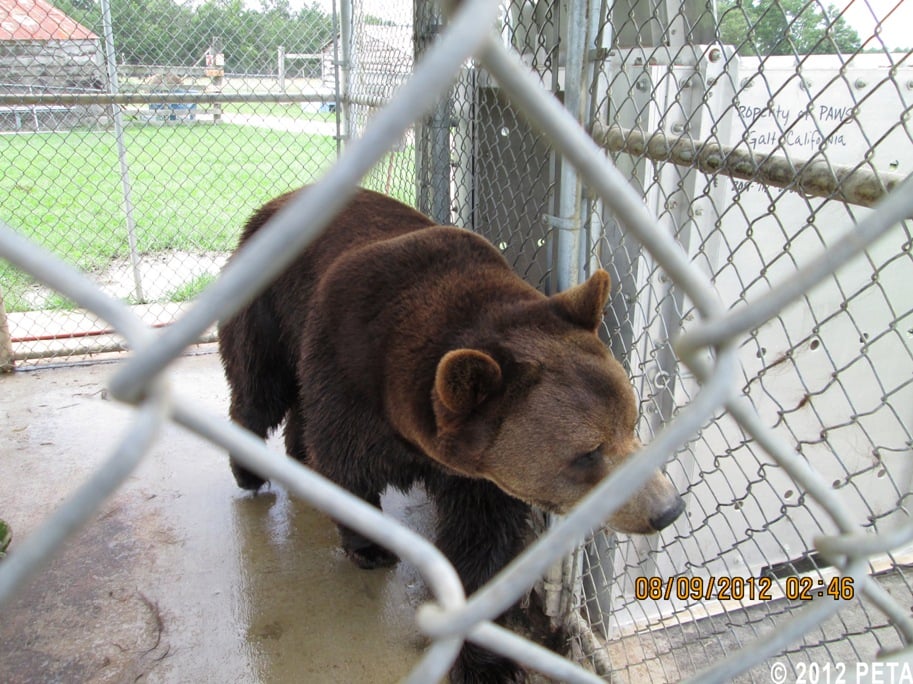 Late last year, PETA, the Animal Legal Defense Fund (ALDF), and local citizens filed an urgent, formal complaint with the USDA and attached chilling photographs of the horrible conditions at Jambbas, including a dead rabbit locked in a cage, mounds of animal waste underneath the wire rabbit cages, filth-polluted water in the goats' enclosure, and a bison with raw, open wounds.
PETA, the ALDF, and local citizens assisted in getting a bear named Ben—who had lived in a concrete box his whole life—retired to a comfortable sanctuary.
What You Can Do
Ask officials to revoke this awful facility's license permanently.