For decades, many tour operators in Crystal River, Florida, have taken advantage of the area's manatees to make a quick buck. They suck customers in by saying that swimming with manatees is "responsible" or "enriching for the animals" and will even go so far as to call it "ecotourism"—but none of these things are true.
Don't get duped! Observing manatees from a boardwalk is a fantastic way to spend your time, but you should never try to swim with them or disrupt their natural lives in other ways, like throwing food to them. Here's the scoop on what's actually going on.
They Come for Sanctuary, Not Humans
Tourist boat activity already disrupts manatees' daily lives throughout the year. Boat propellers rip up the seagrass they feed on, the ambient noise of watercraft bothers them, and they must avoid colliding with boats that could injure or kill them. Manatees in Crystal River already have to focus on finding food, raising their young, and securing spaces to rest while avoiding these hazards—they don't need to deal with handsy humans, too.
These issues only compound during manatees' annual winter migration from the Gulf of Mexico. Current tourism activities are a matter of life and death for them, and we ask you not to stand by as Florida's manatee death toll climbs in what experts are calling an ongoing "unusual mortality event." Loss of habitat is one of the greatest causes of manatee death around the world.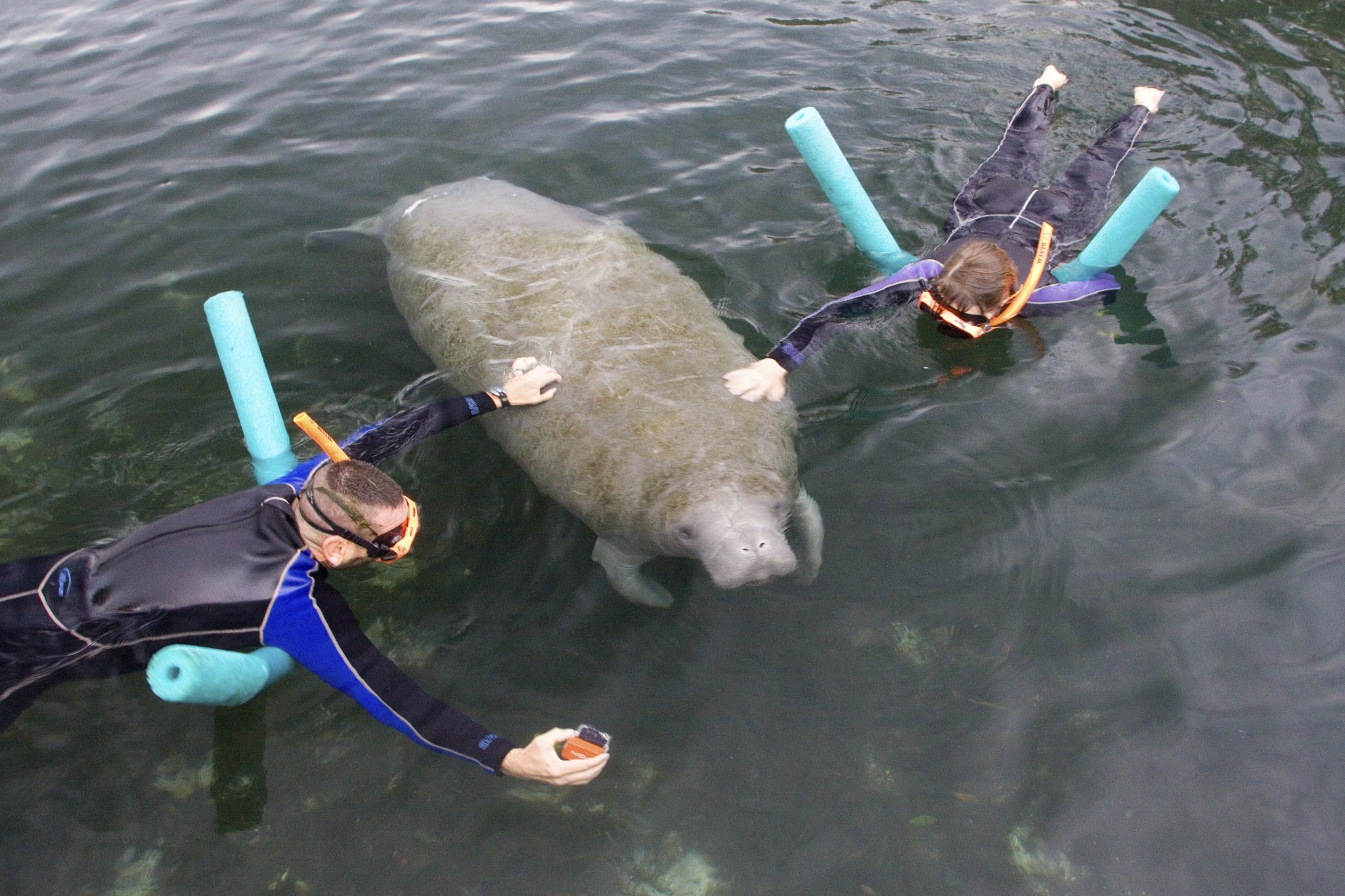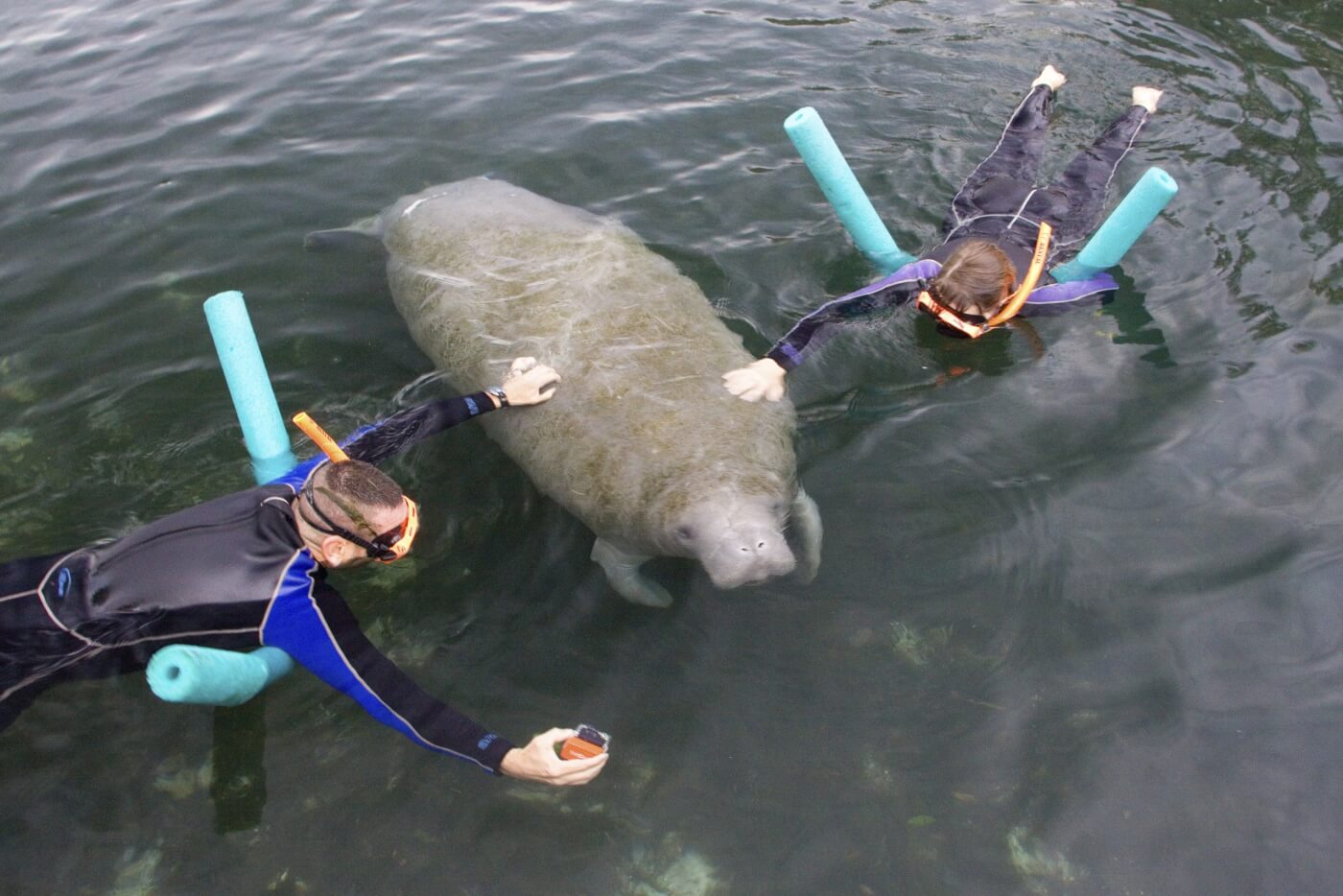 Tour Businesses Terrorize Manatees
Along with burying the truth about the negative effects of their industry, many Crystal River tour companies use shady tactics to force encounters between manatees and humans. Tours, which run daily from 6:30 a.m. until sunset, may include the following:
Using boats to chase and corral manatees
Encouraging guests to touch them
Using dying manatees as photo props
Separating manatee mothers from the docile calves who need them
Crystal River tours have recently extended into the dead of night. Not satisfied with the limitations of daytime, some companies are renting out illuminated kayaks to visitors for "Glow Tours" that allow them to paddle through the water and spot manatees in the dark.
Local Officials Take a Hands-Off Approach
Even though the U.S. Fish & Wildlife Service and the Florida Fish and Wildlife Conservation Commission (FWC) are tasked with protecting manatees in the Crystal River National Wildlife Refuge, officials seem hesitant to regulate the businesses that bring in tourists. Operations that regularly impose on manatees' safety and comfort remain licensed despite reports by dedicated manatee defense groups, such as Friends of Manatees, that expose what appear to be clear violations of the law by tour organizers and participants.
How You Can Observe and Protect Manatees
If you want to see manatees in Crystal River, visit Three Sisters Springs, where you'll be able to view them from the boardwalk on a very cold winter day without disrupting them. If you notice rules being broken—or a dead or distressed manatee—report the incident to the FWC at 888-404-3922.
Check out PETA's other compassionate travel tips—and if anyone you know wants to swim with manatees, let them know about the suffering behind the scenes. We also ask that you take action for other animals exploited by humans for entertainment: