It's unclear whether the dolphin in this video is actively trying to evade hunters like the title claims or whether she is simply too sick or exhausted to combat them, but one thing is for certain: Dolphins don't want to be slaughtered or captured and sold into slavery.
The annual dolphin slaughter in Taiji, Japan, is gruesome enough, but for the animals captured alive, the agony doesn't end in the bloody cove waters. They may be sold to aquariums, marine parks, or "swim with dolphin" programs where they will spend their lives confined to cramped tanks. Some will be used as breeding machines, and their offspring will endure a similar fate.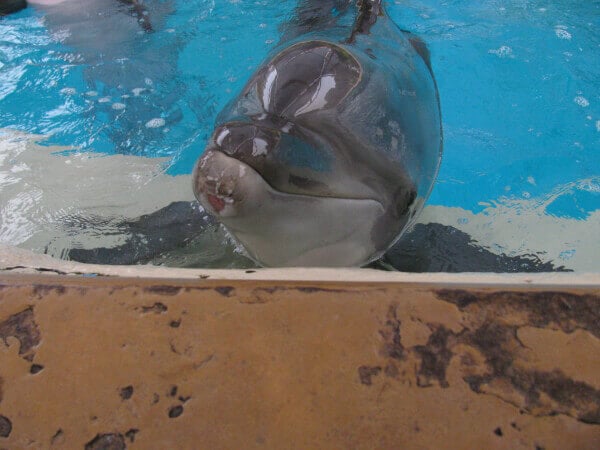 People with good intentions who choose to swim with dolphins or visit them in marine parks on vacation are unknowingly supporting the capture and separation of these animals from their families and natural home. Wild dolphins can swim up to 60 miles a day and use their echolocation to explore their wide ocean home as well as communicate with each other. A tank with little outside stimuli and lacking adequate space is no place for these intelligent animals.
What You Can Do
Ticket sales mean misery for dolphins. Never patronize marine parks, cruises, or other attractions that exploit animals for entertainment. Encourage your friends to do the same by choosing animal-friendly attractions. Share this post to spread awareness of where dolphins in captivity come from.