Update: February 13, 2019
Here at PETA, we're toasting with cans of Coke to celebrate The Coca-Cola Company's move to leave the cruel Iditarod in the dust. Its decision to end its sponsorship follows months of pressure from PETA, including protests outside Coke's headquarters and annual meeting, plus e-mails from more than 205,000 PETA members and supporters.
BREAKING: @CocaCola has ended its sponsorship of the cruel and deadly Iditarod dog race ❤️ This comes after PETA protests and more than 205,000 emails from PETA supporters! pic.twitter.com/6MAz1Ks1hL

— PETA (@peta) February 13, 2019
Coke joins a long list of companies—including Costco, Jack Daniel's, Maxwell House, Pizza Hut, Rite Aid, Safeway, State Farm, and Wells Fargo—that have cut ties with the deadly dog race. Dogs used in the Iditarod are forced to run up to 100 miles a day across treacherous ice and in subzero temperatures. They sustain bloody paws, stress fractures, and other painful injuries. More than 150 dogs have died during the race's history, and that number doesn't include the countless ones who died during the off-season while chained to a post or who were killed simply because they couldn't run fast enough.
Tell Millennium Hotels and Resorts to join Coke by pulling its funding from the Iditarod:
Originally posted on November 10, 2017:
Brandishing a giant Coke can emblazoned with "Coca-Cola Has Blood on Its Cans" as well as graphic photos of suffering dogs bred for the Iditarod, PETA supporters gathered outside the World of Coca-Cola museum in Atlanta to demand that the beverage giant end its sponsorship of the cruel and deadly dog race.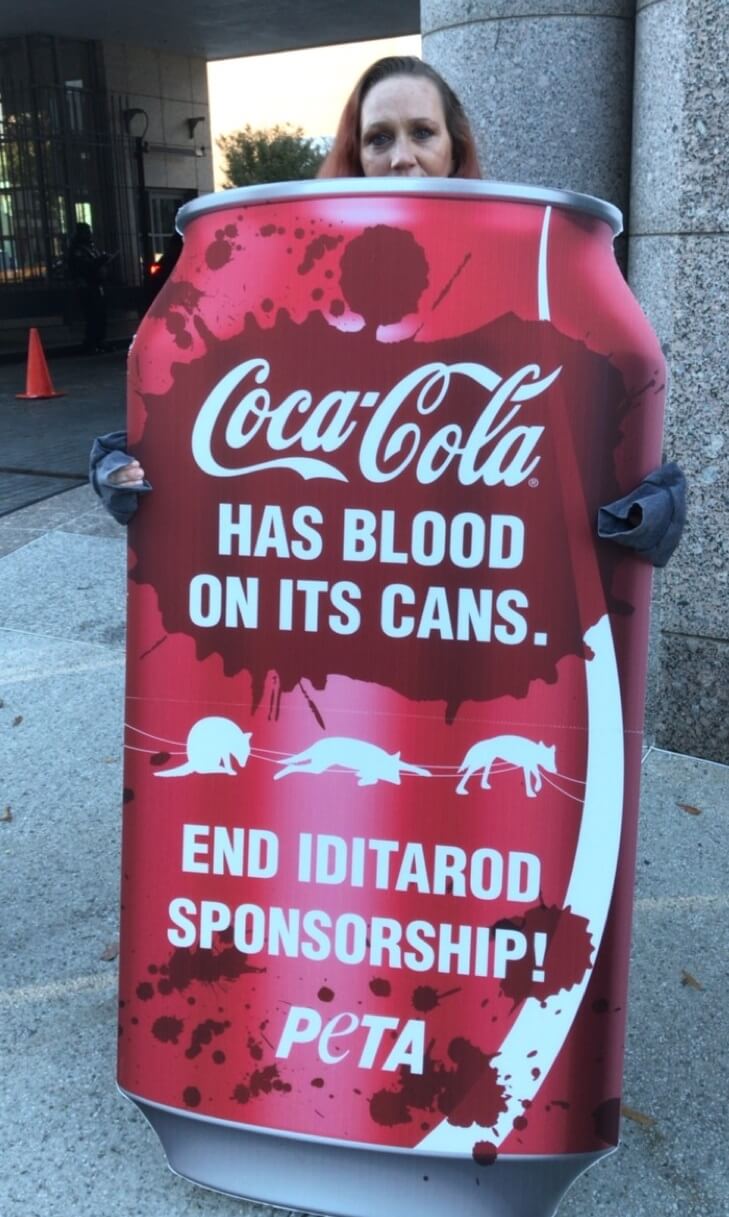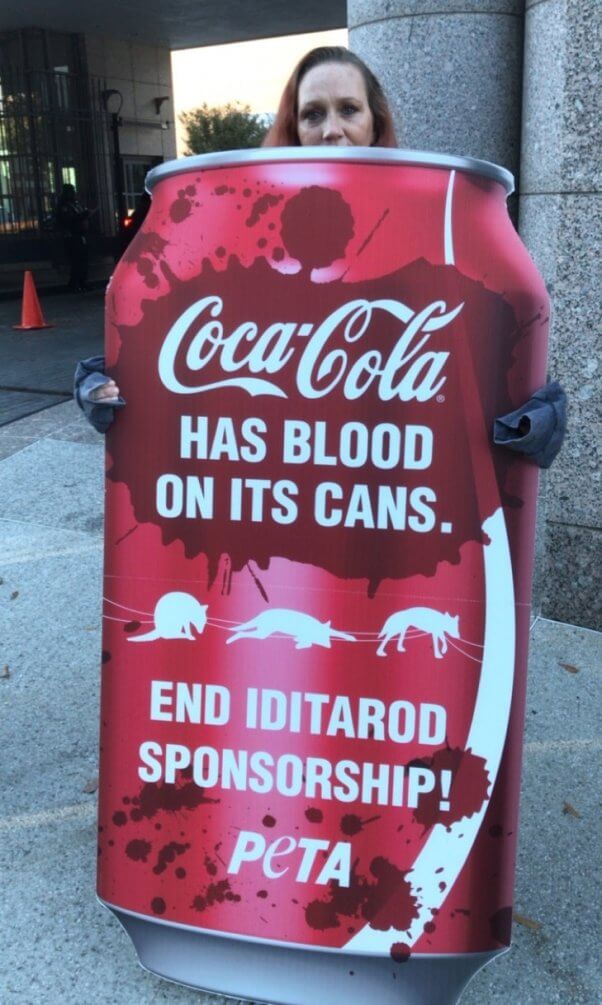 The protest comes on the heels of disturbing photographs and video footage of reportedly dying puppies and injured, sick dogs at a kennel owned by "Iditarod royalty" Dallas Seavey, the four-time Iditarod champion who was recently implicated in a dog-doping scandal and a veteran musher's revelation that she believed that trainers in the industry have killed "hundreds on top of hundreds or more dogs" who didn't make the cut.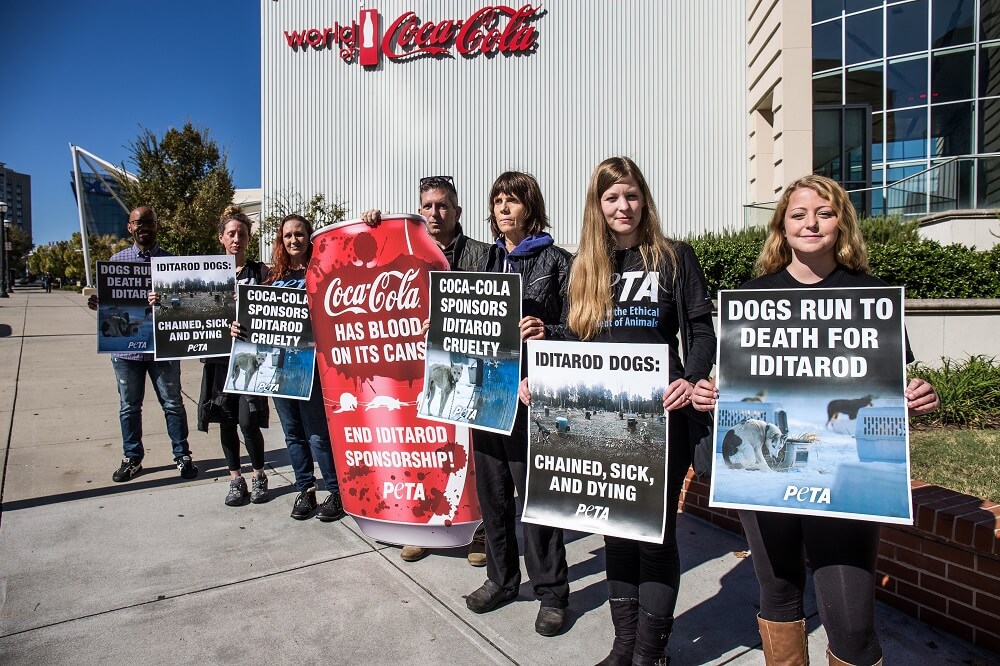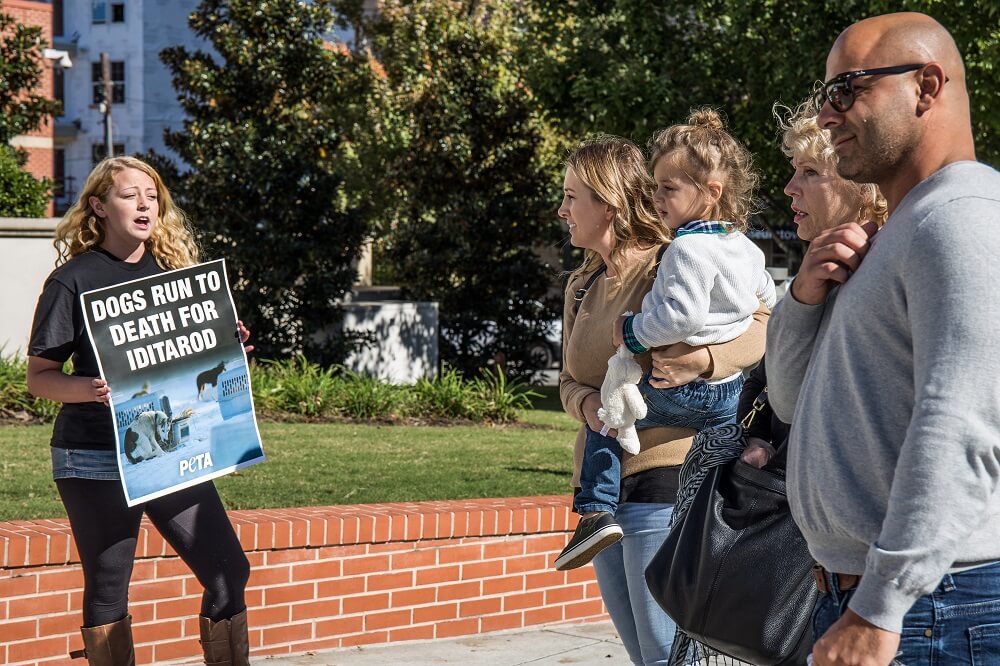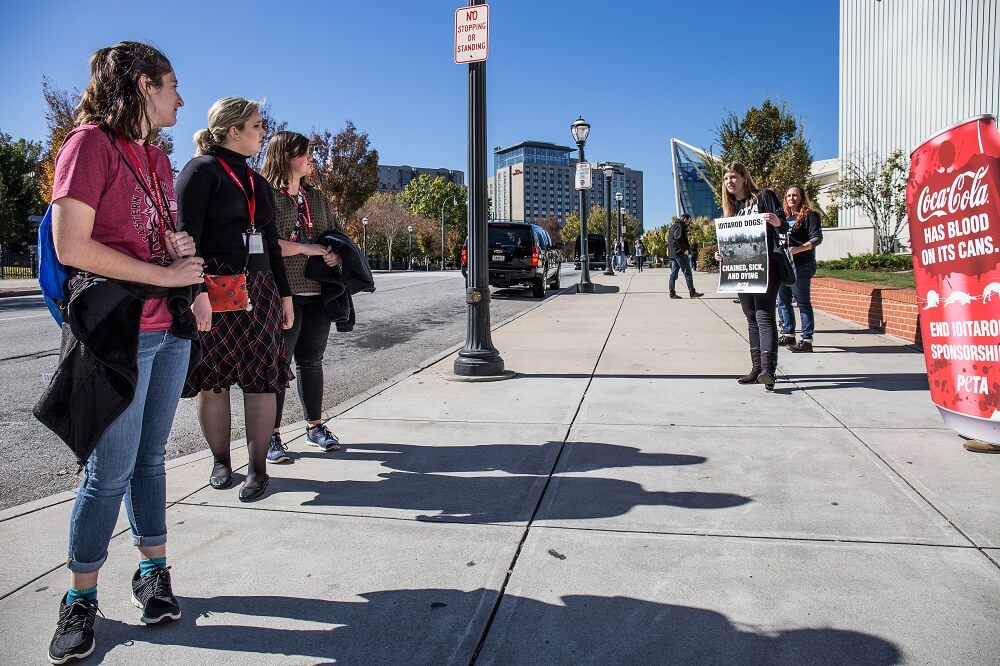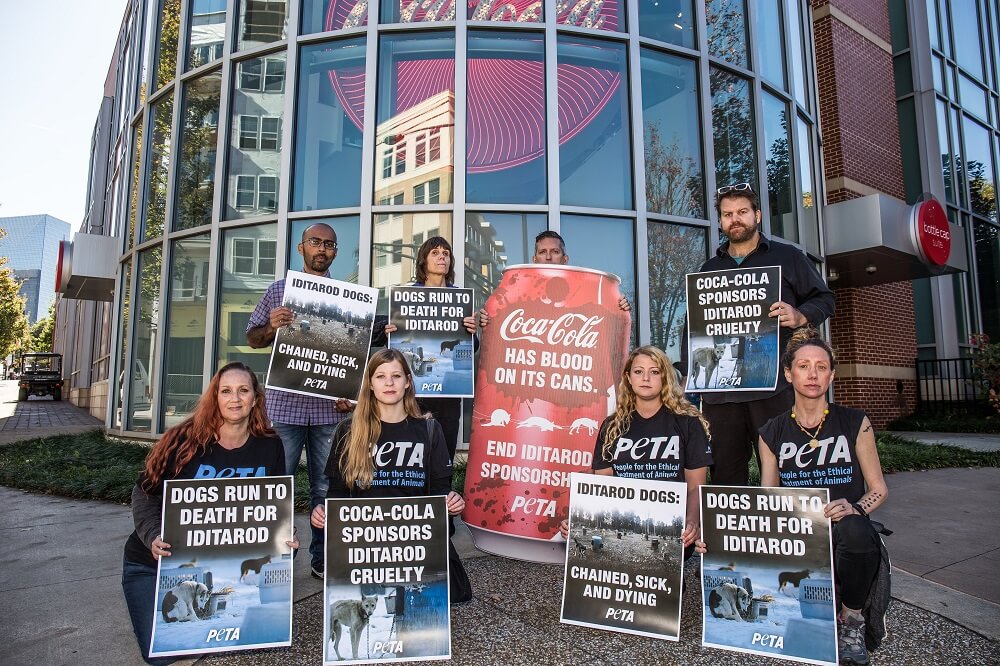 More than 150 dogs have died in the Iditarod, and that number doesn't include those who died during the year while kept on chains or those who were killed because they just weren't considered fast enough. In the 2017 race alone, five dogs died in less than one week.
https://twitter.com/peta/status/891010720837533697
Wells Fargo recently ended its Iditarod sponsorship, and many other major brands—including Costco, Maxwell House, Nestlé, Pizza Hut, Rite Aid, and Safeway—cut ties with the race years ago.
Tell Millennium Hotels and Resorts to join the others and pull its funding from the Iditarod race.
More and more people now agree that animals shouldn't be forced to participate in a "sport" that doesn't benefit them in any way. But even for companies, such as Millennium Hotels and Resorts, that are slower to get with the times, the shocking reports that an Iditarod champion doped dogs, allegations of cruelty at his kennel, and the killing of those who don't make the cut should be more than enough reason to withdraw support from this abusive industry.