Five dogs died in less than a week during the 2017 Iditarod. After PETA contacted State Farm, Guggenheim Partners, and Wells Fargo and our supporters wrote to the companies, they ended their sponsorship of the Iditarod shortly after the race concluded in March. This summer also saw the release of Sled Dogs—a documentary by director Fern Levitt—which exposed the ugly behind-the-scenes cruelty in the dog-sledding industry. So it comes as no surprise that only a few months later, organizers of the cruel race have announced numerous budget cuts—including cutting next year's purse by $250,000.
The cash-strapped Iditarod has cut its purse for the 2018 race by about $250,000 https://t.co/F2PTTV7itS pic.twitter.com/qqgpxXSvKO

— Anchorage Daily News (@adndotcom) September 23, 2017
According to Iditarod CEO Stan Hooley, the Iditarod has depleted its reserves and is attempting to rebuild its savings through the budget cuts. In addition to cutting the deadly race's prize winnings by roughly 30 percent, he said that its communications budget will see a 17 percent reduction. Cuts will also be made to compensation as well as checkpoint supplies and operations.
Forget Budget Cuts—It's Time to Cut the Whole Iditarod
Although this recent announcement is a welcome sign of changing public sentiment against the use (and abuse) of animals for cheap human entertainment, it's not enough. The Iditarod Trail Committee may be suffering from financial hardship, but it's nothing compared to the pain, agony, and even death endured by the dogs forced to race.
THIS is what's wrong with the #Iditarod. No dogs should die for a race. FIVE have died JUST this year. https://t.co/r6ghNpjFOS pic.twitter.com/78Z6VKqBgy

— PETA (@peta) March 17, 2017
You can find out more about the ways in which dogs suffer for the Iditarod by checking out Sled Dogs. Click here to find out how you can watch the award-winning documentary, and watch the trailer below:
---
Learn more about the Iditarod on The PETA Podcast:
Listen to more episodes on iTunes and Spotify! Subscribe for new episodes.
---
What You Can Do
Dogs deserve far better than a lifetime of cruelty and suffering—and even death—just to train for and run in the Iditarod. PETA and compassionate people everywhere are calling for a permanent end to this dangerous, deadly race, and you can, too.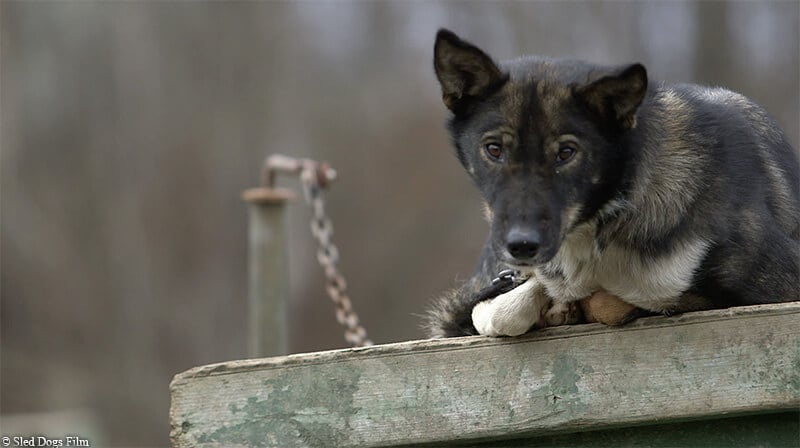 © CCI Entertainment
You can help these dogs by asking corporate sponsors to drop the deadly Iditarod. Already, numerous companies have severed ties with the abusive race, but a handful continue to sponsor it. Click the button below to urge these companies to end their sponsorship.
Click the button below to encourage the Iditarod Trail Committee and the mayors of Anchorage and Nome—the start and end of the race, respectively—to celebrate Alaskan huskies and protect them from suffering and death by replacing them with willing human cyclists, cross-country skiers, or snowmobilers.