Update: February 11, 2020
In the days ahead of the first primary election of 2020, PETA's "climate change cow"—who has "chewed the cud" with candidates from Joe Biden to Bill Weld—took her "Go Vegan or We All Die" message to candidates' events throughout New Hampshire. The "cow" charmed prospective voters with sidewalk high-fives …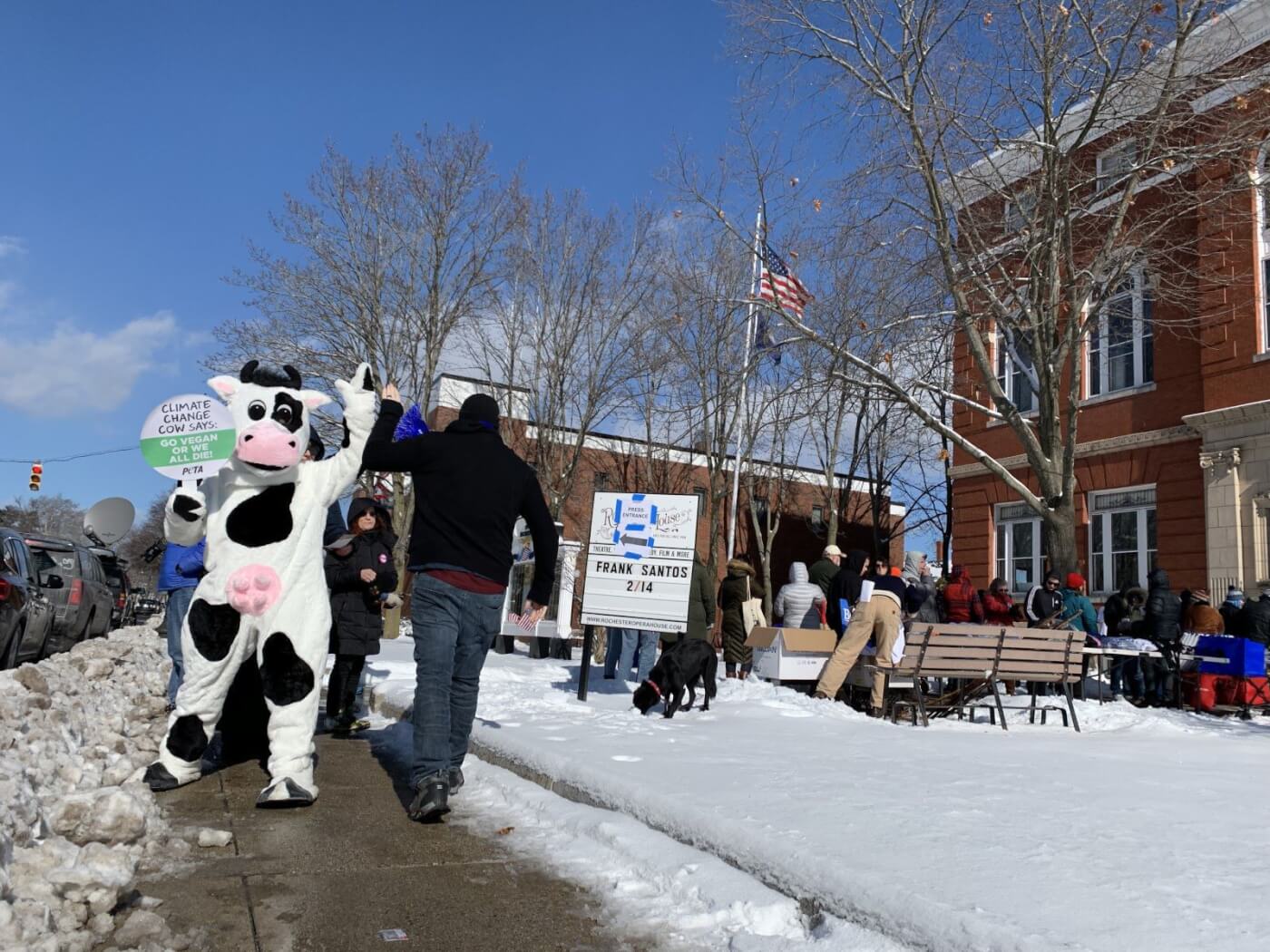 … and spirited photo ops: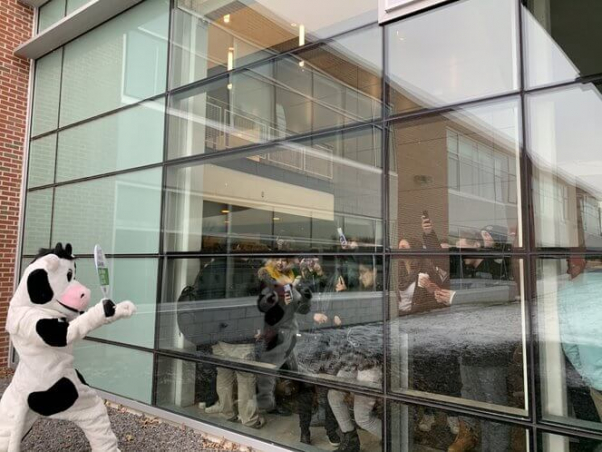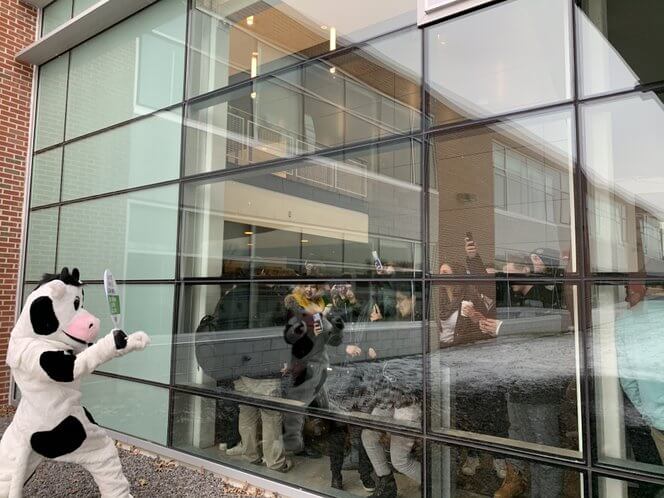 Keep reading to find out what else our "cow" has been up to—as well as how you can join the fight against climate change with diet change.
Originally posted February 3, 2020:
Over the weekend, days ahead of the Iowa caucuses, PETA's "climate change cow" made appearances in the state to drive home one crucial message: We all must "go vegan or we all die." PETA was present at many of the candidates' events to remind folks that eliminating meat and dairy is the most efficient way to combat the climate crisis, whose effects are already being felt in environmental catastrophes such as historic droughts, floods, and wildfires, including the ones in the Amazon rainforest and Australia.
While in Iowa, the "cow" called on candidates and voters to stop ignoring animal agriculture's connection to climate change, before it's too late. Democratic presidential candidate Tom Steyer gave our "cow" and her message some praise, including high-fives and two thumbs-up.
Republican presidential candidate Joe Walsh also stopped to chew the cud with PETA's "cow," smiling for a photo op with her and her vegan call to action: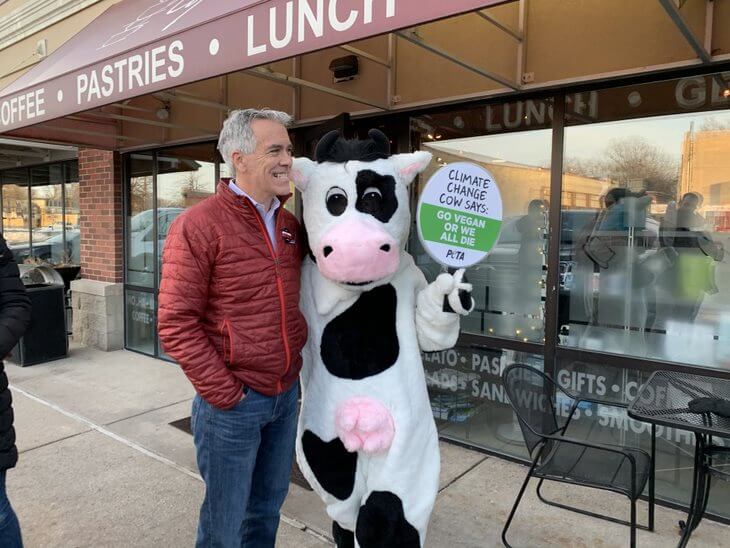 Check back for more updates on the actions of our "climate change cow," including next week, when she's sure to make waves during the New Hampshire primary.
Update: October 16, 2019
Last night, 12 presidential hopefuls took the stage in Westerville, Ohio, for the fourth Democratic debate. But it was PETA's "climate change cow" who really captured the crowd's attention.
In case you needed another reason to #GoVegan, PETA's Climate Change Cow is at the #DemocraticDebate to let you know:

Meat production is a leading cause of climate change, water waste, and deforestation.

*PETA does not endorse/oppose any candidate/party for public office. pic.twitter.com/8RzOYohTZM

— PETA (@peta) October 16, 2019
The "cow" and her mooving sign proclaiming, "Go Vegan or We All Die," even caught Beto O'Rourke's attention:
"Thanks for the work you're doing!" the former U.S. representative shouted from his car to PETA's "cow."
The debate crowd couldn't get enough of the "cow."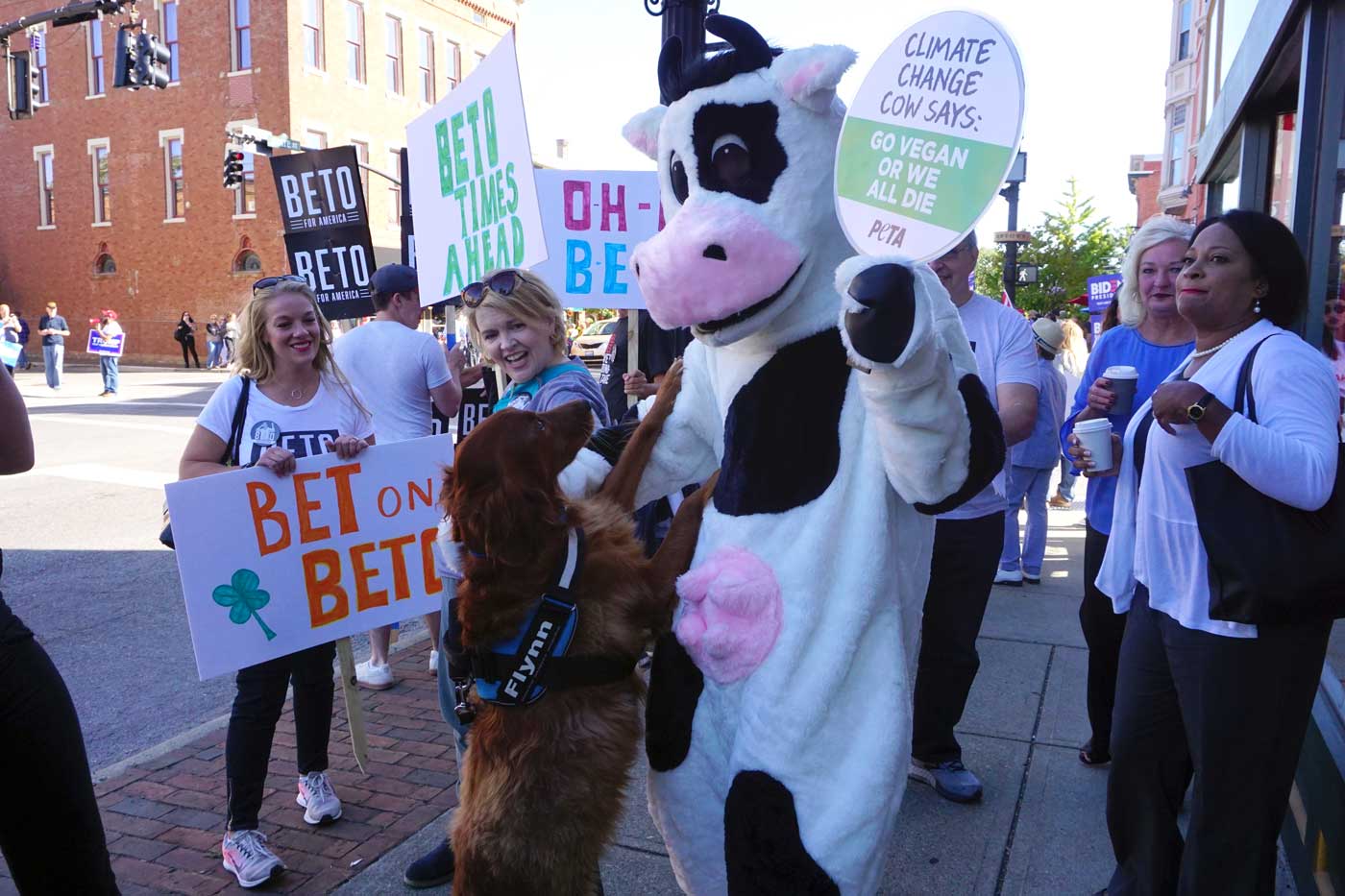 Some stopped to snap photos …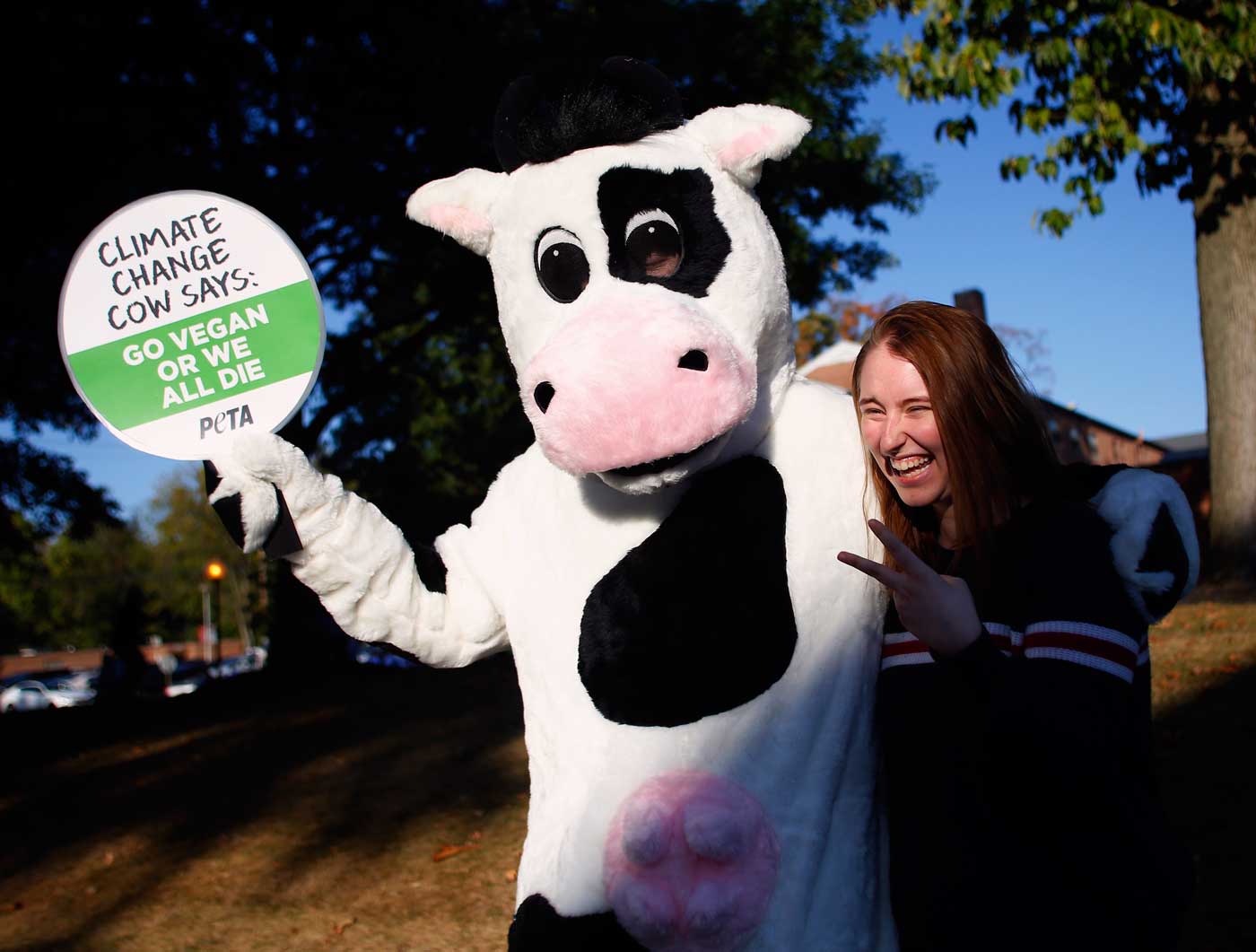 … while others took the pro-vegan leaflets that she and her helpers were handing out: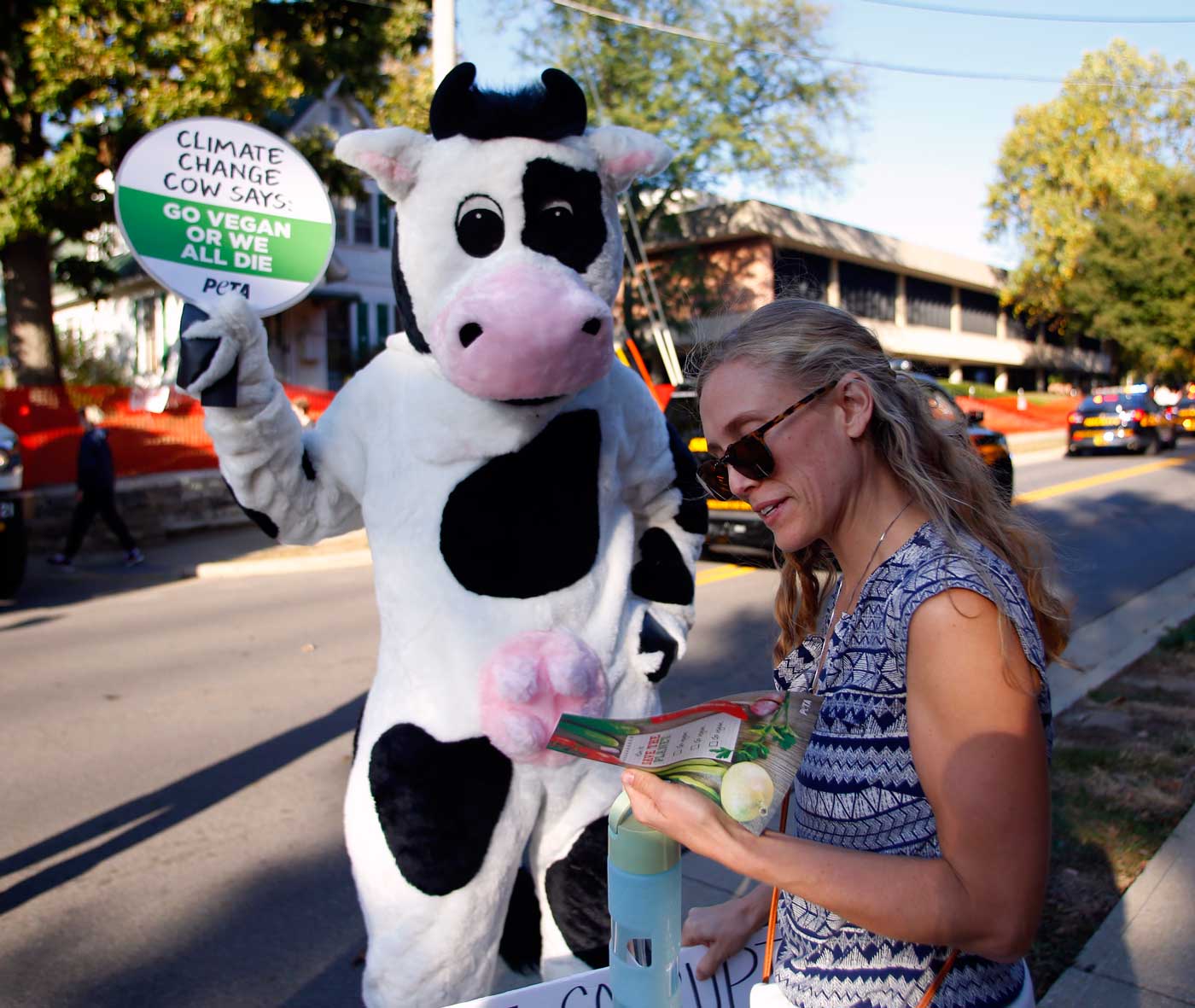 Former second lady Dr. Jill Biden got up close with the "cow," embracing her and snapping a pic: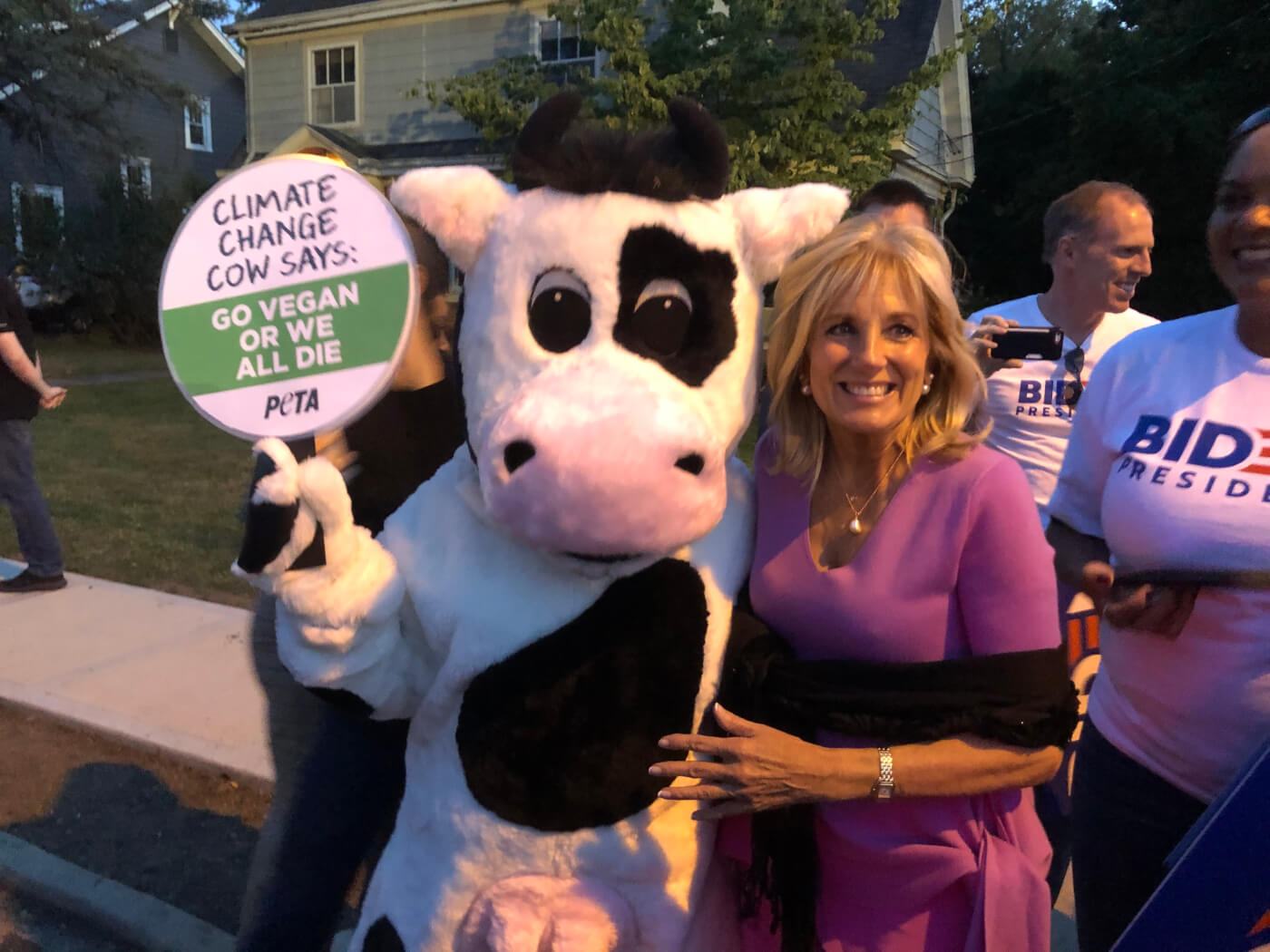 PETA was there to urge all candidates to do something tangible to stop the meat and dairy industries from poisoning the planet. Our "climate change cow" will be at other events, too, to encourage everyone to embrace a vegan way of life in the face of the climate crisis.
Update: September 20, 2019
On September 19, PETA's "climate change cow" was at the MSNBC Climate Forum 2020 at Georgetown University, greeting presidential candidates one by one with a sign proclaiming, "Go Vegan or We All Die," to call their attention to animal agriculture's massive contribution to the climate crisis. The message prompted positive reactions from many in attendance, including Andrew Yang …
… who rushed over to the "cow," high-fived her, and agreed that she's spot-on. Candidate Marianne Williamson exclaimed, "I'm trying! I'm trying!" when she saw PETA's message urging folks to go vegan.
Williamson and the "cow" were even featured in a New York Magazine Instagram story: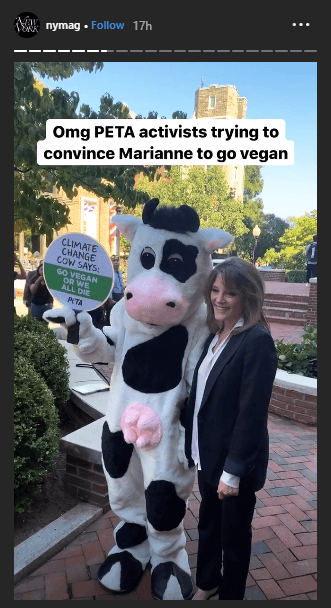 The "cow" also chatted with candidates Julián Castro …
… and Bill Weld, who stated, "We've got a number of vegans in our family. I'm not a vegan yet," and took home a vegan starter kit.
Sen. Bernie Sanders also crossed paths with her at the event.
PETA's "climate change cow" has mooved in political circles before—she chewed the cud with former Vice President Joe Biden and Sen. Cory Booker at a Democratic Party convention in New Hampshire (see below)—and she'll be a familiar face at future political events to push candidates to take action before it's too late.
Originally posted on September 11, 2019:
It was a day full of enlightenment, hugs, photos, high-fives, handshakes, and cheers, including from former Vice President Joe Biden and U.S. Sen. Cory Booker. The two presidential hopefuls couldn't help but be mooved by PETA's "climate change cow" on Saturday at the New Hampshire Democratic Party convention. Biden said hello to our "cow"—who was there to remind all candidates that going vegan and helping our planet go hand in hand. And he exclaimed, "That's about right," after reading our "Go Vegan or We All Die" sign.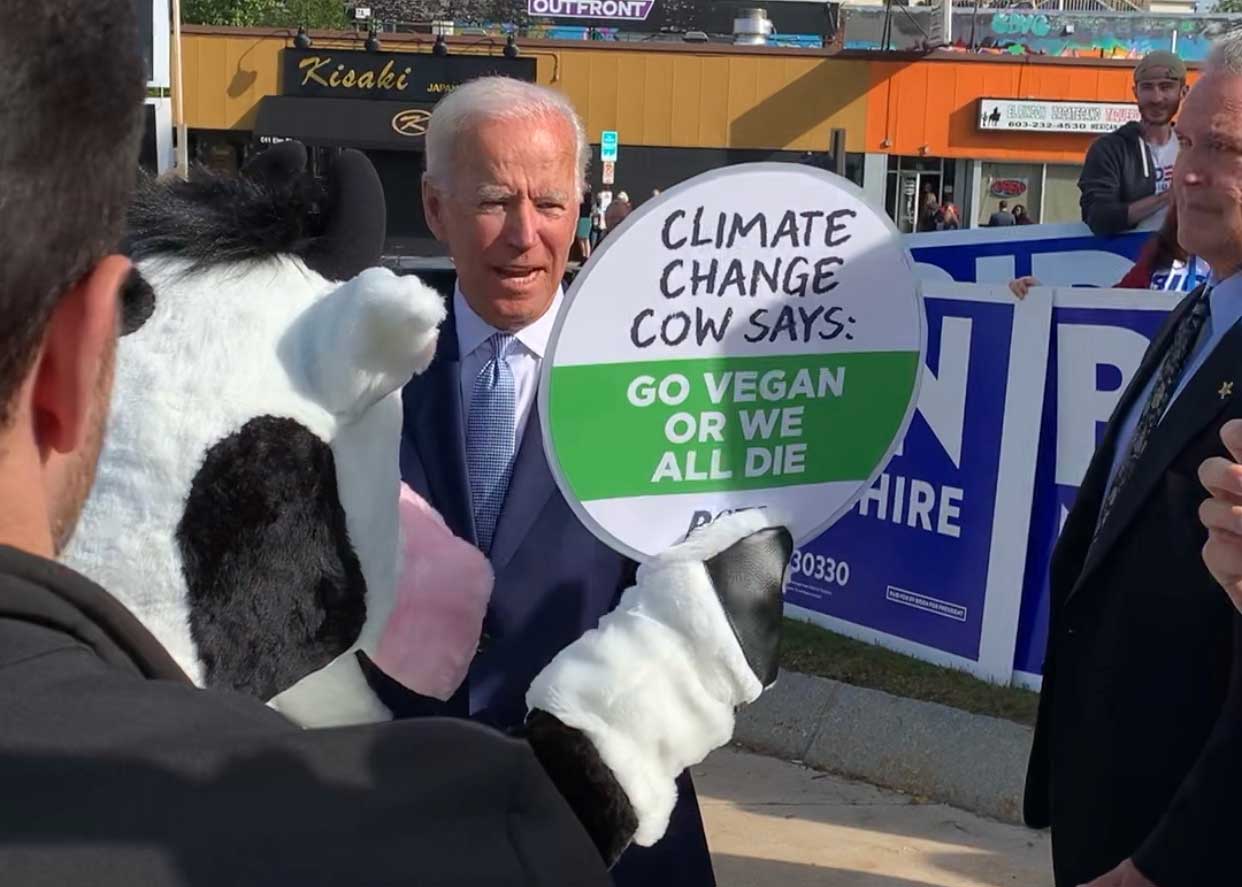 Booker—who's known for his ethical politics—greeted our "climate change cow," too. "My vegan people! PETA!" the senator called out as he shook her extended hoof.
The moment vegan Senator @CoryBooker and PETA's Climate Change Cow shake hands 'cause they both know going #vegan is the future. #NHDemConvention

[PETA does not endorse or oppose any candidate or party for public office.] pic.twitter.com/IB8zPkB0st

— PETA (@peta) September 7, 2019
The "cow" and our pro-vegan message were visible throughout the convention, reminding the thousands of attendees that production of both meat and dairy is destroying our planet—and that going vegan is the most responsible thing individuals can do if they care about animals, their children and grandchildren, the Earth, or their arteries.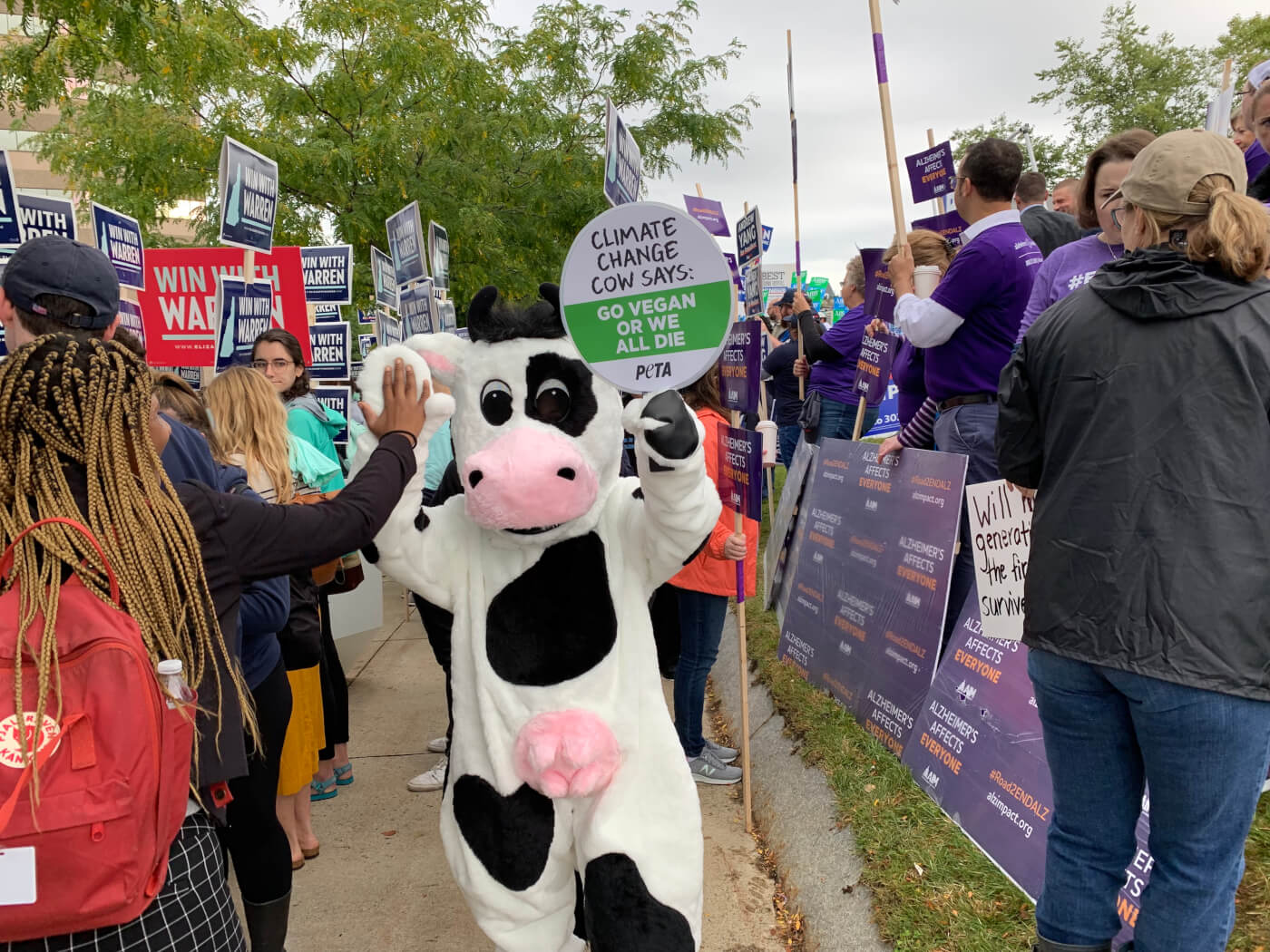 The meat and dairy industries are guzzling up natural resources, spewing out contaminants, and wreaking havoc on our planet's weather. They're also decimating land and wildlife—and not just in the Amazon rainforest.
Our "climate change cow" will also be at many other events—both Republican and Democrat—to urge everyone to embrace a vegan way of life in the face of the climate crisis.
A recent analysis of the food system's impact on the environment stated that a massive reduction in meat-eating is essential in order to avoid dangerous climate change, including cutting beef consumption by 90% and cow's milk consumption by 60% in Western countries. More than 90% of the Amazon rainforest that's been cleared since 1970 is used for meat production, which is a major contributor to pollution, land degradation, water shortages, and habitat destruction. A global shift to vegan eating is necessary to combat the worst effects of climate change, as animal agriculture alone is responsible for nearly one-fifth of human-induced greenhouse-gas emissions.
Do Your Part: Go Vegan
The meat and dairy industries are poisoning the planet—and if you still eat animal-derived foods, so are you. Make the kind decision to go vegan today:
Already vegan? Right on! Help your friends and family make the transition to meat- and dairy-free eating, too:
Note: PETA supports animal rights, opposes all forms of animal exploitation, and provides the public with information on those issues. PETA does not directly or indirectly participate or intervene in any political campaign on behalf of or in opposition to any candidate for public office or any political party.