In 1999, a PETA eyewitness recorded video showing that Tim Frisco, Carson & Barnes Circus' "animal care" director, viciously attacked elephants with electric prods and sharp, steel-tipped bullhooks and instructed trainers to sink and twist the bullhooks into the animals' flesh until they screamed in pain.
In the video, elephants are heard crying out in agony as Frisco hits them and swears at less-experienced trainers, urging them to inflict more severe pain. He goes on to tell them that if the elephants squirm too much, they should strike the animals right under the jaw with a bullhook.
The eyewitness video reveals that Frisco cautioned that beatings must be concealed from the public. In the footage, employees are also seen burning off elephants' hair with a blowtorch.
How Does Frisco Still Have a Job?
Imagine the consequences if a day care employee or a caretaker of the elderly instructed new hires to beat and punish the living beings they watched over in the way Frisco did. In the circus industry, this is just business as usual.
Currently, Frisco is on tour with Royal Hanneford Circus, which leases animals from Carson & Barnes. Royal Hanneford has been responsible for incidents in which escaped animals endangered the public, and at least one elephant came down with tuberculosis on its watch.—in addition to being cited numerous times for failure to provide veterinary care and meet minimum space requirements.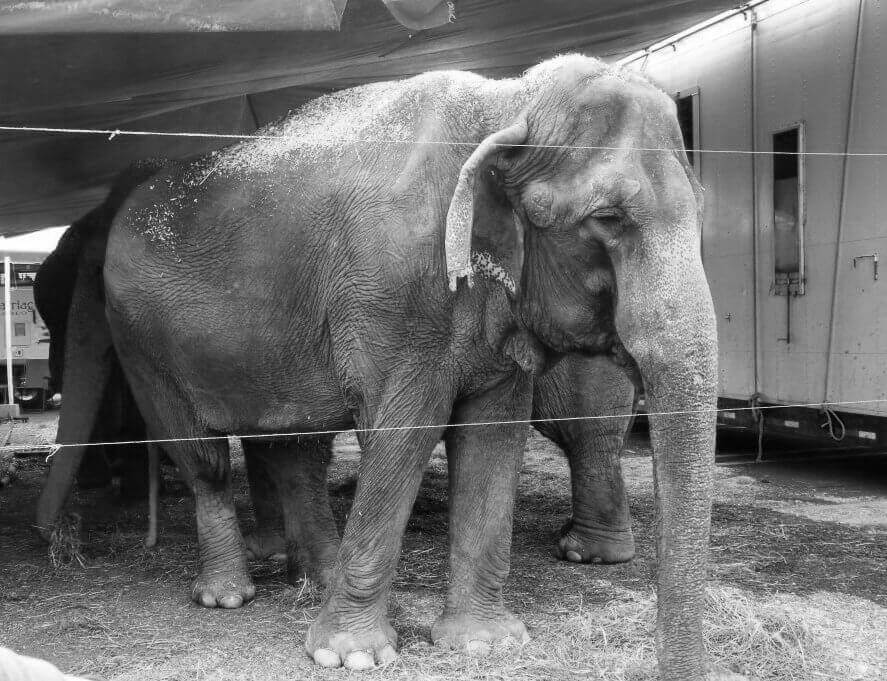 photo by Deborah Robinson
Before that, Frisco toured with the now-defunct Cole Bros. Circus. This outfit bit the dust after numerous venues barred the degenerate show from performing. During its years in operation, the circus and its owner, John Pugh, pleaded guilty to multiple violations of the federal Endangered Species Act.
It's No Surprise That Frisco Fits Right in at Carson & Barnes
Carson & Barnes has been cited numerous times by the U.S. Department of Agriculture for failing to meet the minimum standards of the federal Animal Welfare Act. Just last year, the infamous circus paid a $16,000 fine to settle a lawsuit related to an incident in which three elephants ran amok and easily could have killed someone.
The exhibitor was also cited for failing to keep proper documentation of the care and treatment of a pygmy hippo who was found with her spine and hip bones protruding as well as that of an elephant who had lost weight at an alarming rate for months. Both animals ultimately died.
Animals in Circuses Need Your Help Right Now
Please join PETA in urging Carson & Barnes Circus to step into the 21st century by eliminating all animal acts and sending the long-suffering animals it holds captive to reputable sanctuaries.