Canada Goose is going public, and PETA will be among its first shareholders.
When the clothing retailer offers up shares of common stock as part of an IPO this week, PETA will be snapping up shares and bringing the fight for animals straight to the boardroom.
The shares purchased will be the minimum amount required to give PETA the right to attend and speak at annual meetings, and to submit shareholder resolutions asking for the company to stop using coyote fur trim and down in its jackets.
If you haven't already seen why consumers worldwide are outraged by Canada Goose's use of feathers and fur, take a look at this viral video, showing how coyotes caught in traps are often bludgeoned, stomped on, or shot to death:
https://www.facebook.com/official.peta/videos/10153906965334586/
Before bringing the fight to Canada Gooses' boardroom, PETA brought it to the company's doorstep. Last year, more than 50 PETA supporters descended on the opening of Canada Goose's New York City flagship store to protest the company's cruelly produced coats.
There are more protestors than customers on opening day at the @CanadaGooseInc store in #NYC. #FurIsDead #DitchDown pic.twitter.com/HctIYy8xXm

— PETA (@peta) November 17, 2016
Shortly after that, 25 chanting, poster-wielding PETA supporters descended on the grand opening of Canada Goose's first-ever brick-and-mortar store in Toronto. Less than a minute after protesters entered the building, the company's CEO fled to the back of the store.
The CEO can't hide from the outage on Twitter—where consumers have been making it clear that animals shouldn't suffer and die for clothing:
@CanadaGooseInc @Jackie4402 i'm interested in a garment that isn't soaked in the blood of animal. do you have anything like that?

— John (@wartwinks) January 27, 2016
https://twitter.com/ashleelyn2/status/692438670389940226
Celebrities have also joined the fight against Canada Goose, including actor Justin Long, who asked employees at the Canada Goose flagship store about the coyotes killed for fur trim:
And actor Maggie Q, who attempted to have a conversation with the company's CEO.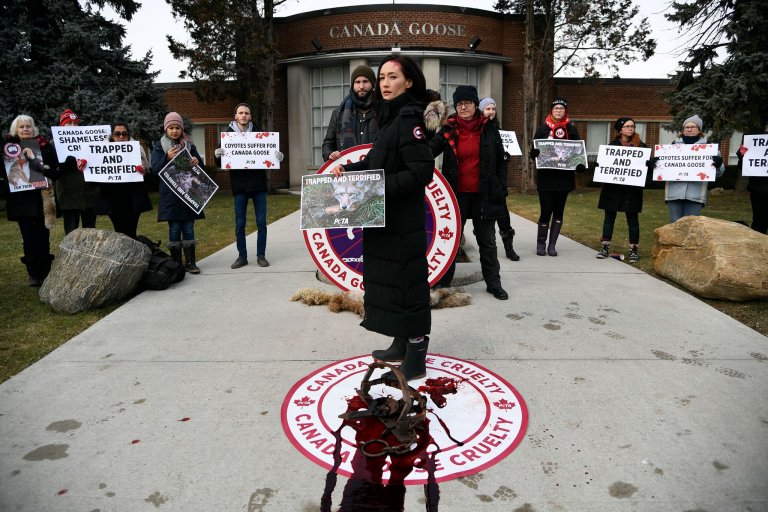 What You Can Do
Always shop compassionately, and let your friends and family know that you won't be buying Canada Goose jackets as long as it continues to use fur and down.
If you know anyone considering wearing or buying a Canada Goose coat, let them know that trapped animals, especially mothers desperate to get back to their starving babies, have been known to attempt to chew off their own limbs to escape.