Update: Today, the World Trade Organization upheld a ruling that allows the EU to ban seal fur imports on moral grounds. This decision is a major win for baby seals—who are shot or bludgeoned to death in front of other terrified seals—and it's a landmark step toward protecting animals under international trade law.
The victory comes on the heels of appeals by EU resident Jude Law and Canadian Pamela Anderson. PETA also worked with music legends Sarah McLachlan, Joan Jett, Iggy Pop, and others, who requested that the WTO hearings be open so that the public could be fully informed about the case.
The whole world is turning its back on seal products—not only EU countries but also Mexico, Russia (which had been importing 95 percent of Canadian seal pelts), Taiwan, and the U.S. Just last month, Canada's fisheries minister admitted that China has said "no" to seal meat because of pressure from animal rights activists, despite years of effort to create a market there.
We are one step closer to the day when violence on Canadian ice floes is a thing of the past. The time has come for the Canadian government to bring the commercial slaughter to an end and create a practical exit strategy: a government buyout.
Originally posted March 25, 2014:
Last week, Canada and Norway made their case against the World Trade Organization's ruling to uphold the EU's ban on seal fur imports—a decision that came on the heels of letters from Jude Law and Pamela Anderson. A PETA U.K. representative was in Geneva at both hearings to represent the organization's tens of thousands of members across Europe who want no part in Canada's commercial seal slaughter.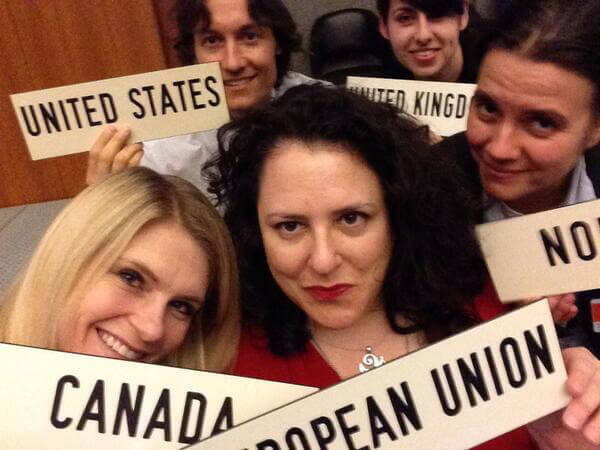 Canada continues to try to justify its cruel commercial seal slaughter by hiding behind the Inuit seal hunt, which is fully exempt from the EU ban. The EU has made it clear that it wants no part in the commercial slaughter, which is merely an off-season cash grab for the Canadian fishing industry and accounts for less than 1 per cent of Newfoundland's economy. Since markets for seal products continue to disappear and the commercial slaughter continues to require millions more in government support than it actually contributes to the economy, Canada's challenge of the EU ban is purely for political reasons. The world does not want seal products, and it's time for the government to devise a practical exit strategy: a government buyout.
The WTO is expected to issue its ruling in the coming months. Stay tuned!