Bad news for Bearadise Ranch: After PETA submitted a formal complaint to the U.S. Department of Agriculture (USDA) about a WZVN-TV news crew entering an enclosure with a 300-pound bear named Carroll at Bearadise Ranch, the agency slapped the roadside zoo's owner, Monica Welde, with a "critical" citation and an official warning for violations of the federal Animal Welfare Act.
A USDA inspection report obtained by PETA details that the news crew entered the enclosure, the camera operator petted Carroll on the head, and both the reporter and the camera operator fed her honey. According to the report, "At no time was there a physical barrier present or a physical method of constraint strong enough to protect the public members from harm."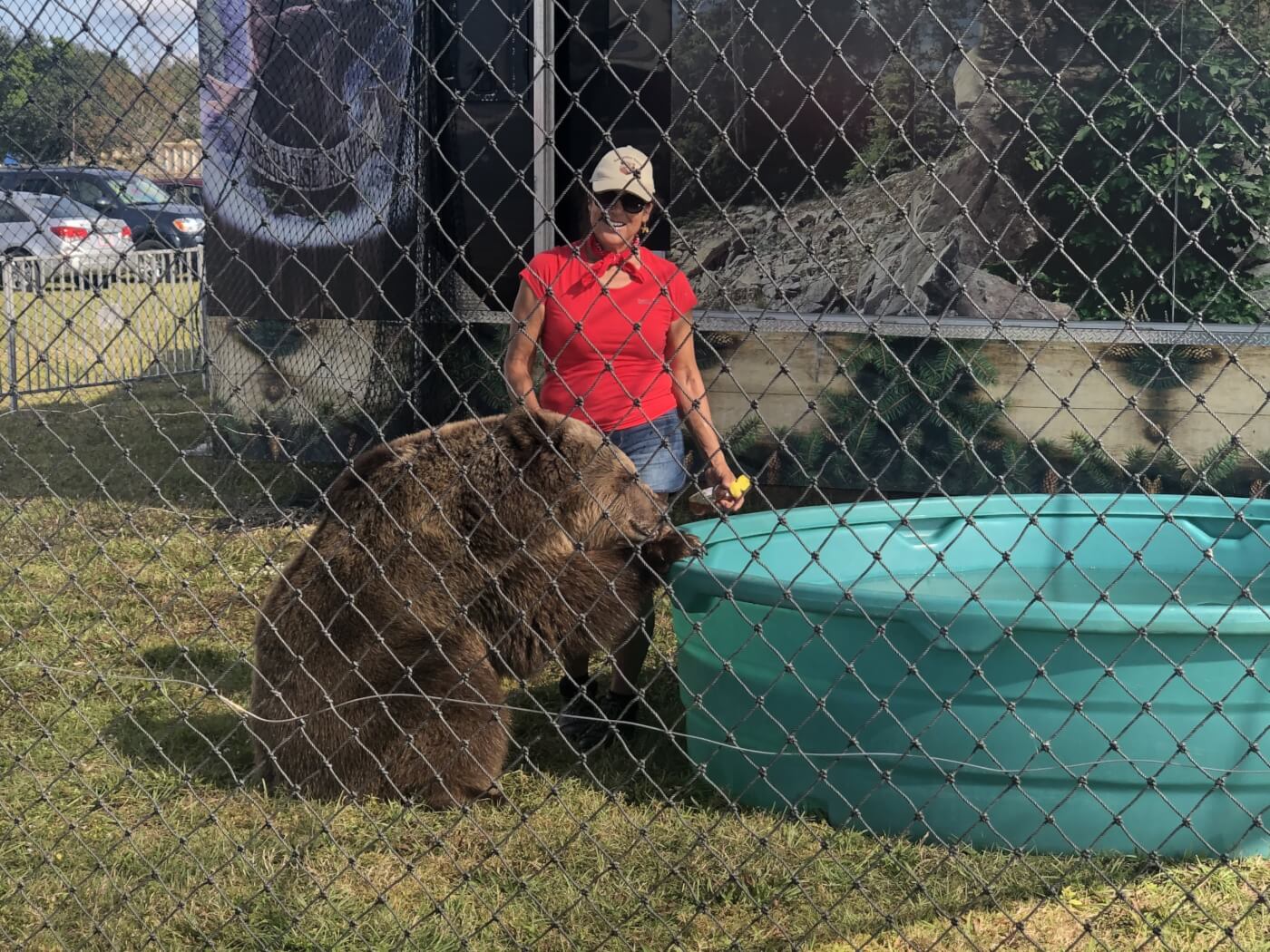 The Florida Fish and Wildlife Conservation Commission (FWC) also charged Welde with a misdemeanor citation over the same incident following a tip from PETA.
"Considering all the stress this 300-pound bear has endured already, allowing a news crew to touch and feed her created a situation that could have turned deadly. PETA will continue to keep a close eye on Bearadise Ranch, whether its exploits occur behind closed doors or wind up on the local news."

—Debbie Metzler, PETA Foundation Associate Director of Captive Animal Law Enforcement
Bearadise Ranch Has a Troubling History
In 2021, the USDA cited Welde after her traveling show, Bears of Bearadise Ranch, unleashed a bear during a performance and later failed to stop the animal from running across the arena while members of the public were still nearby. The border of the arena consisted of loose netting that wasn't attached to the ground and which the inspector easily lifted to chest level, meaning the bear could have escaped or made contact with the public.
In 2020, the FWC issued Welde a written warning for a violation of the state's captive wildlife laws after she forced Carroll to perform as a ring bearer during a wedding ceremony.
Actors including Mark Rylance and Joaquin Phoenix have called on Bearadise Ranch and other venues to stop exploiting bears in shows.
Take Action for Bears
Please join PETA in urging Welde to allow these bears to live the way they're meant to—away from tractor trailers and free from the stress and health risks associated with being exhibited in shows, both on the road and at Bearadise Ranch.