As Hollywood's brightest arrived at last night's Academy Awards, they were sure to be asked, "Who are you wearing?" But the real story is who they weren't wearing since cruelly produced animal fur was noticeably absent from the red carpet once again.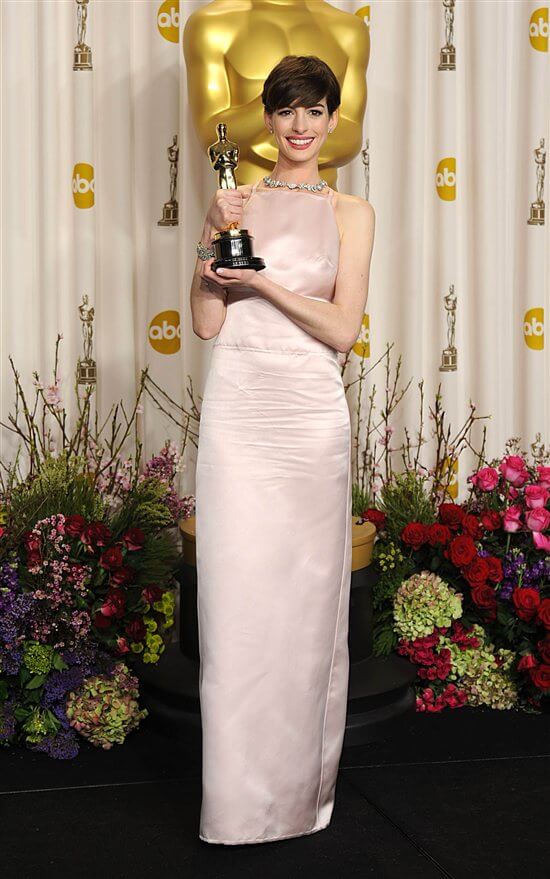 © StarMaxInc.com
The lovely Anne Hathaway won a well-deserved Oscar for her heart-rending performance in Les Miserables, but this vegan superstar is a winner for animals every day. Anne has been turning it out all through awards season, and this time was no exception, landing solidly on best-dressed lists in custom vegan heels from Giuseppe Zanotti. That no animals lost their skin to the leather trade for her look gives us even more reason to cheer the spectacular success that Anne calls "the cherry on top of a wonderful, wonderful dish of vegan ice cream."
Although his pro-fish ad for PETA was deemed too controversial for the Oscar broadcast, Best Actor nominee Joaquin Phoenix was also on the scene. Indeed, PETA faves abounded both inside and outside the Dolby Theatre, from Best Actress nominee and vegan Jessica Chastain and animal adoption advocate Charlize Theron (who showed off some impressive dance skills during the show) to the stunning anti-fur crusader Olivia Munn and a glowing Jenna Dewan-Tatum. The media stars in attendance included PETA pals Kelly Osbourne and Michael Strahan.
So congratulations to the winners—including the animals who didn't end up on the shapely shoulders and elegant tootsies of the attendees!