Happy New Year! Yes, already—at least in places where the Lunar New Year is observed, including China. To join our Chinese friends in celebrating the start of the Year of the Snake, we're featuring one of PETA's most memorable snake-themed ads, in which lovely actor, dancer, and producer Jenna Dewan-Tatum exposes the distinctly not-so-lovely side of the exotic-skins trade.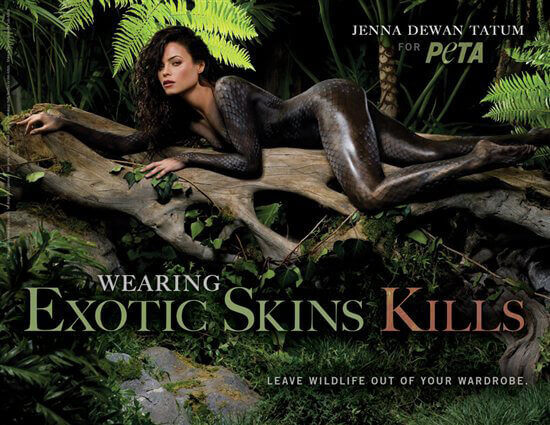 Jenna—who is preparing to deliver her very first bundle of joy with husband Channing Tatum—recently appeared in American Horror Story: Asylum. But what happens to animals killed for their skins is every bit as gruesome as anything perpetrated by that show's mad scientist or serial killers. Snakes have their bodies cut open from one end to the other and their skin ripped off before being tossed aside to struggle and thrash in pain for hours or even days until they die. Most alligators used for accessories are raised in filthy tanks until they are stabbed or beaten to death.
What You Can Do
Millions of snakes, lizards, alligators, crocodiles, and other reptiles are violently killed every year so that their skins can be torn from their bodies to make wallets, belts, boots, and handbags. Don't buy into this cruel rip-off—instead, choose accessories made from chic, cruelty-free materials such as fake snake, mock croc, and pleather. You'll look (and feel) better knowing that you got the glam—without stealing someone else's skin.