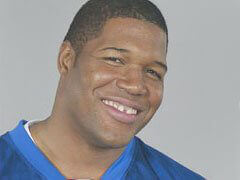 Known for his punishing hits and crushing sacks on the gridiron, former NFL defensive end Michael Strahan is just a big puppy dog when it comes to shivering canines. That's why the venerable football veteran teamed up with PETA to throw a penalty flag on anyone who relegates the family dog to the back yard, especially when the mercury dips.
In a TV public service announcement (PSA) called "Cold Paws," Strahan warns that dogs left outside in cold weather can suffer from frostbite and hypothermia as well as stress and depression. Chained and neglected dogs also suffer from loneliness because they lack the human companionship they so desperately crave.
With two career defensive touchdowns under his belt, Strahan says he feels he scored three more when he and his ex-wife Jean rescued a trio of needy dogs.
Some people treat dogs more like furry lawn ornaments than living, sensitive beings who need lots of love and attention every single day. If you look around, you will see them: dogs living at the end of a tangled chain or huddling in an overturned barrel.
This is where millions of dogs live—all day, every day. When it rains, they're out there. When it's 17° and the wind is blowing at 35 miles per hour, they're out there. When a big snow comes and their human families are cozy inside watching TV, these dogs are still out there—alone and shivering.
Helping Forgotten Dogs
Every winter, PETA provides dozens of needy dogs with doghouses and bedding and convinces many owners to allow their dogs inside. You, too, can help. Share the following cold-weather tips with friends, coworkers, and neighbors. You might save a life:
Take animals inside. Puppies and kittens, elderly animals, small animals, and dogs with short hair, including pointers, beagles, Rottweilers, pit bulls, and Dobermans, are particularly susceptible to the elements. Short-haired animals will also benefit from cozy sweaters or coats.
Provide dogs with proper shelter. Doghouses should be made of wood or plastic (metal conducts cold) and positioned in a sunny location during cold weather. Raise the house several inches off the ground and put a flap over the door to keep out cold drafts. Use straw for bedding. (Rugs and blankets can get wet and freeze.)
Don't allow your cat or dog to roam freely outdoors. During the winter, cats sometimes climb up under the hoods of cars to be near warm engines and are killed or badly injured when the car is started. (To help prevent this, bang loudly on the hood of your car before starting the engine.) Animals can also become disoriented when there is snow or ice on the ground. More animals are lost during the winter than during any other season.
Increase animals' food rations during the winter. During the winter months, animals burn more calories to keep warm. Also, be sure they are free of internal parasites, which can rob them of vital nutrients.
Buy antifreeze made with propylene glycol instead of ethylene glycol. The latter is a deadly poison even in very small doses. Animals are attracted to antifreeze because of its sweet taste, so be sure to promptly clean up spills. Common brands of antifreeze made with propylene glycol include Sierra and Prestone LowTox.
Clean off dogs' and cats' legs, feet, and stomach after they come in out of the snow. Salt and other chemicals can make animals sick if ingested while they are grooming themselves.
Provide outdoor animals and wildlife with a source of water. Put water in a heavy bucket or bowl to prevent tipping, and break the ice at least twice a day if it freezes.
Keep an eye out for strays. Take unidentified animals inside until you can find their guardians, or take them to an animal shelter. If strays are wild or unapproachable, provide food, water, and shelter (stray cats will appreciate a small doghouse filled with warm bedding), and call the local humane society for assistance in humanely trapping them and getting them safe inside.
Call the humane society or animal control to report neglect. If possible, take pictures and write down dates and times when you notice that an animal is going without food, water, or shelter. "Complain" about barking. Barking dogs are often lonely, neglected dogs. Provide neglected dogs with food, water, and toys, and offer to donate a sturdy doghouse. Volunteer to take dogs for walks and take them into your own house on cold nights.
Breaking the Chains
Did you know that continuously chaining dogs is illegal in Germany? Closer to home, Maumelle, Arkansas, and Camden, New Jersey, prohibit chaining dogs to doghouses or other stationary objects. Tucson, Arizona, has banned tethering of animals with ropes and chains. In the District of Columbia, the Washington Humane Society considers chaining to be "unnecessary cruelty" and refuses to allow it.
Order these informative leaflets to distribute to owners of neglected dogs.