"Think shearing sheep for wool is just like a haircut? As if!" That's the message from actor Alicia Silverstone to any holiday shoppers still clueless about the wool industry's cruelty to sheep, detailed in a new radio campaign for PETA. Alicia is an advocate for animals who fills her closet with pieces that are good for animals and the planet. That's why she's joined us in our push for a #WoolFreeWinter.
Why #WoolFreeWinter?
Buying wool supports torturing and killing sheep, gentle individuals who simply want to live without enduring pain and fear. In the wool industry, sheep are treated like machines. When you buy vegan clothing, you're helping to build a better future for sheep and all other animals.
There are so many great vegan options to wear instead of wool. Check out some of the wool-free sweaters Alicia Silverstone would love, which feature sustainable materials like sustainable materials like organic cotton, viscose, and recycled polyesters.
How PETA Is Pushing for a #WoolFreeWinter
PETA and other PETA entities have investigated 117 wool-industry operations around the world, and we're still revealing the same sorts of abuse. In the major wool-producing regions of Australia and the U.S., PETA U.S. investigations have revealed that workers punched terrified sheep in the face, mutilated them with sharp metal clippers, and even beat them in the face with electric clippers and a hammer. Every wool coat, blanket, and accessory caused a tremendous amount of suffering—and it's easy not to support that abuse.
Update (November 21, 2022): PETA is urging listeners in cities with some of the busiest shopping malls and centers to avoid buying wool products on Black Friday, the biggest shopping day of the year. To encourage people to cross wool off their shopping lists, we're running 30-second anti-wool radio spots featuring Alicia Silverstone on popular iHeartRadio stations in Chicago, Minneapolis, Philadelphia, and Syracuse, New York, from November 21 through 25.
Chicago: WKSC-FM
Minneapolis: KDWB-FM and KDWB-HD
Philadelphia: WDAS-FM and WIOQ-HD
Syracuse: WWHT-FM and WYYY-FM
Update: March 2, 2022
PETA spread the wool-free word by placing our "We're Not Sweaters" ad on VegNews for a month, reminding readers to keep cruelty out of their closets. The ad also appeared as a full-page print in The Boston Globe's Sunday edition to spread the word that no wool sweater, hat, or glove is worth sheep being beaten, stomped on, and eventually killed.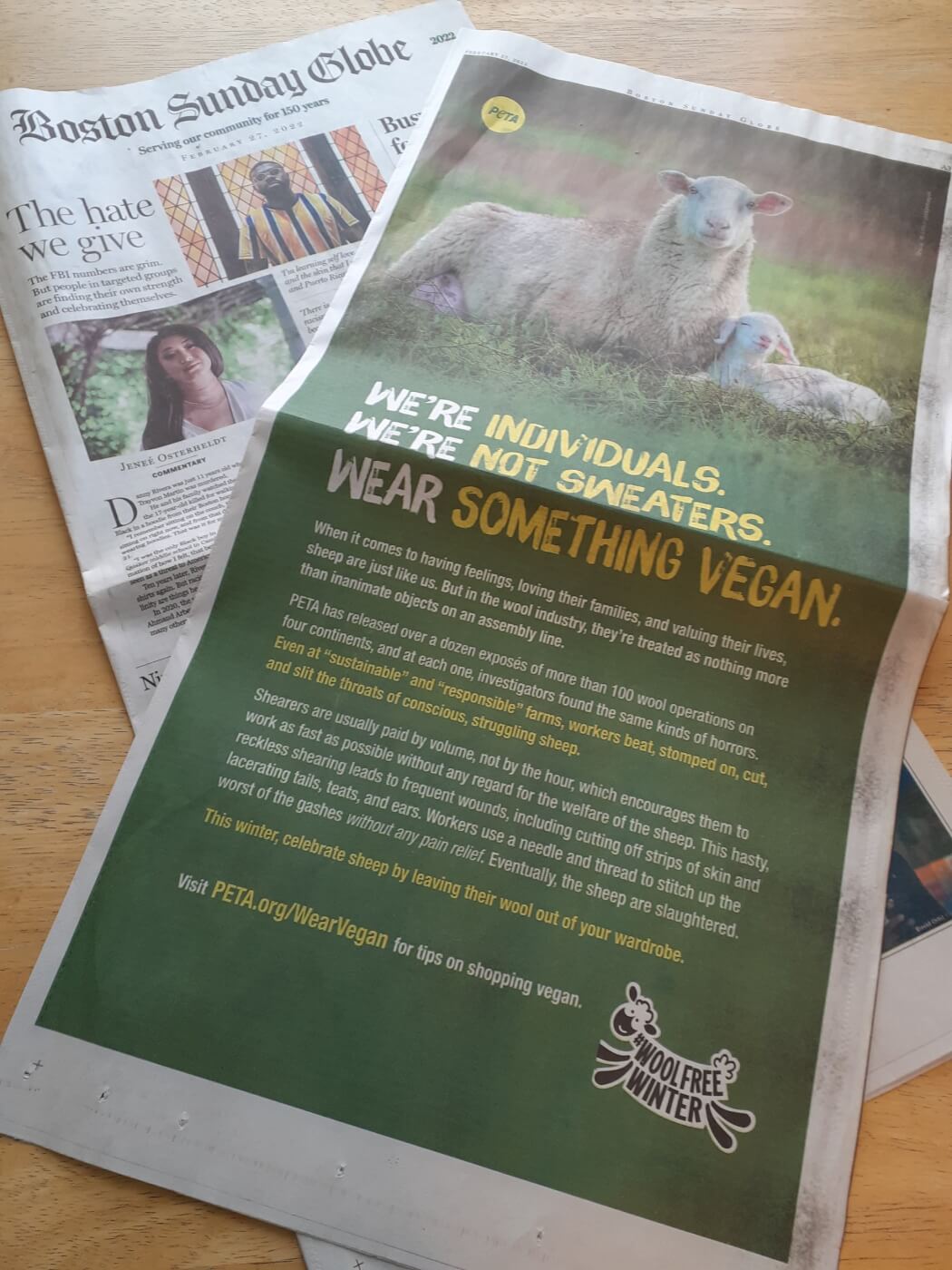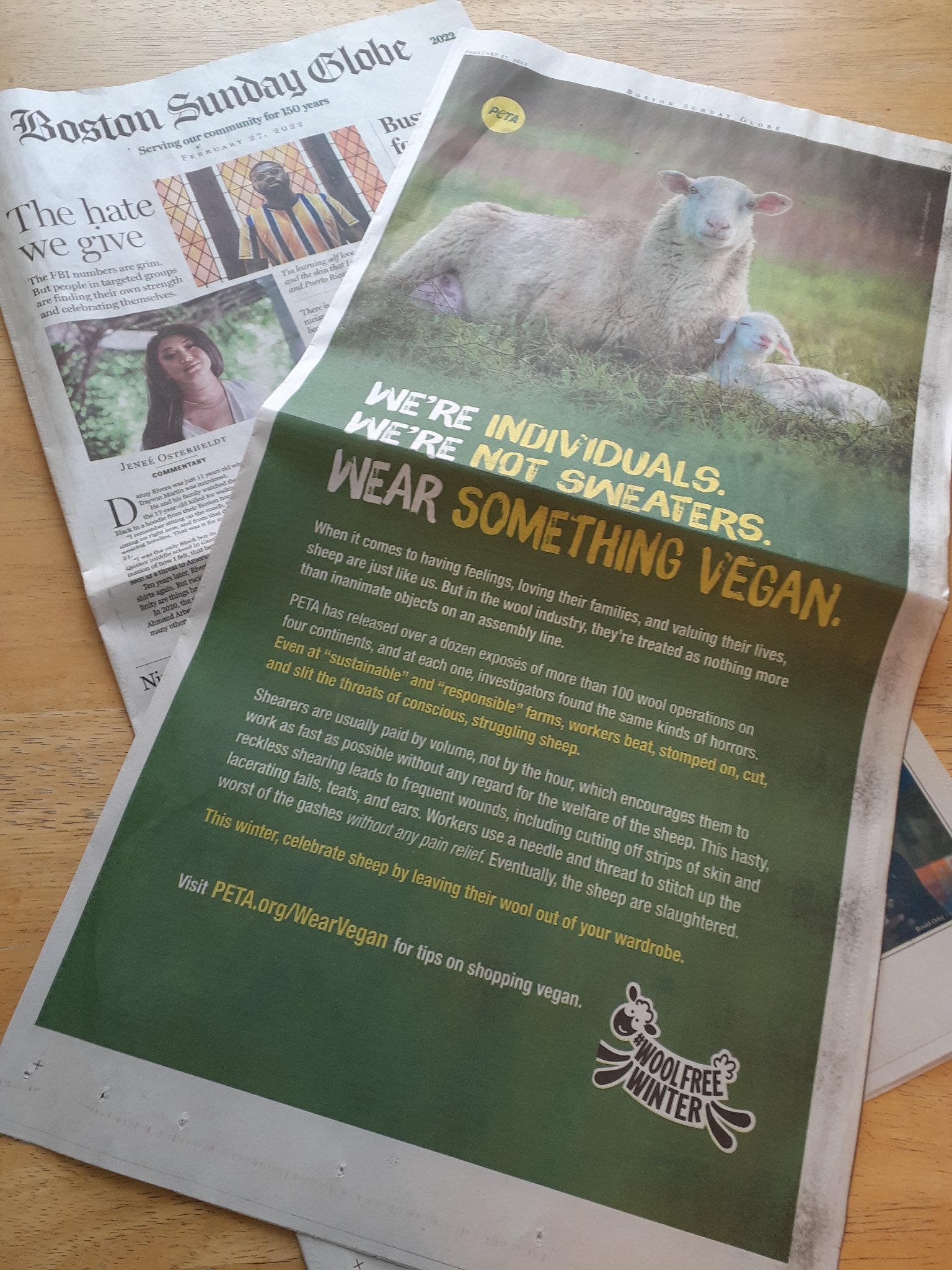 Update: February 15, 2022
PETA took our #WoolFreeWinter campaign to the U.S. capital! To urge passersby to stay away from wool, we've placed anti-wool ads that read, "Looks Like Somebody Wants Their Stolen Coat Back," on four bus shelters throughout Washington, D.C.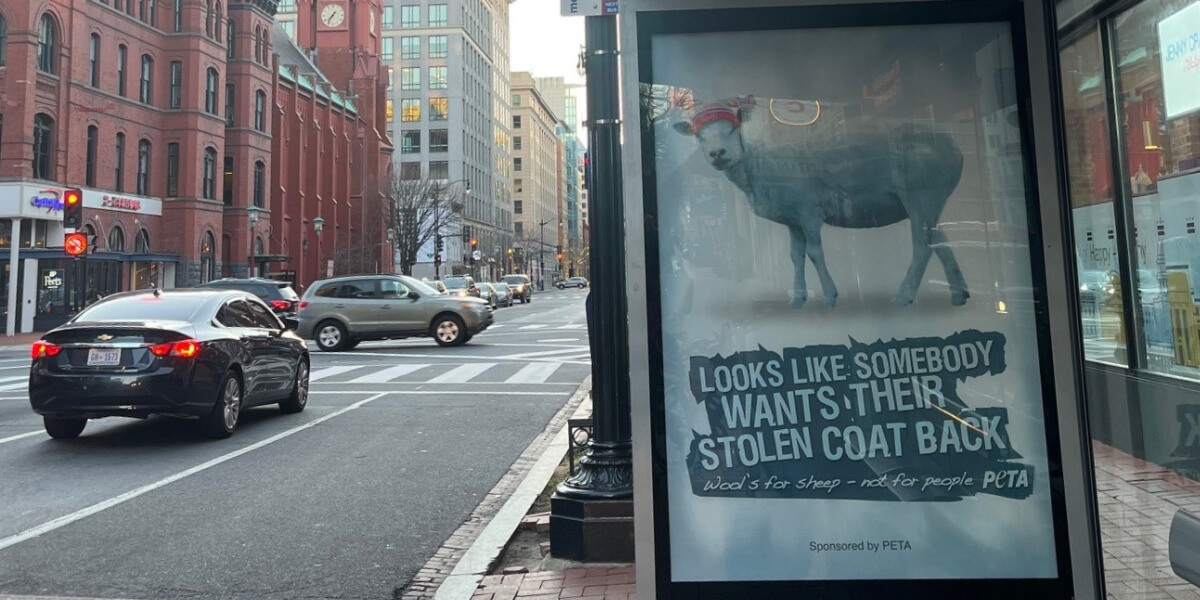 Update: January 19, 2022
Ads urging everyone to leave wool on the racks in 2022 and beyond have popped up at bus shelters across Louisville, Kentucky.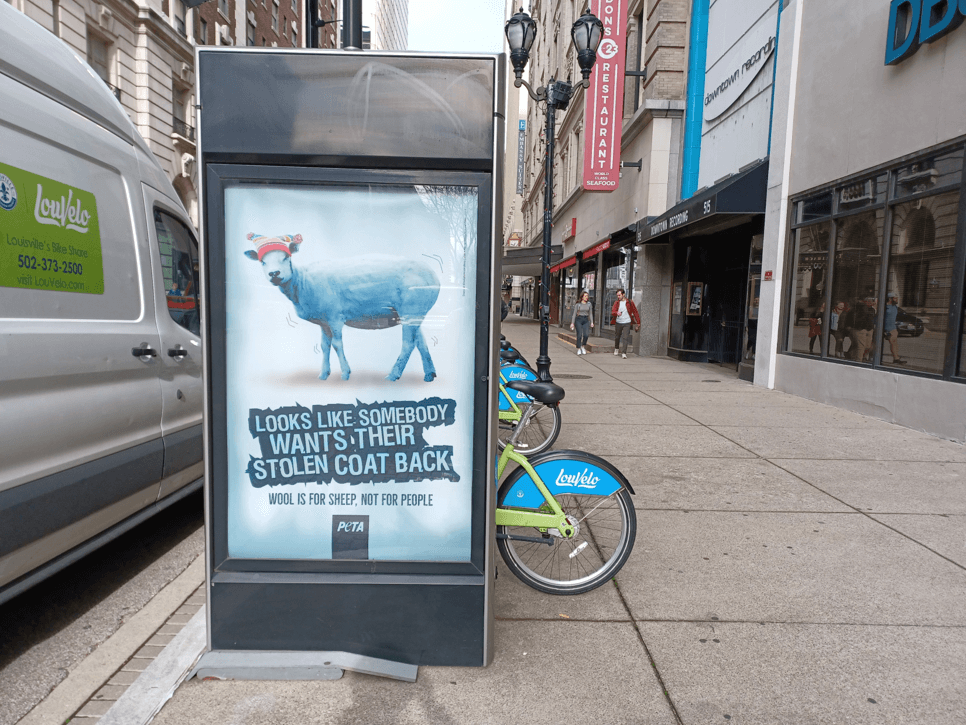 In New York City, a billboard ad and hundreds of flyposters near wool-selling Urban Outfitters stores throughout the city are reminding passersby that wool coats are meant for sheep, not humans.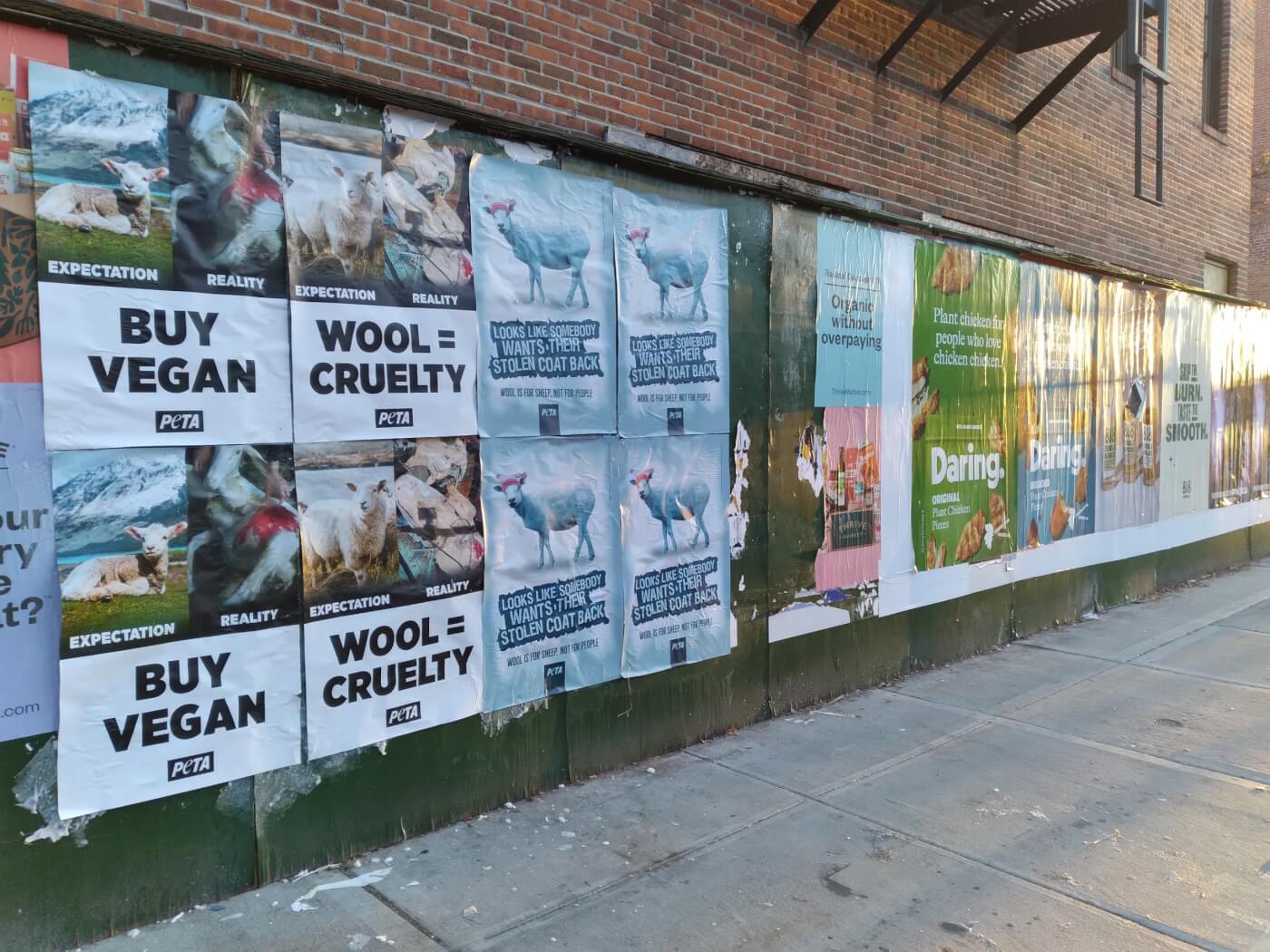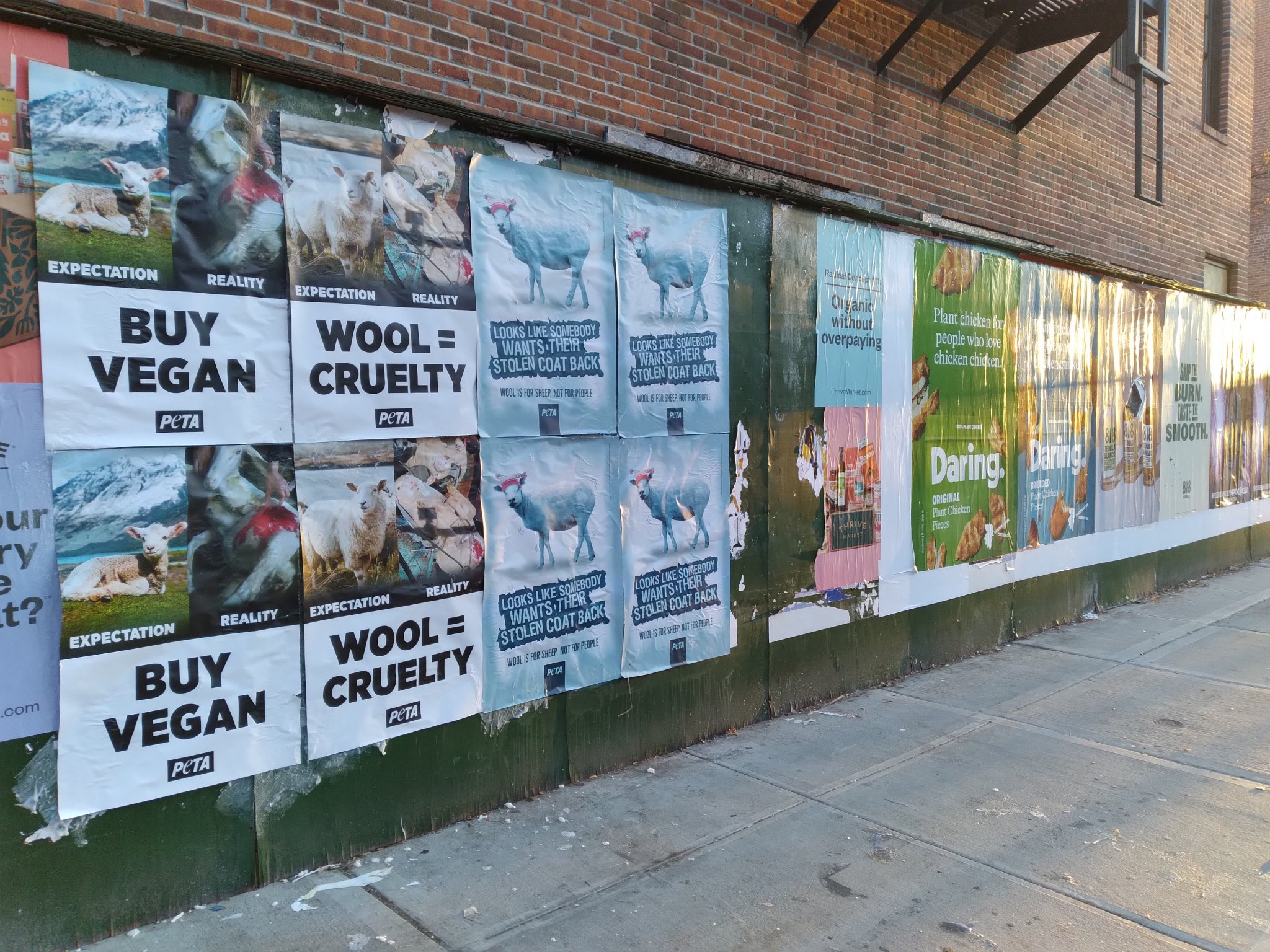 Update: January 6, 2022
It's a newe year, so please don't buy wool! That's the message we're spreading via four bus shelter ads in Vancouver, Canada, and a giant wallscape in Columbus, Ohio—all right down the street from retailers that sell wool.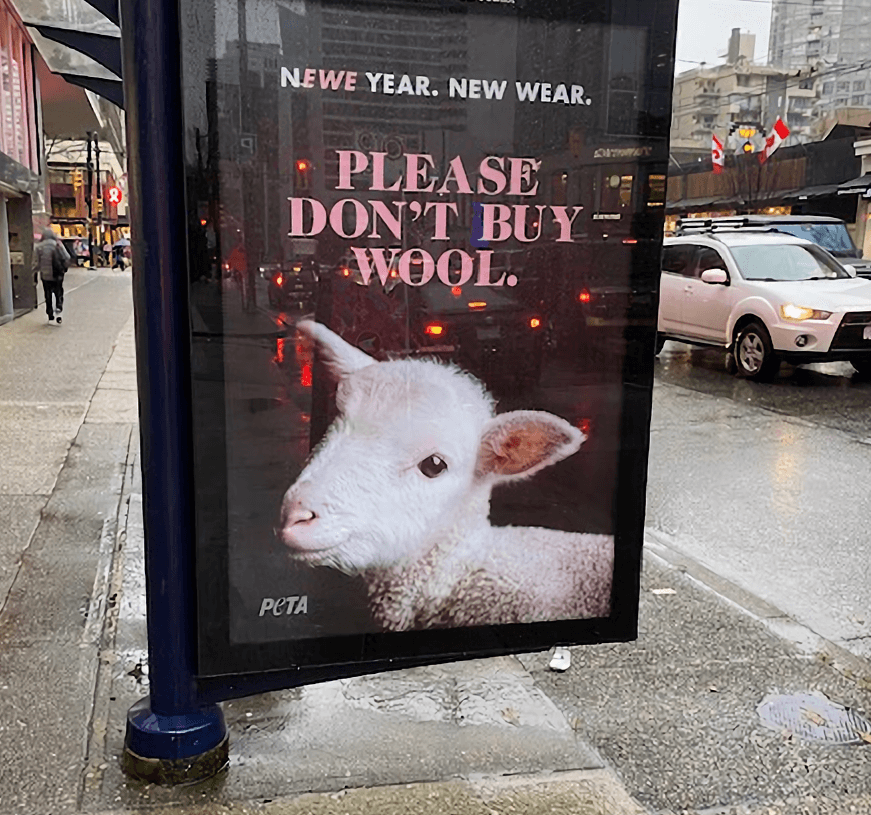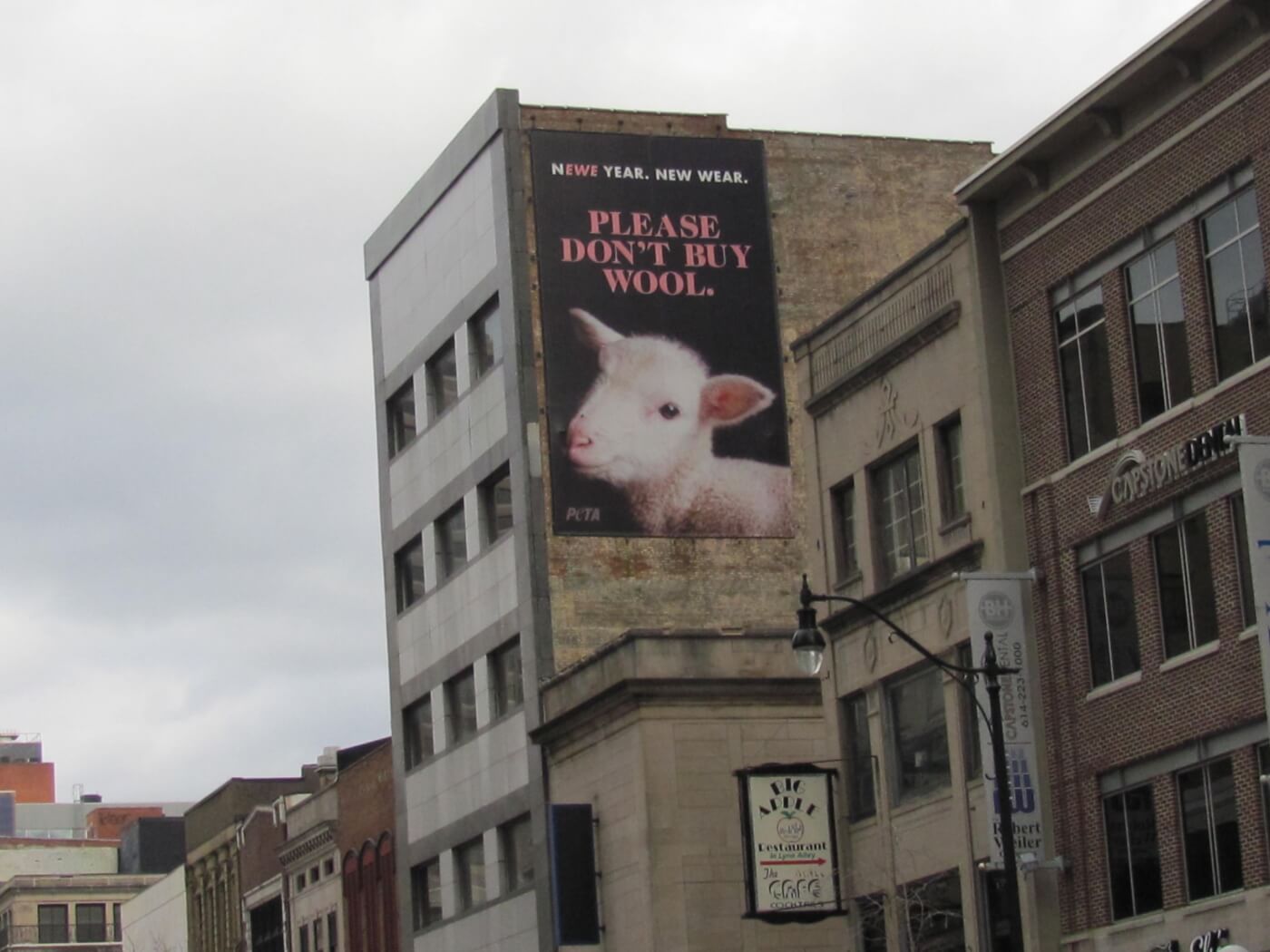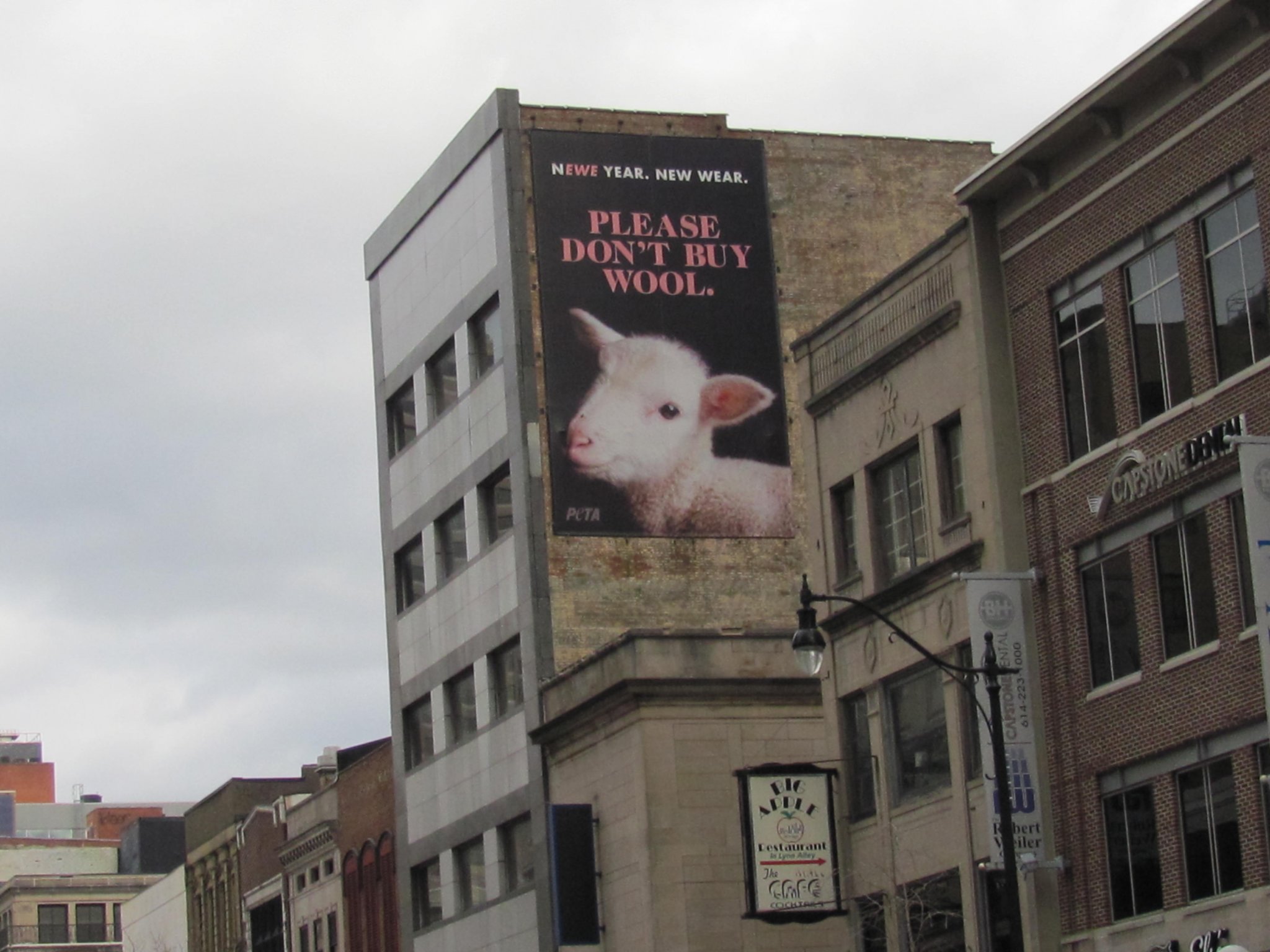 Update: December 23, 2021
As part of PETA's #WoolFreeWinter effort, Rev. Sarah Bowen of the Compassion Consortium is leading a prayer for these gentle individuals:
We've also plastered ads on buses in Hartford, Connecticut, and Rochester, New York, encouraging people to let sheep keep their coats.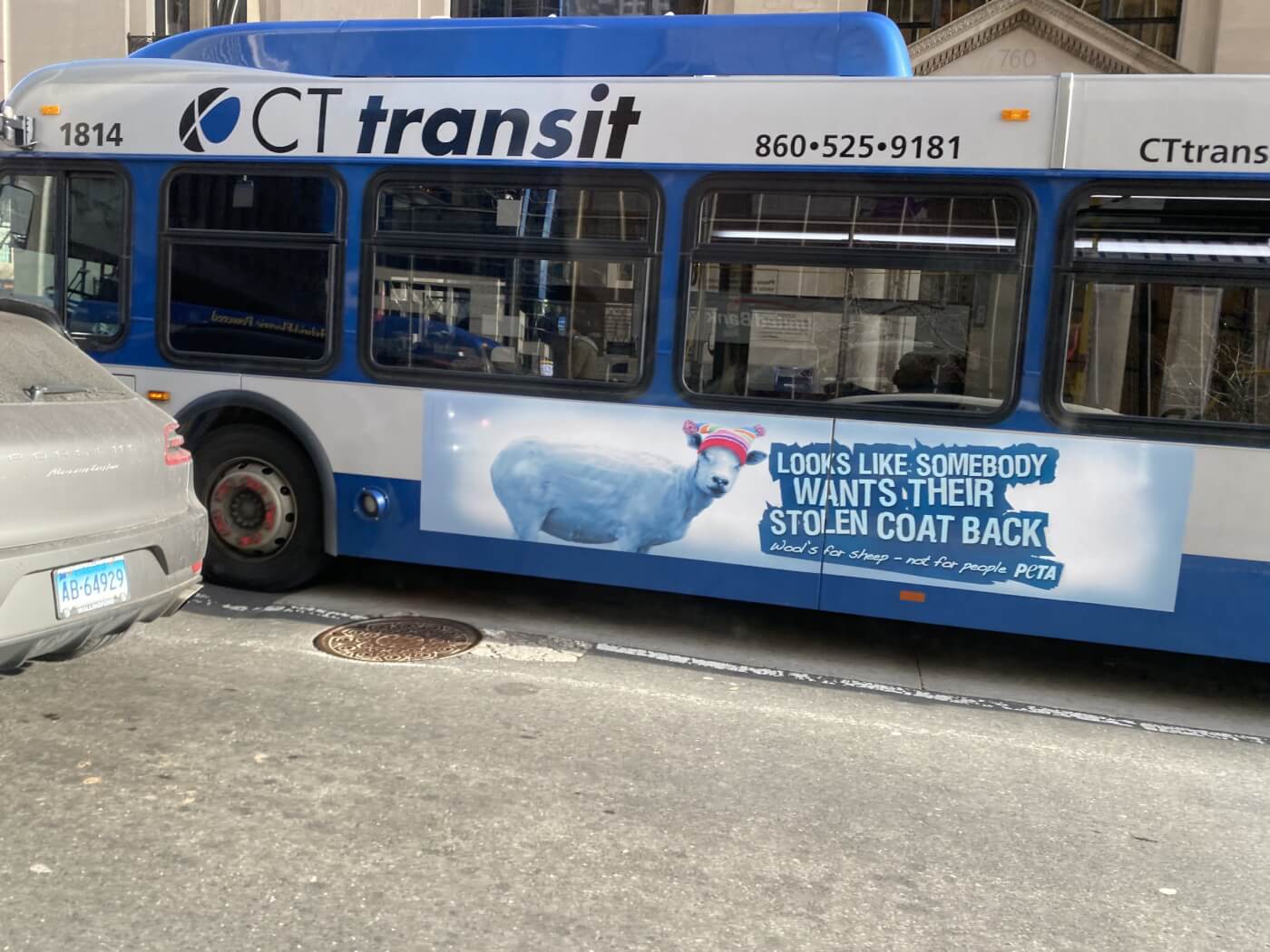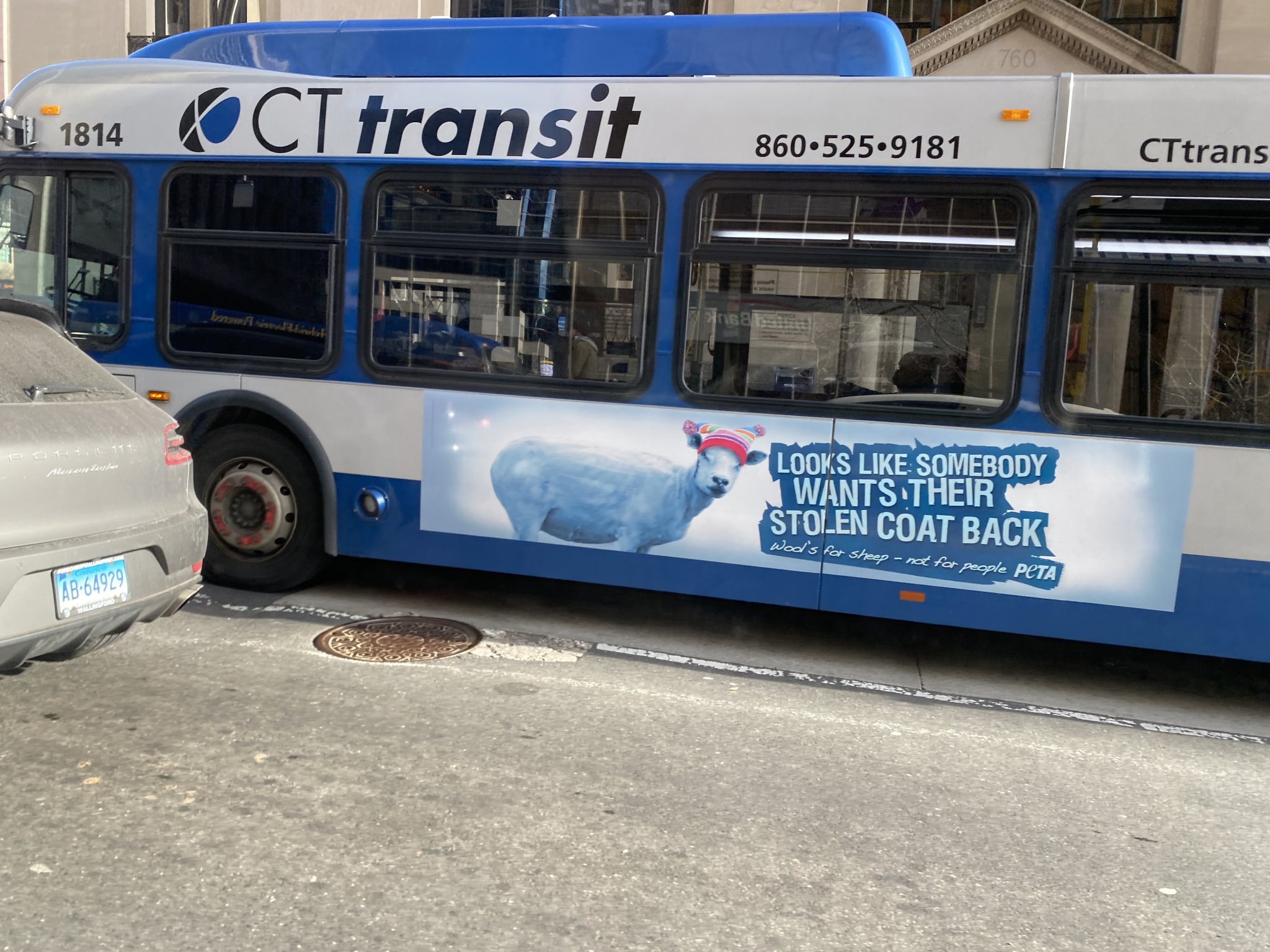 What You Can Do for #WoolFreeWinter
It's time for companies like the Urban Outfitters brands—which include Urban Outfitters, Anthropologie, and Free People—to stop propping up violent industries. Join us in spreading the word about #WoolFreeWinter.
Contact us for literature and other materials so that you can organize a #WoolFreeWinter demonstration at a wool-selling retailer, such as Urban Outfitters, Anthropologie, or Free People.
Write letters to your local newspaper or your favorite fashion magazines to expose the cruelty behind wool.
Call on Urban Outfitters brands to change now: