Actor Maggie Q will travel to Toronto today in support of Toronto Pig Save cofounder Anita Krajnc, who is currently facing up to six months in jail and a $5,000 fine for giving water to dehydrated slaughter-bound pigs. The Designated Survivor star and Krajnc will meet before delivering a statement to the media just hours before the trial resumes.
Compassion is NOT a crime! @MaggieQ stands with @TorontoPigSave's Anita Krajnc asking people to #GoVegan. https://t.co/57tiZxAXAH#PigTrialpic.twitter.com/jrbcC5kZMg

— PETA (@peta) November 1, 2016
"When I first heard Anita's story, I thought it must be a joke," says Maggie Q, who previously starred in an ad for PETA urging fans to fight cruelty to animals as well as climate change by adopting a plant-based diet. "There's no way that someone could actually get arrested—let alone be facing jail time—simply for showing a little compassion to a suffering animal in the final agonizing moments of an unjust life."
On a scorching-hot day in June 2015, Krajnc and supporters of Toronto Pig Save gave water to overheated, severely dehydrated, and thirsty pigs who were crammed into a metal transport truck on their way to slaughter. It was likely the last, and only, act of kindness that these animals had ever known.
For her compassion, she was charged with criminal mischief for interference with the "use, enjoyment or operation of property"—the "property" being the pigs.
Maggie Q joins numerous doctors, veterinarians, and experts in animal welfare in Krajnc's corner. One of her attorneys, Gary Grill, noted, "It's always … nice to represent a client who has the moral high ground."
Prior to the resumption of the trial, a vigil is expected to be held from 8 to 9 a.m. outside the Burlington, Ontario, slaughterhouse where the pigs Krajnc helped were killed for their flesh. Supporters also gathered outside of the courthouse before the trial began.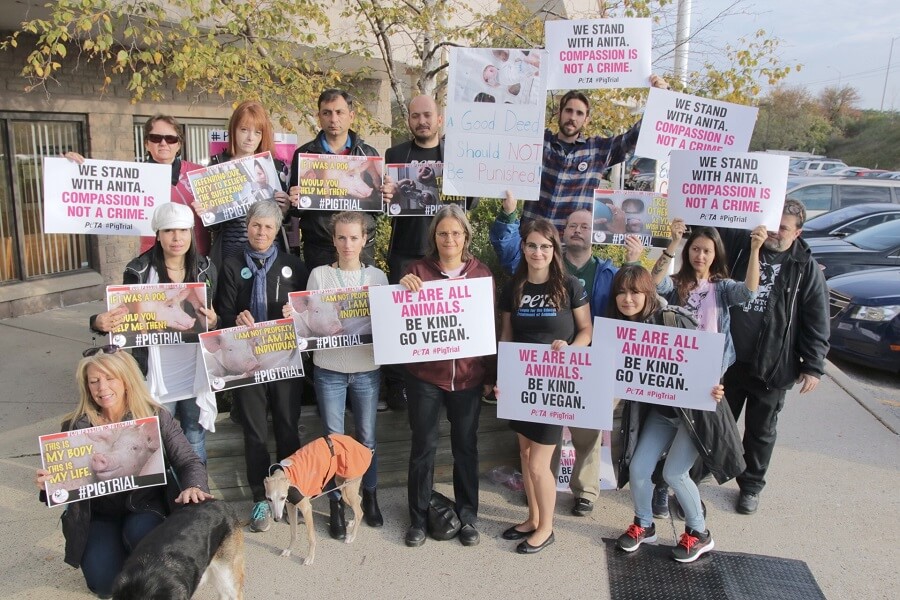 ©instagram.com/vegan_eh
A final verdict for Krajnc's case is expected sometime next year.
What You Can Do
You can support Krajnc and animals by sharing her story on social media using #PigTrial and #CompassionIsNotACrime. And you can help prevent thousands of pigs from being killed in slaughterhouses by going vegan today.