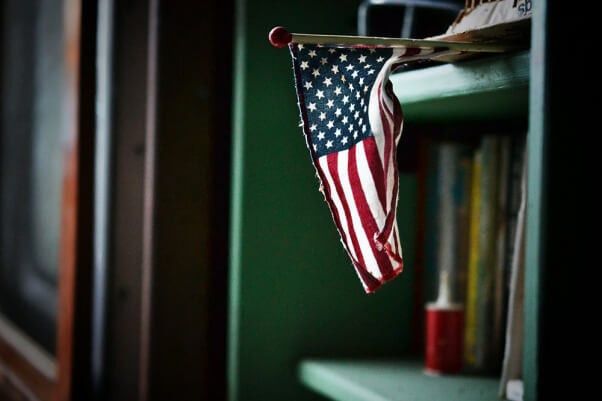 What does hacking off a live goat's leg with tree trimmers teach military service members about providing medical care? Nothing that a human-patient simulator can't do just as effectively or even more so, according to military and civilian studies. Yet every year, the U.S. Department of Defense (DOD) conducts cruel, archaic, and wasteful training exercises in which thousands of live animals used as "stand-ins" for wounded soldiers are tortured:
Their legs are broken and cut off with shears.
Their internal organs are yanked out.
They are shot and stabbed.
They are set on fire.
These atrocities are often inflicted while the animals are still alive! Remarkably, the DOD itself has funded studies that concluded that modern human simulators teach lifesaving battlefield medical skills as well as—or better than—cutting up and killing pigs, goats, and other animals.
Yet even though The New York Times Editorial Board, veterans, nearly 100 members of Congress, and leading national medical organizations representing 255,000 doctors and physicians-in-training are all calling for the DOD to stop maiming and killing animals during training drills in favor of more effective, ethical, and economical human-simulation technology, the DOD is still conducting these crude and archaic animal laboratories.
Here's what you can do to help stop this senseless practice:
1. Spread the word about trauma training.
PETA has exposed military courses in which training instructors were seen breaking and cutting off the limbs of live goats with tree trimmers and live pigs were shot, stabbed, and impaled through the leg. Share this video and educate your family and friends.
2. Ask Congress to end military trauma training on animals.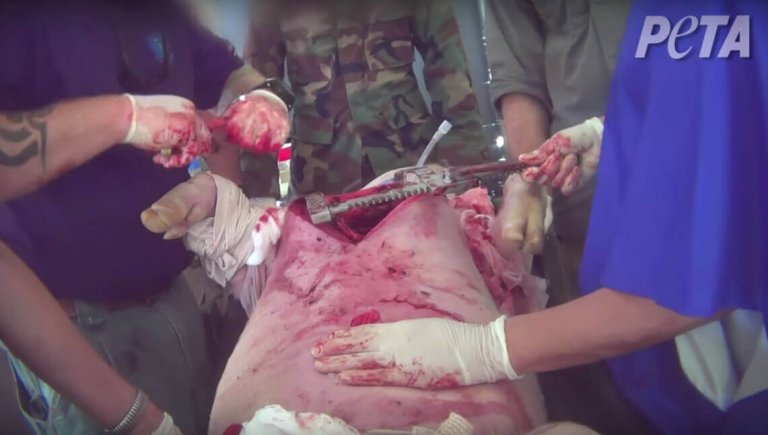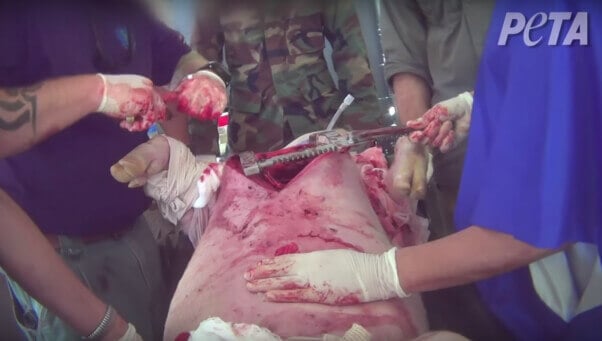 Send a polite e-mail to your congressional representatives urging them to support the Battlefield Excellence through Superior Training (BEST) Practices Act, which will end these cruel military animal laboratories.
3. Join military personnel against the U.S. military's war on animals.
If you're a military service member or veteran who cares about modernizing the military's medical training by replacing the archaic and cruel use of animals with more effective human-simulation technology, please email us at [email protected] to add your name to the growing list of military personnel who want to end the military's war on animals.
If you aren't a military service member, use the buttons below to share this page on social media. Tag friends and family who are military service members or veterans, and encourage them to fill out the form above.
4. Tell us about your experiences.
Have you served in the military and seen cruelty to animals firsthand? If you are concerned about the animal abuse that you witnessed during military training exercises and would like to report it to us, you can do so here.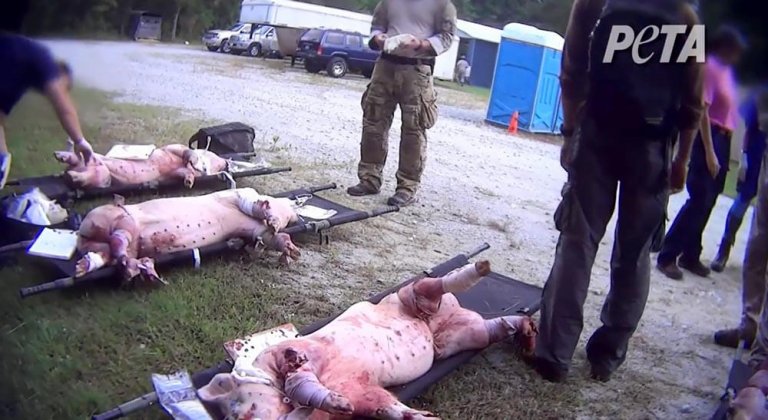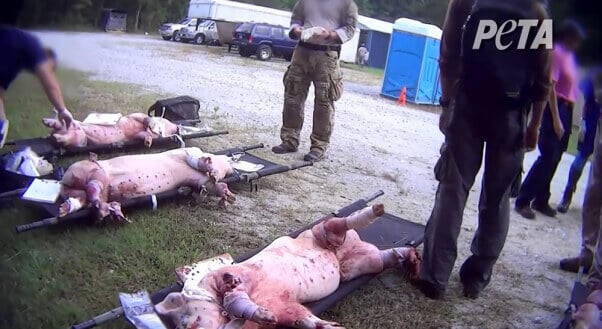 *****
Join PETA's Action Team today and help us end cruelty to animals:
Already on the Action Team? Sign up to join PETA's text list for animals and help animals in an instant from the palm of your hand.