The Top 6 Vegan Fine-Dining Establishments in the U.S.
Looking for a standout, five-star restaurant meal for an anniversary, birthday, or a swanky date?
PETA staffers around the country have spoken, and these delicious dishes are some of our favorites from the most outstanding vegan fine-dining establishments in the country.
Philadelphia, Pennsylvania
Vedge is the real deal. Not only was chef and owner Richard Landau nominated for a prestigious James Beard Award, the restaurant also appeared at the TOP of Zagat's list of Philadelphia's best restaurants.
Check these out: Upper left, Eggplant Braciole With Sicilian Salsa Verde; lower left, Fingerling Fries With Creamy Worcestershire; on the right, Watermelon Radish With Fava Beans and Tarragon.
The desserts at Vedge are a favorite among rave Yelp reviewers. Pictured here: Sticky Toffee Pudding With Figs and Madeira Ice Cream.
Asheville, North Carolina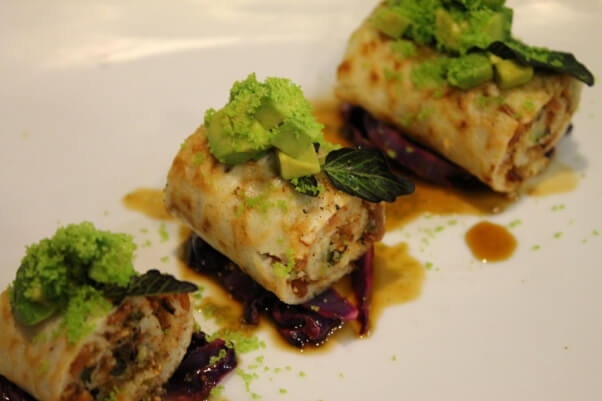 Plant was named one of the best vegan/vegetarian restaurants by Food & Wine magazine, and it isn't hard to see why. Above, you can see its Wild Nettle Masala Uttapam (with onion and tomato, avocado, gunpowder chutney, soy-ginger syrup, coconut moss, and cabbage).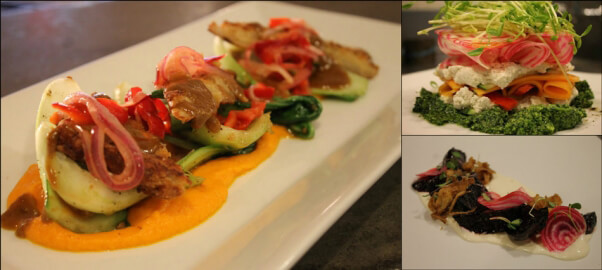 The exquisitely plated vibrant food at Plant is so beautiful that you may have reservations about even sticking a fork in it to begin eating. (However, we encourage you to get over it and taste these remarkable dishes.) On the left is Plant's Peanut Hempeh (locally made soy-free tempeh made from hemp and peanuts served with carrot purée, baby bok choy, and pickled cherry bomb relish); top right, Squash Strata with live macadamia cheese, beets, wild mustard pesto, and pea shoots; bottom right, grilled beets with horseradish mayo, pickled beets, balsamic and herbs, and onion tumbleweed.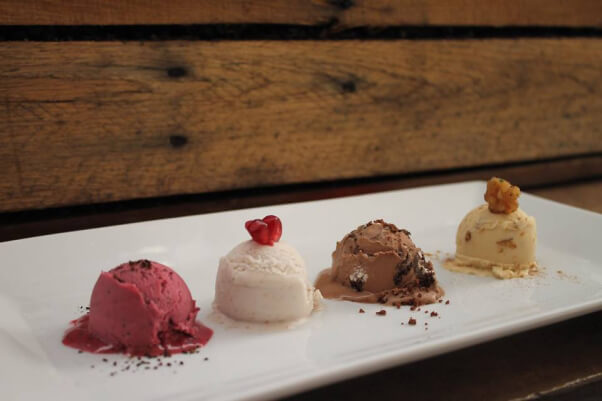 Alina Postula
Be sure to cap off your visit with the exceptional ice cream. Pictured above, from left to right, are the following seasonal flavors: Coffee-Beet, Pink Peppercorn, Chocolate Cookies 'n Cream, and Peanut Butter Brittle.
New York City, New York
The Mushroom Crêpe (right) is a customer favorite at this all-vegan restaurant, and we're drooling over this stunning photo on the left of the Seitan Picatta, with creamed spinach, grilled potato cake, oyster mushrooms, and a lemon caper sauce. Be sure to check out Candle 79 if you're visiting New York City, PETA's pick for the Most Vegan-Friendly City.
Los Angeles, California
Angelenos are no strangers to vegan fare, and celebrities and civilians alike sing the praises of Crossroads. Chef and owner Tal Ronnen was named Los Angeles' Top Vegan Chef by the Huffington Post, and LA Weekly previously named Crossroads the Best Vegan Restaurant in the city.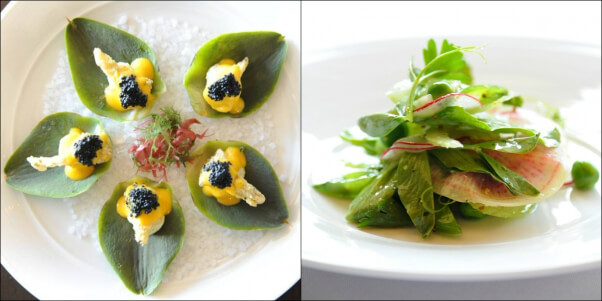 Left: Artichoke Oysters (with artichoke purée, crispy oyster mushroom, yellow tomato béarnaise, and kelp caviar)
Right: Spring Chopped Salad (with pea tendrils, celery leaf, parsley leaf, English peas, watermelon radish, and whole-grain mustard vinaigrette)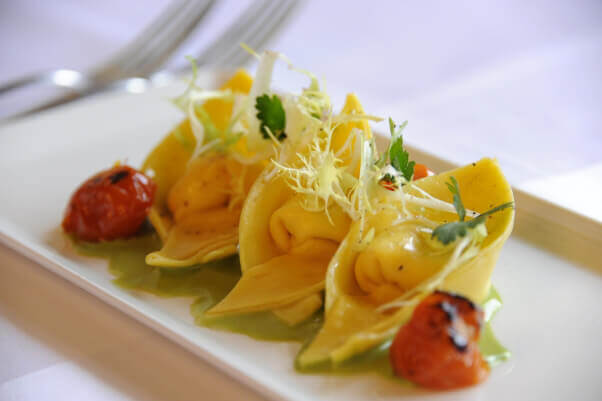 These beauties are tortelloni with almond cheese, oven-dried tomatoes, parsley frisée salad, and spinach cream. Not pictured: resulting food coma.
Washington, D.C.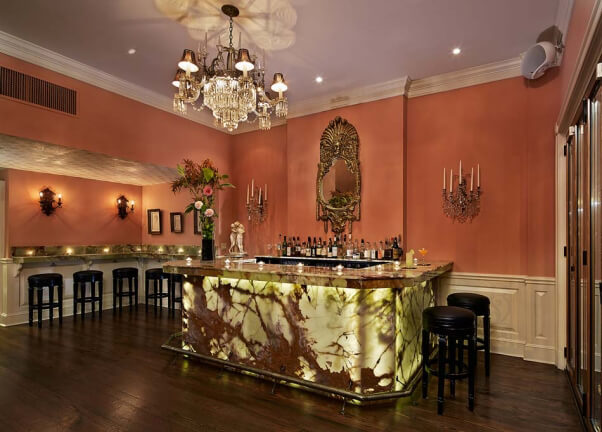 Anice Hoachlander
One night a week, the venue at 1341 L Street N.W. is transformed into the stunning Elizabeth's Gone Raw, where diners are presented with a changing six course vegan tasting menu. A reservation is required, so be sure to call ahead if you want to try some of the delicious food served here.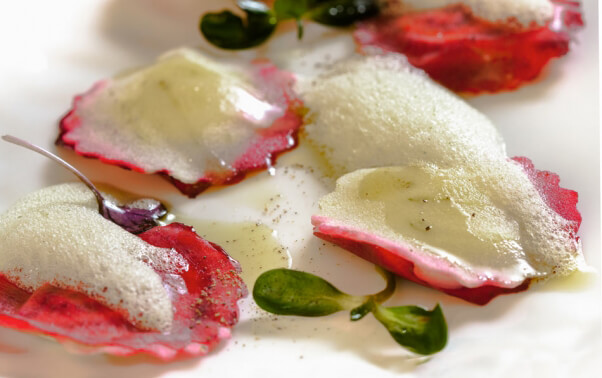 Foster Wiley
Pictured above is the Beet & Apple Ravioli with fennel vinaigrette, sunflower shoots, parsley, and macadamia ricotta.
Foster Wiley
Save room for dessert. This is the Chocolate Pavé with blood-orange relish, rosemary, and raw cacao.
Mendocino, California
Ravens was named one of the 10 Best Foodie Resorts in the country by USA Today. Much of the tasty food is grown on site, at the Stanford Inn's California Certified Organic Farm, and a dedication to sustainability and locally sourced ingredients is prevalent in all its beautiful dishes.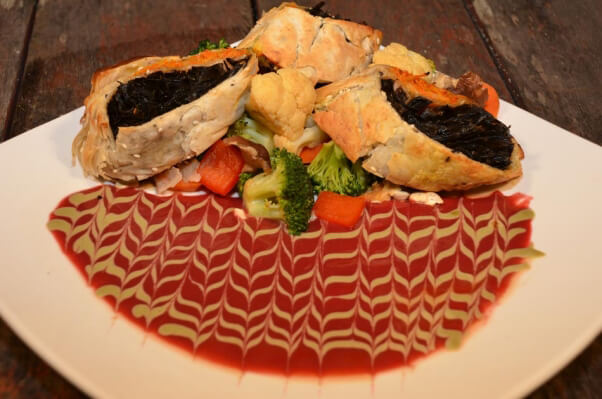 Stanford Inn By The Sea
Above: The Sea Palm & Root Vegetable Strudel
Below: Wild Mushroom Crêpes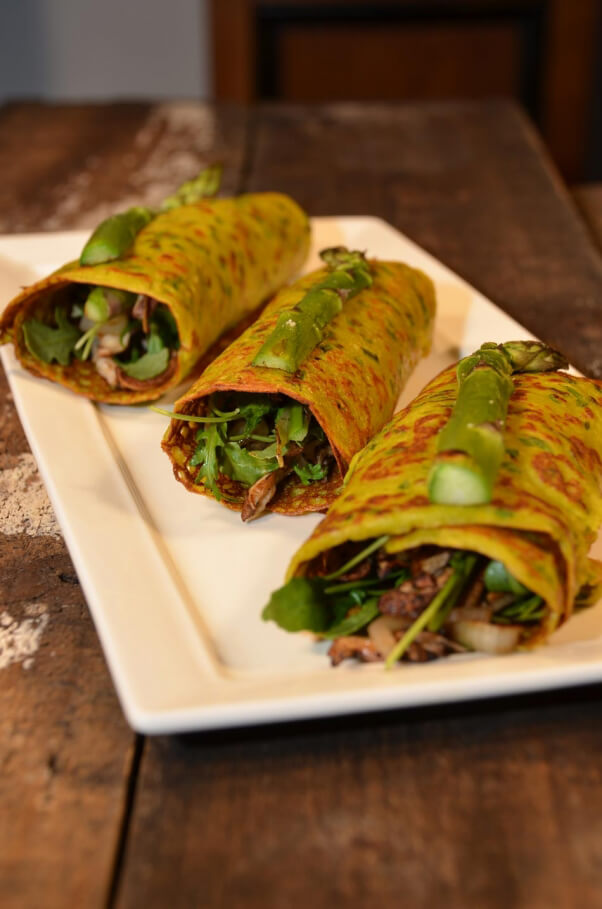 Stanford Inn By The Sea
Below, you can see the Citrus Polenta.
Stanford Inn By The Sea
Planning a road trip or vacation anytime soon? Be sure to add the restaurants in this post to your itinerary, and if you're looking for other great vegan food around the country, we've got you covered. Check out our lists of the top vegan doughnuts, pizzas, hot dogs, wings, mac and cheese, and food trucks.
Respond